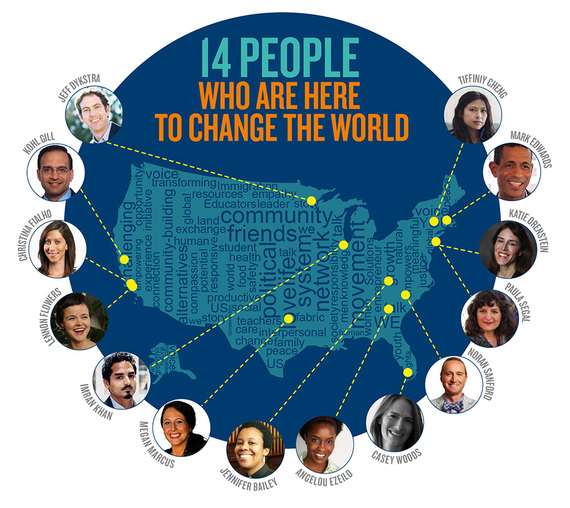 The current media coverage of American politics has brought immense attention to many of the challenges facing the country. As a result, audiences at home and abroad feel disheartened by the incessant content that is focused on problems and a sense of restlessness to discuss what matters most. They may need a reminder that the country is also brimming with social entrepreneurs creating solutions to the very problems -- including gun violence, limited access to reproductive healthcare, racial division, and environmental degradation-- that have recently been in the spotlight.
For nearly four decades Ashoka has built the world's largest network of leading social entrepreneurs called Ashoka Fellows --3,200 in 90 countries. Ashoka's Fellow impact studies consistently show that nearly 80 percent of Ashoka Fellows have changed a national-level system in at least one way within 10 years of their election.
In 2016 an internal analysis revealed that a majority of Ashoka Fellows in the U.S. live and work in or near only four cities--Boston , New York, Washington and San Francisco--and have similar demographic profiles. Recognizing the need to better represent the true cultural, socio-economic, and geographic diversity of the nation's social entrepreneurs, Ashoka U.S. launched the All America Initiative in 2016 to diversify future cohorts of Fellows. This year, Ashoka is honored to introduce its new class of U.S. Fellows, innovators hailing from all across America including nine women and six people of color.
The class includes Mark Edwards, who is changing the culture of reproductive healthcare in the U.S. and pioneering a new model to ensure all women receive same-day access to the full range of modern contraceptive methods with his organization Upstream USA. It also features Casey Woods the founder of Arms With Ethics. She is developing police-led strategies to speak to all sides of the gun issue by building a national network of common-sense, consensus-building, community safety partners that include gun owners and gun sellers.
These leading social entrepreneurs are already tackling some of America's greatest challenges with systems-changing innovations. Meet the class of 2016 Ashoka U.S. Fellows and join Ashoka in celebrating solutions oriented conversations.