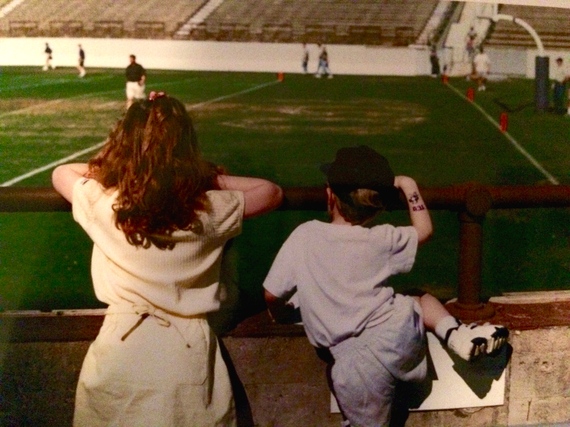 I remember standing on the scales getting my weight read to me and marked down in my file for my seventh grade dance class. I was traumatized, I knew the exact numbers and how it had changed since last semester. Years later, during the middle of my junior year I would miss a state mandated fitness test because I was terrified to step on the scale and to know my weight and BMI. I would fake sick to get out of it but internally I knew I could never know those numbers because they would haunt me. For years, each time I went in for a check-up no matter how sick I was I made sure to pay attention to my weight and how or if it had changed. I would prep for days going into my appointment so I "maintained a good weight." I was so very sick and I had no idea.
Today I still struggle when I hear women my age and older talk about diets and the way they should look. It breaks my heart. It may start as young boys and girls but it continues into adulthood. It is why for so long it was hard for me to eat lunch with women who didn't know my story because five minutes into a lunch it was diet chat and scrutinizing the food on their plate and marveling that others could eat what they could. It mad me sick and sad. I can't help but wonder what if something had changed sooner, when I was younger. And that gives me hope for the young people now that struggle, that a change can be made, but first we have to change the conversation.
As I watch the kids I babysat grow up, as I watch my sweet flower girl go to kindergarten, it makes my heart leap for them because I know how MK was even at that young age. She was a mess and she had no idea what to do. More days than not she didn't get the nutrition she needed as she missed meals and hid her double life. She strived to be the beautiful girl that all the boys wanted to date, and all the girls thought was gorgeous. And it got me to thinking about how early these issues start especially for young girls (young men are definitely not exempt). And even more it made me realize there are so many young people who deal with the same issues and we don't address it because we assume they are too young to have those struggles. They aren't.
So today I want to take a moment to talk to those young girls, the moms of young people, the teachers of these kids, and anyone who interacts with these young people on a daily basis. Take notice of these young people because they see the world in a manner you can't. They see the beauty and they see the pain. They are confused and trying to become the best individuals they can, so stop putting pressure on them to be the best. Encourage them, love them.
Today across the world, there are young girls and boys, skipping lunch, running to the bathroom, literally running for miles, pouring over magazines, crying in the mirror, trying to fit into a certain perfect size jeans, writing in their diary because someone told them they weren't pretty. And it matters, it is not just simple words. Your words, their words, they matter and they hold more weight than you could ever realize. We have to start changing this and it starts with changing the conversation.
Stop telling them they are beautiful solely for their physical appearance. Tell them they are beautiful inside and out. Tell them they are important, their opinions matter, they are going to change the world. Their physical beauty is fleeting and could change in an instant but their beautiful hearts are forever. Tell them they are loved for the unique individual they are. Tell them there is no one like them in the world, because it is true.
Moms, dads, teachers, friends, pastors, mentors, young people, you have a chance to change the conversation and it starts today. I hope today that you feel loved for who you are on the inside and not just on the outside because that is what matters. From a young lady who has fought harder than anyone should ever have to, to believe this truth, I promise changing the conversation, it is worth it.
Related