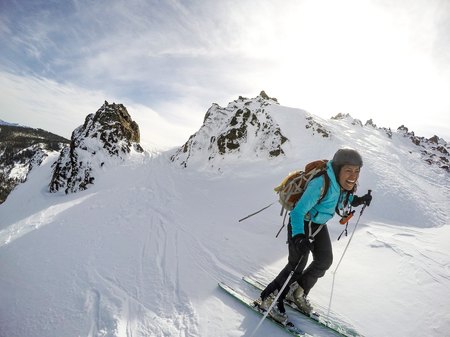 Photo by: Diego Borchers
Adventure. A word that can mean something different for everyone and spark a deep sense of emotion that might even be hard to put into words, but instead brings up a big smile or lights up our face.
Adventure has the power to change lives. I know so, because it changed mine. There was a time where I could not run a mile, where I had never spent a night under the stars, where my perception of what was possible was in a sense limited. Luckily, slowly but surely the beauty of nature and adventure made it's way into my life in my 20s but really in my mid to late 20s when I was overstressed with business school, working full time, and had multi-hour commutes. Adventure became my way to preserve balance, sanity, and creativity. What started in an indoor rock climbing class, 5 years later would lead me to the highest peak in the world. What started as a mile achievement would lead me to a marathon and a few half marathons. The point was not to be the fastest or the first at something, but rather to explore what I was capable of and what was available to experience in this big world.
Along my journey the last 8 years, I've had the privilege of meeting other women that have chosen adventure as a way of life. These women do not fall under a stereo-type, as they are of all different ages, shapes, sizes, colors, cultures, and skill levels. The thirst for pursuing adventure in whatever form it means to each of us is our bond and our point of unity and connection.
There are millions of women out there that share a love for the outdoors, human-powered endeavors, and travel. It is a reality that the apparel and gear for women when it comes to outdoor and adventure travel has been limited and that the "shrink it and pink it" way of design has been around far too long. Yet, the face of adventure is changing and women are driving that change. Women make up almost 50 percent of many outdoor sports and activities and leading the way in terms of solo travel. Brands and retailers are starting to respond with better designs and relatable marketing, but there is a ways to go no doubt.
Through my own journey and frustration of not finding what I needed or wanted in many cases, I saw a growing need to create a place where women globally could find what they needed to go do what they loved without compromising function for style or style for function, a place where stories and information was relevant to our interests and desires, a place where we could align our passion for adventure and protecting the places we love most, a place where we could celebrate the beauty in our strength, curiosity, and courage in our desire to explore the world and reach new heights.
As a result a couple of years ago, fueled with the desire to share the gift of adventure with others, I founded Altitude Seven, a digital media company, whose platform helps a global community of women adventurers and travelers discover the best outdoor and adventure travel products, experiences, stories, and inspiration all in one place. Our brand was created for a new generation of outdoor, adventurous, and globetrotting women and poised with a mission: To Inspire and Equip Women to Live Adventurous, Bold, and Worldly Lives. I look forward to growing our community, our product assortments and announcing new partnerships with leading and emerging brands that that have high quality design principles and embed social good in what they do.
Our #ChooseAdventure Campaign, where we feature amazing women that have chosen adventure as a way of life, has been my favorite initiative since our relaunch in November. I absolutely love asking our community of women how adventure makes them feel, as for most of us, adventure provides a feeling that almost nothing else can. It truly makes us feel alive and present. From traveling the globe, to skiing, to biking, to surfing, to climbing, to hiking, to a night under the stars, these adventures nurture and enhance our lives in ways that almost nothing else can. The women we have featured thus far have been an endless source of inspiration, not only for where they have gone and what drives them, but for all the places I know they will go!
I welcome all of you to see the new face of adventure-our spirit, our courage, our desire to leave the world a little better than we found it, and our willingness to go out of our comfort zones. Together we live inspired.
We are currently accepting nominations for women to be a part of our #ChooseAdventure campaign globally. Our goal is to have an awesome representation of women living their adventure life and sharing their stories to inspire others.