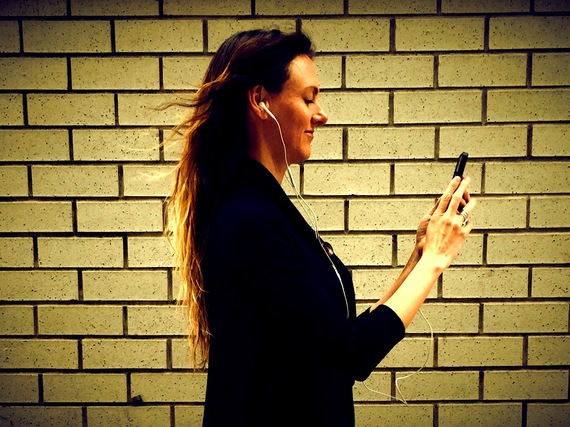 I have voices in my head. Oh sure, the voices are a funny and sarcastic group of women, but a year ago, they were sabotaging my love life.
At that time, when my husband would lean in for a kiss, the voices would stand up, start waving their arms and yell to each other "Red alert! The man wants sex ladies. Back up the truck. Beep beep beep."
Every now and then, I'd manage to sneak past the gals when they were napping and contemplate initiating a sexy encounter. But the voices are light sleepers and would quickly wake up and start chastising me "Work before play young lady... you have things to do like clean up the house and do the laundry."
So when the sex coach my husband and I had been seeing for a month suggested that we come up with new inner voices, I vowed to send the gals on a long vacation and try to change the playlist in my head.
Our coach started with recommendations specifically around the things we were saying to ourselves when we looked at each other. Since little glances across the room or dinner table are where desire and intimacy are first born, this seemed a reasonable place to start.
She told my husband to channel James Bond... to think "You know you want me. But you can't have me right now." Even typing this, a year after this particular advice was given to us, I am still instantly turned on. You see, as the person in our relationship who desires sex less frequently, I had started seeing my husband as very "needy." Which of course is the opposite of hot. So even though this little saying was part of his updated playlist, it was remarkably effective in its impact on me.
What our coach wanted me to do was to accept his gaze and say to myself "That feels nice. I like where this is headed." Though this was radically different than what the voices in my head were chiming in with before, because it was just words, it was an easy change to try on to see how it fit. I mean, I wasn't actually saying out loud that I was going to jump his bones right then and there, but the new language definitely helped me stay open to the possibility.
A year later, I have added a bunch of new mantras to my playlist. The voices in my head are still funny and sarcastic, but I love them the most when they channel their sassy and sexy sides and whisper things like "Go ahead, you have time for a little unexpected pleasure right now."
"Wait, that's it?" Transformation takes time, so I'm intentionally sharing in bite-sized doses that reflect my experience over the last year. I'd love to hear your questions, let's continue the conversation in the comments section below. Or visit my blog at www.downtothere.com
REAL LIFE. REAL NEWS. REAL VOICES.
Help us tell more of the stories that matter from voices that too often remain unheard.