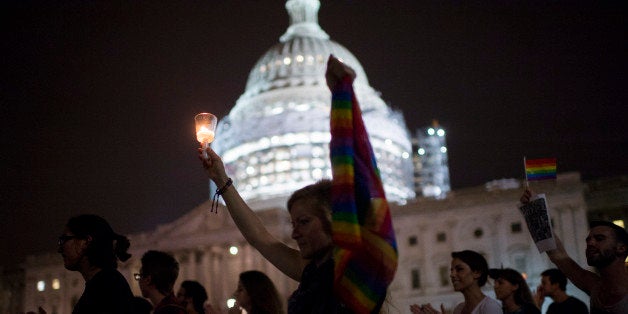 We are in the middle of our recurring national nightmare. We would like to wake up and make it go away, but we can't. Incomprehensible carnage from the barrel of a gun. Impassioned demands for action to be taken by those we elect to protect us. Political intimidation by the gun lobby. The defeat of common sense gun restrictions in Congress. The certainty that we will live this nightmare again and again. Unless we change the politics of guns.
Given the apparent inevitability that Congress will fail to take meaningful action in the wake of the most deadly mass shooting in American history, it may be difficult to rise above the despair. But there are signs that gun control is gaining in political viability. The Democratic Party finally has stopped running from the gun issue. It was not long ago that leading Democratic strategists like James Carville and Paul Begala advised Party leaders that the gun issue is not worth the political risk. It was during the first Obama Administration that Congressional Democrats, when they were in charge, resisted efforts to move gun legislation in a futile effort to protect the "Blue Dogs" in districts perceived to be hostile to gun restrictions. For the Democrats, it all changed after Newtown. The slaughter of six-year-olds quickly made political risk a secondary consideration.
For the first time since the Clinton Presidency, the Democratic Party seems to be "all in" for stronger gun laws. President Obama's eloquence on the gun issue has been unparalleled. There is no doubt that Hillary Clinton's passion on the issue is genuine, reflecting the commitment of her husband during his Presidency when his support helped to pass both the Brady Bill and the assault weapons ban. It should not be forgotten that President Clinton ensured that Jim and Sarah Brady would appear in prime time at the Democratic Convention in 1996.
Perhaps nothing illustrates the post-Newtown change in Democratic Party attitudes toward gun control more powerfully than the constant beating Bernie Sanders has taken from Hillary Clinton over his votes against the Brady Bill and in favor of special legal protection for the gun industry. Sanders has been constantly on the defensive on the gun issue. It sends a message to other Democratic candidates and office-holders: regardless of how progressive you are on other issues, if you pander to the NRA, you will suffer political pain. It is the mirror image of the long-time political reality for Republican candidates: you can be conservative on every other issue, but if you cross the NRA, you will pay a price. Whether the Republican reality begins to weaken may depend on the political fortunes of Senator Pat Toomey (R-Pa.), who is running for reelection this year and was a devoted NRA disciple until after Newtown, when he co-sponsored a universal background check bill with Senator Joe Manchin (D-W.Va.), himself a previously ardent gun rights supporter. That two previously NRA A-rated Senators sponsored a meaningful gun control measure is another indication that the gun issue is not the political third rail for as many politicians as it used to be.
For all those hopeful signs, though, the U.S. Senate is poised to defeat, yet again, legislation to bar people on the terrorist watch list from buying guns, as well as universal background checks. It's clear that the politics of guns still must change if the NRA is to be stripped of its veto power over gun legislation. What must happen?
At the core of the problem is the so-called "intensity gap," that is, the perception by the political class that opponents of gun laws feel more intensely about the issue, and are motivated to engage in various forms of activism and political activity more frequently, than supporters of gun laws. Surveys show that gun control opponents are far more likely than gun control supporters to give money, contact a public official, express an opinion on a social networking site, or sign a petition than gun control supporters. A 2014 Yale University survey showed that among voters who thought gun laws should be less strict, 71 percent said they would never vote for a political candidate who did not share their position on gun control, compared with just 34 percent of those who support stricter gun laws. This gap is ameliorated to some degree by the fact that far more Americans favor making our gun laws more strict than favor weakening them, but nevertheless the perception remains strong that pro-gun partisans will "vote" the issue, whereas gun control partisans will not.
President Obama recognized the problem in expressing his frustration that Congress would not act during his Administration to strengthen gun laws. In January of this year, he declared his intention to become a "single-issue" voter on guns, writing in the New York Times that he would no longer support candidates who do not support "common-sense gun reform." He challenged other gun law supporters to do the same.
Unless this "intensity gap" can be narrowed, the politics of guns is likely to remain a stalemate. There are reasons for hope. After Newtown, there was an explosion of gun control activism, with existing organizations energized and new organizations forming. From my perspective outside the gun control movement, it appears that, three years after Newtown, the level of activism remains at levels far higher than before Newtown. It is a new and firmer foundation to build on.
Too many politicians, particularly in swing suburban areas, believe that the gun issue carries political risk only if they vote against the NRA. A growing army of passionate, committed gun control voters can convince them otherwise.
How many of us will heed President's Obama's call?
Calling all HuffPost superfans!
Sign up for membership to become a founding member and help shape HuffPost's next chapter