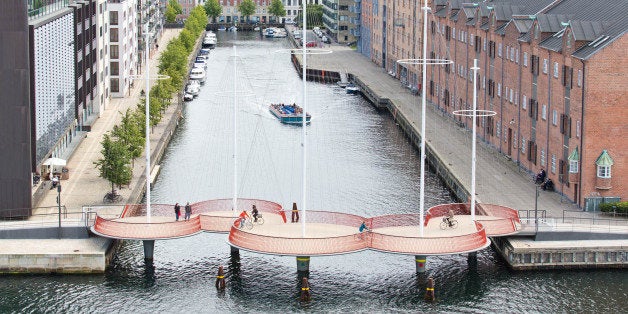 Cities are making the difference on climate action, for which urban transport is key. Will national leaders at COP21 draw on the lessons learnt by local government leaders?
These last months of 2015 will be a crucial moment for action on climate change and towards sustainability -- not only because of the adoption of the new UN Sustainable Development Goals (SDGs) and the pivotal COP21 climate summit in Paris, but because of the momentum that has been building around the world on climate action. We are quickly recognizing that the only sensible thing to do, both economically and socially, is to implement measures that strike a balance between economic development and environmental protection, while putting communities at the core of public policies and private endeavors.
In our collective imagination, economic growth is often linked to movement. The reality in cities, though, is that people and goods spend a significant amount of time in traffic. The average speed on the urban roads of the largest European cities is lower than 36 km/h, a figure that in central and inner London goes down to 14-20 Km/h. Traffic congestion is a major sunk cost for economies, already costing megacities such as Shanghai as much as 9 percent of their annual GDP, while estimates of the World Health Organization tell us that as many as 3.7 million people died in 2012 because of outdoor air pollution.
Urban transport is also a major driver of greenhouse gas (GHG) emissions and therefore of climate change. GHG emissions from the transport sector -- half of which come from urban transport, are projected to increase by 140 percent between 2000 and 2050. According to the latest report by the IPCC, "without aggressive and sustained mitigation policies being implemented, transport emissions could increase at a faster rate than emissions from the other energy end-use sectors and reach around 12 Gt CO2eq per year by 2050," a third of what is considered by scientists an acceptable threshold to stay under a 2°C increase in global temperature.
Local governments, and cities in particular, have a crucial need to find and follow a different path. This is why they are often also the first ones to come up with innovative solutions.
Like many other large cities worldwide, the City of Johannesburg finds itself now at a crucial crossroad. With a population of more than four million, Johannesburg is growing fast and thus it has increasing congestion problems. Half of all motorized transfers within the city are made by private cars, often with a single occupant, and another 35 percent are made by minibuses and taxis. Half of the city's energy consumption is attributable to transport.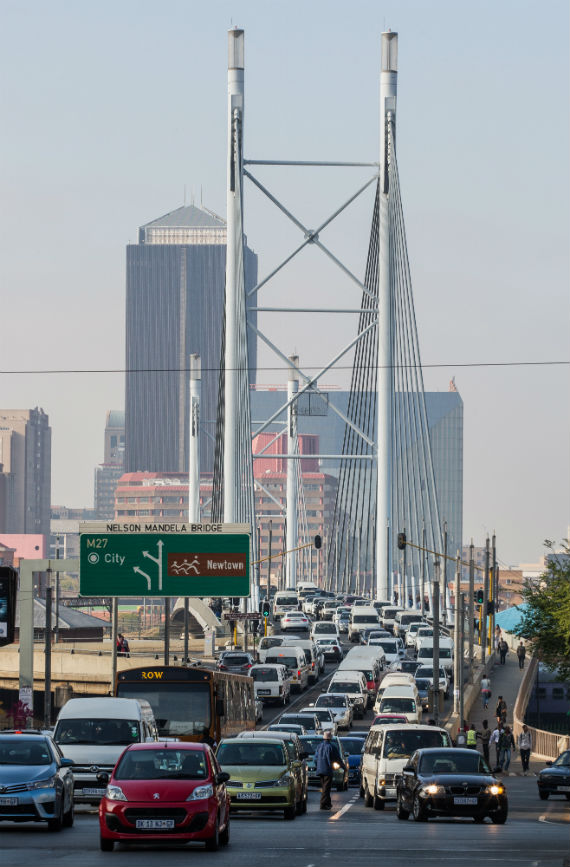 Traffic on the Nelson Mandela Bridge in Johannesburg
Photo Credit: City of Johannesburg

The business district of Sandton in Johannesburg, considered the financial hub of Africa, is one of the most congested areas in the city. Over 100,000 people move in and out of its core every day, while the number of commuters increases by 3.4 percent every year. In 20 years' time this number will have doubled.
City officials understand that traffic in Sandton will soon grind to a halt unless major interventions are made, and this is what led Johannesburg to look into alternative ways to address its mobility concerns to build a more sustainable and inclusive urban environment. The month-long EcoMobility World Festival 2015, organized in partnership with ICLEI, provided a glimpse into an ecomobile future and a platform for mobility experts and local government leaders from all around the world to discuss sustainable transport options for the city of the future. A lasting legacy of new sustainable infrastructure is currently being developed to open up Sandton to the neighboring areas and allow for greater use of sustainable modes of transport, including walking, cycling, and public transport. The results are encouraging: already the preferred mode of transport for Johannesburg citizens has become the high speed Gautrain, while private car use dropped from 90 percent to 68 percent since the launch of the festival.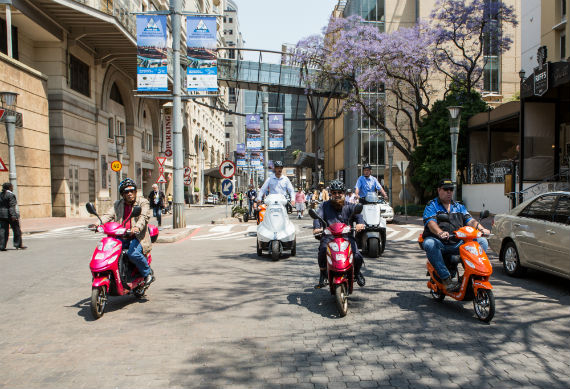 Electric vehicles at the Mayors EcoMobility Ride in Johannesburg, October 2015
Photo Credit: City of Johannesburg
The story of Johannesburg is strikingly similar to the position in which the City of Copenhagen found itself decades ago. Copenhagen is widely considered a success story for its commitment to sustainable urban transport and use of public spaces, but it wasn't always the sustainability champion that it is today.
Back in the 1960s, Copenhagen was as car-clogged as any other major city, and popular demand called for a new highway to be built over the beautiful inner lakes that surround the city center. The city found itself at a very important juncture. It could decide to adapt the urban infrastructure to the growing private transport fluxes, or it could bet on sustainable transport and eco-mobility. In Copenhagen the citizens took to the streets and demanded the highway project to be stopped -- which visionary politicians did, launching in its place a new long-term approach that eventually transformed the city into a model for local urban transport and sustainable use of public spaces.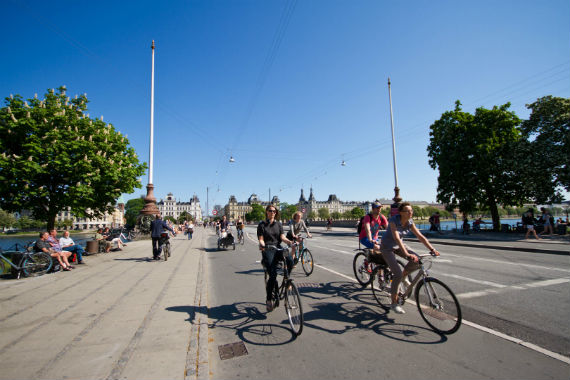 Cyclists on the Queen Louise Bridge of Copenhagen
Photo Credit: Ursula Bach for the City of Copenhagen
By 2025, Copenhagen will be the first carbon neutral capital in the world, and 11 percent of the carbon reduction will come from mobility. As much as 63 percent of all citizens in Copenhagen already bike to school and work every day. Copenhagen still has congestion issues -- bike congestion -- and it's currently dedicating substantial resources to expand the existing bike lanes and build new bike highways. The never-ending flow of Copenhageners on bicycles crisscrossing the city has been 40 years in the making. It took boldness and vision to take decisions that set the city on the path to sustainability.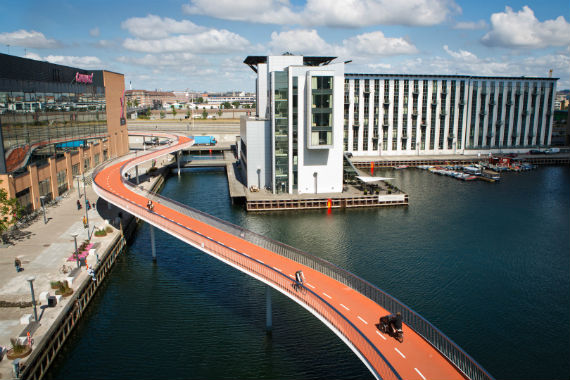 The Bike Serpent connecting two parts of Copenhagen
Photo Credit: Ursula Bach for the City of Copenhagen
As the examples of Copenhagen and Johannesburg show, cities can be -- and often are -- at the forefront of climate action, starting from the one issue that is common to all urban areas: mobility. Copenhagen had congestion problems in the past and successfully overcame most of them by choosing light over heavy infrastructure. Johannesburg today has very similar problems and has started solving them in a smart and inclusive way.
As COP21 approaches, and as all new evidence indicates that we must act in a timely and effective manner to avoid the worst-case scenarios, we need world leaders to be as bold and visionary as the people and the cities of Copenhagen and Johannesburg.
REAL LIFE. REAL NEWS. REAL VOICES.
Help us tell more of the stories that matter from voices that too often remain unheard.