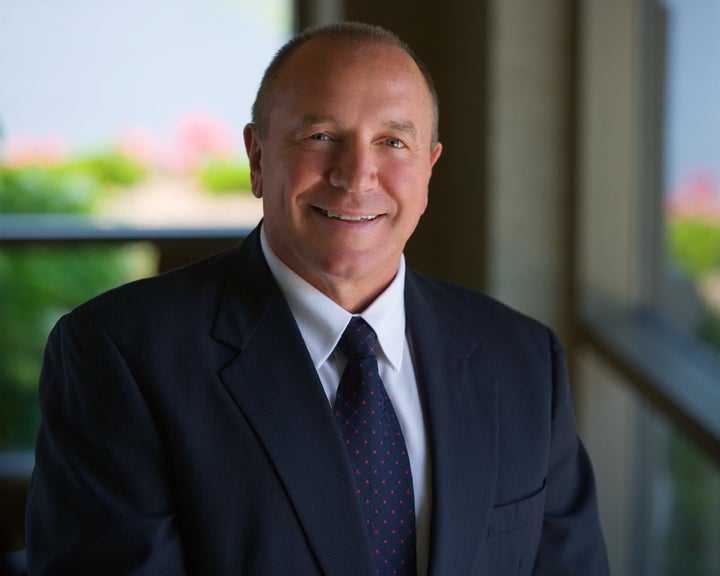 I had the pleasure of interviewing Don Weber as part of our Caregiver Smile Summit. Don is Founder and Chairman of Logistics Health, a world-class leader in the field of military medical and dental readiness, and an employer of choice with a renowned employee wellness program.
Changing the Workplace Culture Around Caregiving is a topic of personal importance to Weber. Over two years ago he began to face a reality many adult children must navigate, of changing roles with a parent and becoming a caregiver in their family member's final days. Don juggled an intense work schedule throughout the experience of caring for his mother, Rita, as she made the sacred journey. Their experience was documented in the PBS series "Caring for Mom & Dad."
His mom lived eight months from the time of her diagnosis of heart failure. She had one request – to die at home. Don described those months at home with her as some of the most exciting in all of their lives.
Obviously, Don was and is the boss and he had great leeway to handle his caregiving responsibilities and his work. But that got him thinking about what his employees must go through. He cares deeply about their well-being, not just their physical health, but their emotional and spiritual health.
His workforce is relatively young, an average age of 38. But their parents are obviously boomers. Few are prepared to handle mom and dad getting sick.
The experience solidified for him the responsibility employers have to support their employees throughout all stages of family life, including their journey into the role of caregiver. At its core, Weber recognizes, the experience of caregiving for family members and loved ones is a sacred part of the human experience, and when employers support their staff members throughout the transition into caregiving and beyond, it strengthens their business, their communities, and the families who live there.
There are enough horror stories of caregivers losing their jobs once they self-identify. There are research studies that show, particularly with women, the financial impact to their careers. Careers suffer in general.
There was an employee at Logistics Health whose mother was diagnosed with cancer at 58 years old. The employee asked if she could be with her mother. The company made the arrangements, safeguarded her job and allowed her the five months she needed until her mom passed. That is pretty unprecedented.
Logistics Health gives employees three hours of paid wellness time per week. Get this, they have had no premium increase in their health insurance plans since 2011. In fact, premiums have gone down 26% because of their investment in the overall wellness of employees. They have their own primary care facilities and their own behavioral specialists on staff on site. They had over 5,500 visits to primary care by employees, spouses and dependents last year, free of charge. They have a "Fit Kids" program, aimed at 3-8-year-old children that instills positive health behaviors in them at an early age.
Their health care costs have decreased by $1.8 million as a result.
Take in the fact that they have behavioral health specialists on site. As Don relates, they do not consider mental health a stigma but a health issue. After all, one in five people are impacted by behavioral health issues.
The Importance of Culture
Don says that finding good talent is the biggest challenge that all employers face. You invest a great deal in finding that talent and you don't want to lose it. Younger employees have a different mindset. They look at their overall quality of life as a gauge to their happiness and well-being. I personally think some boomers are coming around to that way of thinking as well.
"When they see you are investing in them personally and their families, it really helps us attract talent," says Don. As a result, turnover is low in the organization. In fact, they are changing the outlook of their employees on what is important. When they announced a three percent merit increase, some employees said that instead of that, could they have one more day off to spend with their families!
"To me it's family and we are all family here," says Don.
An Investment That Starts at the Top
Don and his team do not look at these programs as costs but investments in their employees. "You can't speak empty words. You have to sincerely say that we are going to do this. We are going to make a commitment and start engaging and changing the culture so that it becomes part of their culture. I believe it's the right thing to do."
Logistics is in the process of adding 1,200 careers to the company. Don makes it a point to go to employee orientation whenever he is available. When an employee hears that they can use paid wellness time to take mom or dad to the doctor, it is transforming. As a result, their performance on the job has been transformative as well.
One metric – revenue per labor hour –has gone up considerably.
Morale – Logistics contracts with the Department of Defense and others. Their average customer rating is 95% because employee morale and productivity is so high. Clients comment on the passion of workers.
"Everyone has stress in their lives," says Don. "We want our employees to leave with less stress. We ask 'how can we help you?'"
Sick Days – the average number of sick days among employees last year was 1.9!
Steps to Change Your Culture
Leadership has to make the commitment. When Don started the wellness initiative, he went to the board and had to ask for tangible things – space and money. Guess what? They turned him down so he did it himself. He made his own personal investment. By the third year, the board was on board! That takes courage. Don is a risk taker.
Employees have to make the commitment. Don stresses that what is offered to employees is not an entitlement program. They have to earn it. And they earn it not just through better work productivity but through leading a healthy life in all of its facets. That in turn satisfies the fiduciary obligation of the company to stockholders and clients.
Caregivers can advocate. Individual family caregivers going to leadership and advocating for these issues may or may not work according to Don. However, if you get enough of the employee base to sit down with management to explain the challenges, share stories, and truly work as partners to address the issues, there is better chance of affecting change.
"I can't imagine most employers not saying how can we work together on this. This is the best investment we have ever made."
Support HuffPost
The Stakes Have Never Been Higher
Related
Popular in the Community