By Harry Belafonte and Steven W. Hawkins
A young black man, Ricardo Mattos dos Santos, is killed while playing soccer with his friends in the Bahia state of Brazil, shot to death while begging for his life and insisting he was not who the attackers were looking for. Five years later, his 19-year-old brother Enio is abducted from his home and also shot to death. Their family is left in peril as they try to seek justice in a country where thousands of black men are murdered each year, hundreds by military police and death squads, and yet few cases are investigated.
Thousands of miles away, another family seeks justice from indifferent authorities. But this is not in a far off country. It is the south side of Chicago, where Anthony Holmes was separated from his family for 30 years while he served time for a murder he did not commit. His so-called confession was wrung from him at the hands of the Chicago Police under the oversight of the infamous police commander Jon Burge. Holmes was shocked with electric wires and suffocated with a plastic bag until he confessed. Over 100 suspects, mostly black men, were tortured by the Chicago Police under Burge's watch. Holmes has not received any form of compensation.
Despite the miles that separate them, these cases have two things in common. They both demonstrate egregious violations of human rights and they are both cases highlighted this year by Amnesty International's annual Write 4 Rights campaign.
Each year Amnesty International invites the public to write - or email, text, tweet, or fax - in support of approximately 10 specific cases that are emblematic of its broader work on human rights both within the U.S. and around the world. both within the U.S. and around the world. This year, the family of Ricardo and Enio and the survivors of the Chicago police department's torture join prisoners of conscience in China; survivors of a catastrophic gas leak in Bhopal, India who are still waiting the for the corporate actors responsible to face justice; young women facing decades in prison for a miscarriage in El Salvador and others who have been denied their human rights.
But this is no mere fleeting charity activity. For over 50 years, Amnesty International has been one of the most esteemed human rights organizations in the world on the foundation of seemingly simple acts like writing letters on behalf of people around the world imprisoned or tortured by their government for who they are or what they believe.
And these letters have had an enormous impact. Last year alone, over 2 million actions were taken on behalf of 10 individuals and cases. And over the course of its 53-year history Amnesty International has come to the aid of enough people to fill Madison Square Garden...twice.
For many Americans, it's easy to take our human rights for granted. But as the cases in Brazil and Chicago show, an injustice anywhere is an injustice everywhere. Whether it's a father in Brazil seeking justice for his two murdered sons and facing only persecution, or a man and his family in the heartland of the United States shunned for decades for a false conviction, human rights are everyone's concern.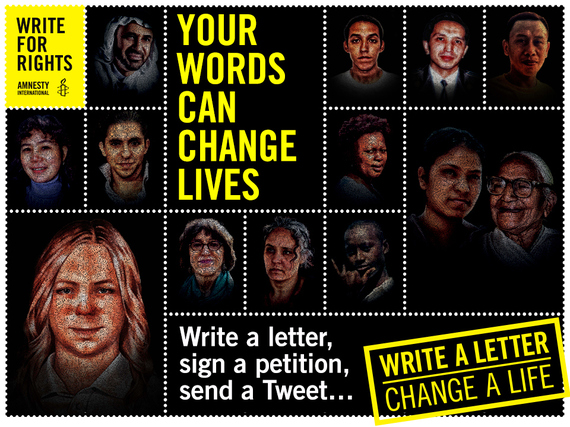 Defeating grave human rights problems like systemic racism, or police brutality, or the denial of health care can seem overwhelming. But the power of the written word cannot be underestimated. When you write a postcard to the dos Santos family, or when you send an email for Anthony Holmes, you are not just sending a message of support to those who have felt hopeless in the face of injustice.
You are sending a message to their governments that you know their story, that their abuses have been brought to light, and that you will stand with these individuals for what's right.
Harry Belafonte is a Grammy-award winning musician and civil rights activist. Steven W. Hawkins is the executive director of Amnesty International USA.
Calling all HuffPost superfans!
Sign up for membership to become a founding member and help shape HuffPost's next chapter