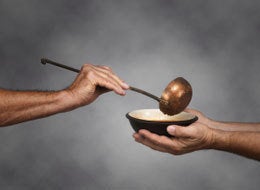 Note: This blogpost starts a monthly column called Voice of the Voiceless: Heroes Among Us -- featuring an everyday person who sees a problem and jumps in to fix it, without waiting for someone else to tackle the job.
Varying months alternate with a story of someone who helps people, with someone who benefits animals. Please enjoy. Remember: Helping give Voice to the Voiceless elevates all.
Premal Shah is light years from a hot, sticky morning visiting India, his parent's birth country. Holding his mother's hand on a beggar-strewn road in Dabhoi, Gujarat (Mahatma Gandhi's home state) he peers at a middle-aged woman shoving her hand into the open roadside sewer to pull out a rupee coin, the equivalent of two cents.
Even at age five, he felt the burning hot shame, confusion and anger at the injustice of such a pathetic act. That day he vowed to himself: "Someday I will grow up to help people like this woman not have to do this horrible thing."
That's exactly what Shah did twenty five years later when, in 2005, along with two friends, he started Kiva.org, the world's first online person-to-person micro-lending website. For as little as $25, anyone in the world can log on to the site and loan an entrepreneur somewhere in the world the money to improve their business.
By anyone's standards, Kiva's success has been nothing short of meteoric.
Today, $67,676,160 dollars has been loaned to 158,600 entrepreneurs in 44 countries. The default rate is currently a mere 2.03%. That comes to about $135,000 dollars a day loaned to much-needy people throughout the world, most in Third World countries. Kiva's first 7 loans made in 2005 were for $3500.
With over 476,000 lenders to date -- and despite international banking systems being what they are -- the Kiva loan system seems surprisingly simple.
Lenders browse profiles of entrepreneurs in need posted on the website and choose someone to lend to. Kiva collects the funds and then passes them along to one of their microfinance partners worldwide, who then distribute the funds. When the entrepreneur repays their loan, lenders receive their money back, and they can then re-lend to someone else in need, or withdraw their funds.
"Contrary to belief, poor people don't want hand-outs they just need the playing field leveled so they can help themselves," explains Shah, Kiva's president. "My dream is that one day Kiva will become such a common part of life that people will go home, log on to see who might need help around the world, and lend some money. I hope our way of loaning becomes as natural as getting that daily cup of Starbucks."
Without much public relations effort, Kiva's star rose rapidly. By 2007, big players such as former president Bill Clinton, Oprah Winfrey, The New York Times columnist Nicholas Kristof and PBS's Frontline World all championed Kiva's unique power to let the average person help change the world, one click and one small loan at a time.
Says Clinton, who spotlighted Kiva in his book, Giving: How Each of Us Can Change the World: "Kiva.org gives you a chance to do what Muhammad Yunus [the great micro-lender] won the Nobel Peace Prize for last year," he writes. "And it's all on the Internet. It makes you feel like you know these people.
"You see their picture," he continues. "You know the facts of their business. You know what their lives are like. You can have a virtual cooperative bank because you may be joined by people all over America or all around the world in helping this particular business. It's amazing."
How did the journey begin? In 2004, Shah took tally of his life. Graduated from Stanford with a recent glitzy Wall Street stint, he'd been lured back to Silicon Valley by his best friend, one of PayPal's co-founders.
Now working at eBay, he had the perks, executive title and was secure in a high-salaried job he loved, yet was restless and unhappy. The Indian beggar woman on the road so long ago still haunted him. He'd sit at his Palo Alto townhouse's tiny kitchen table and wonder if he was having a mid-life crisis at 28.
Most of his spare time was spent working on a dream of a start-up online company, a website that would link ordinary people making small loans to Third World entrepreneurs, helping them lift out of grinding poverty. It was a concept so new it had not yet been attempted.
It was while on a 3-month sabbatical in early 2005 in Gulbai Tekra, a large Indian slum, that Shah first had the courage to take real action. Still frustrated by his Silicon Valley work, he was there helping poverty-level workers and low-income women create a small clothing line.
In a tiny Indian internet café, Shah finally tried his online idea posting on eBay a simple photo and story of a Ugandan woman who wanted a $100 loan. He asked if any eBayer wanted to purchase it.
The next morning he checked his page and saw that 75 people had read it. Though eBay quickly removed the post [it's against eBay policy to solicit money on the site] he knew this simple idea was a winner.
At the same time, two Bay area friends were contemplating an idea much like Shah's. All three spent a good deal of time sitting around Shah's kitchen table seeing if they could make the idea work. In late 2005 the friends posted a small site called Kiva.org and emailed their friends and family. By early 2006 Shah knew it was time to quit his daytime job, jump into the unknown and, thus, Kiva was officially born.
Right now, anyone in the world can log onto www.Kiva.org and help fund a global entrepreneur. From a beauty salon owner in Tanzania, a taxi driver in Ecuador, a pig farmer in Paraguay, a construction worker in Cambodia, or a coffee brewer in Pakistan, each loan is about a person, says Shah, "a very personal story, and following the people and their stories is part of the excitement." Business updates are frequently posted on the website.
His parents and friends were initially strongly against Shah quitting his secure day job, but are now proud, he says, and many log on daily to follow their chosen entrepreneur's progress.
"It's about money, yes, but it's also about a personal connection," explains Shah. "It's about the truth to all who struggle in the world that there are other people on the planet who care and are willing to place their money where their mouth is," he says. "This is powerful stuff."
Janet Kinosian is a longtime journalist who has written for The Los Angeles Times, Reader's Digest, and People among many publications and provides media consulting at www.janetkinosian.com