By General Colin L. Powell, USA (ret)
In May, 2016 I proudly marked a new milestone in my career of public service. I presided over the Annual Meeting of the Board of Trustees of Eisenhower Fellowships, an extraordinary organization I have had the privilege of serving as Chairman for the last 10 years.
Eisenhower Fellowships is an independent, nonpartisan, nonprofit international leadership organization committed to changing the world, one young leader at a time.
Founded in 1953 as a birthday present from a group of far-sighted Philadelphia businessmen to President Eisenhower in his first year in the White House, EF is a living legacy of one of the greatest military leaders and statesmen in American history.
As a soldier and commander who had seen too much of war, Dwight Eisenhower had an enduring vision of a world in which cooperation replaced confrontation, and understanding replaced ignorance.
Rising from the ashes of World War II, created as the Korean War was winding down and the Cold War was heating up, Eisenhower Fellowships' primary mission has long reflected this vision of its namesake: to enhance international understanding and create a world more peaceful, prosperous and just.
When EF was founded, the organization broke new ground by bringing international midcareer leaders to the United States to expose them to American systems, put them in contact with U.S. experts and integrate them into a network of like-minded peers around the world.
Sixty-three years later, EF's mission remains much the same today. So does its central component: a world-class, transformational fellowship experience in which outstanding ascendant leaders from all fields expand their professional horizons and join a global network of leaders seeking to better their societies.
One thing I've learned over a long career of public service: whether in work or in life, it's all about how we touch and are touched by the people we meet.
For more than six decades, Eisenhower Fellowships has deeply touched leaders around the world. Time and again, EF has adapted to the challenges of its times to make an impact. In 1989 EF hosted historic all-Ireland program of Fellows--seven from the North, seven from the South--forging unlikely long-term relationships of trust that were an important factor in achieving peace in Northern Ireland in the Good Friday Accords a few short years later.
In the late 1990s, EF opened a new China program, capitalizing on Beijing's economic opening and its warming relations with the United States. More recently, EF has strengthened its programs in Southeast Asia, opening its doors to Vietnam and fostering active Fellows networks across the region. Addressing gender inequity around the world, EF hosted its first Women's Leadership Program in 2010, then a second last year.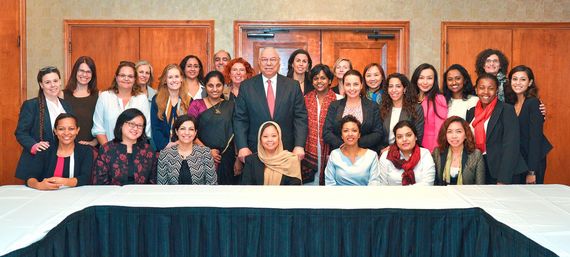 General Powell with Eisenhower Fellowships' Women's Leadership Program Fellows, in Washington, D.C., 2015 .
Today I believe that it is as important, or perhaps even more, for Americans to be exposed to the world, as it is for foreign leaders to know the United States. Accordingly, Eisenhower Fellowships has doubled the size of its USA Program that sends outstanding American midcareer leaders overseas.
Eisenhower Fellowships' evolution continues as it prepares this fall to host the first all-Africa regional program in its history and places at the center of its fellowship programs a new core objective--that Fellows generate real-world positive impact on their societies, including mentoring young people coming up behind them.
That impact is visible around the world every day. In war-torn Basilan Province on the island of Mindanao, Filipino Eisenhower Fellows conceived, designed and implemented a multi-disciplinary Basilan Development Project to improve education, sanitation, health, access to clean water and other sectors, helping keep the peace and improve lives in concrete ways. They are exploring launching an affiliated youth leadership program.
Eisenhower Fellows in Taiwan run a Cross-Straits Youth Camp that quietly brings up to 50 Taiwanese youths to Mainland China and promising Chinese university-age youth to Taiwan each summer for three-week immersion exchanges. Over its six years of existence, more than 350 people from both sides have had formative experiences interacting with peers across the Straits of Taiwan for the first time.
In Philadelphia, Sister Mary Scullion, an Eisenhower USA Fellow, opened the Learning Center and Comcast Technology Labs, an idea she got while on fellowship. The center now serves 1,200 underprivileged children per year, helping them increase their educational opportunities by providing free access to comprehensive technology, literacy instruction and entrepreneurial training.
That impact is multiplied across EF's active global network of more than 1,500 influential leaders. They include the Vice Minister of Education in China, the head of the Central Bank of Thailand, the Finance Minister of Indonesia, the Mayor of Seoul, the Ombudsman of the Northern Ireland Parliament, a Major-General in China's Army and many other leaders in science, medicine, education, the arts, journalism and other fields. The former President and seven-time Prime Minister of Turkey, Suleyman Demirel, was an Eisenhower Fellow. So are more than 100 Cabinet ministers, 250 CEOs, dozens of university presidents and many other distinguished leaders from more than 100 countries in six continents who have gone through our program.
When I meet Eisenhower Fellows and Trustees on my travels overseas, I'm reminded how much we can increase the chances of creating a world more peaceful, prosperous and just when we build ties with like-minded people. This was Dwight Eisenhower's vision, and his passion.
At a time of conflict and tension around the world, this vision is more relevant than ever, and so is the mission of Eisenhower Fellowships.
I've worn many hats in my career--soldier, National Security Adviser to the President of the United States, Chairman of the Joint Chief of Staff, Secretary of State. I am proud to lead an organization in its sixth decade of working to make President Eisenhower's vision a reality, one young leader at a time.
Related
Popular in the Community