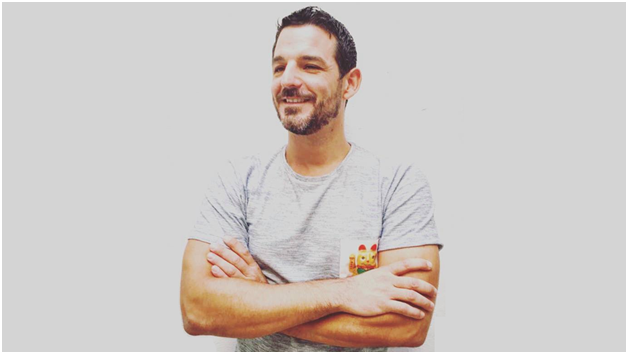 It is really hard to find a business with principles, a business with a desire to change the world with the power of sharing.
I met Gerard Compte on facebook, when promotion of his tool was in full swing.
His success exemplifies the fact that a business established with a belief that sharing is the best part of gaining, grows the fastest.
So, if you are interested in tips for a fast growing business and an inspiring entrepreneurial journey, this interview is for you.
1. Every entrepreneur has a story worth taking an inspiration from. What is yours?
This started a few years ago. I read the book 4 hours Work Week. I read for the first time about- Work Remotely, Outsource, List of contacts , 80/20 rule, Parkinson's Law and all other business words.
For the first time in my life, I felt I could change myself to achieve anything. Then I started a company that generated International appointments. Well, it was a total disaster.
I tried to automate, externalize and scale up. Before I had the market fit, It was a total disaster.
This pursuit helped me find out what is the core of the business (to verify emails).
Later I met Cristian Vitales, the CTO and now a "Business Brother". We designed in just a few days the first blueprint for FindThatLead.com- an easy tool to verify emails for Lead Generation teams of Saas Companies.
1 Focus on the market fit.
2. Never try to scale what can not be automated
3. Grow before you can celebrate.
For the next 2 years I was working over 12 hours a day. I did loads of user interviews. We strongly wanted it to be the best Email Generation/scraping tool for any Lead Generation team in the world.
We had one goal and today, we are halfway through. We are very proud of the amazing growth of the team and the company.
I have based growth of the company very organic, real and natural. Bootstrapping is so important for us, we don't want any external money. We like to do it the real way!
2. What is your focus first on-money or client satisfaction and why?
Maslow's pyramid…..Basic needs first.
In the beginning we didn't have any money. So, my focus was only on money , new MRR (Monthly Recurring Revenue) , growth etc…. Nowadays, we have a good and steady growth and we can focus on other parts of the business.
Nowadays, our complete focus is on 100% client satisfaction.
We have made a small transition…our sales team has become Customer Satisfaction Team!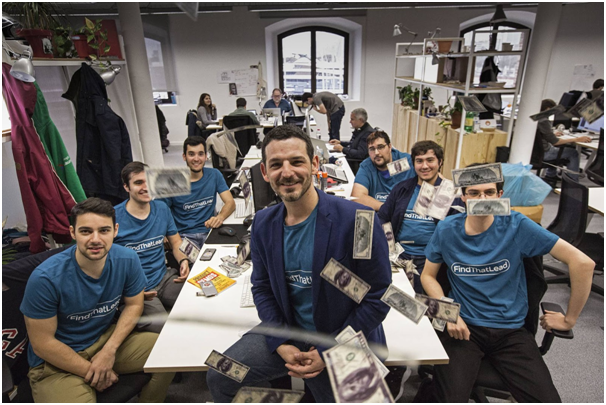 We love to spread the message #sendemailswithlove .
We believe in changing the world by sending amazing emails. This is how we want to make the world a better place.
Everyday I send one email to someone who can influence my life positively. I don't tell boring and worrying long emails. I send love letters to people who, with us, can change the world.
This habit has really influenced my life positively and this was one of the reasons to make FindThatLead.
3. You have developed an interesting way of scraping Email addresses of subscribers of any websites. Tell us about such a scraping model.
FindThatLead has grown fast- Thanks to our users.
The algorithm searches for patterns of the companies. More the user searches, better the algorithm gets. We crawl through the web on a daily basis to generate best results.
We have always been very focused on giving out a correct email address.
We love to develop and grow different techniques to ensure the correct delivery of emails. We believe that we can change the world by giving correct emails. That is why we put so much love, helping business owners and freelancers to find the correct emails.
I can tell you the secret sauce - it's love, a few hours and focus!
4. . Who are some of the remarkable people you connected within the industry who've made a memorable impact on you?
Well….. Eric Siu, Sujan Patel, Noah Kagan,Vincent Dignan, Charlie Price, Aaron Ross, Josh Fetcher, Pep Gomez, Eneko Knor, Didac Lee, Richard Garriga, Aleix Valls, Monica Hernandez Adria Batlle. This is just to tell you a few influential people in my life who have been key to my growth.
I remember listening Noah Kagan's podcast and loving every moment of listening. Nowadays, he is one of my best customers. Believing in the power of the sincere efforts and dreams always pays.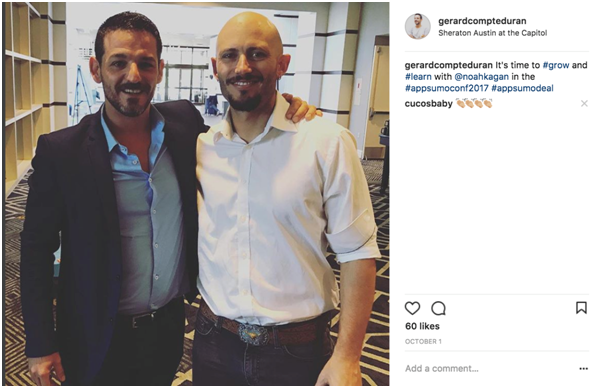 I remember a brief meeting with Eric Siu. I used to listen his podcast. A few months ago, I had a pleasure to share an audience at the Appsumo Conference and teach with him, the best Growth hacking tactics.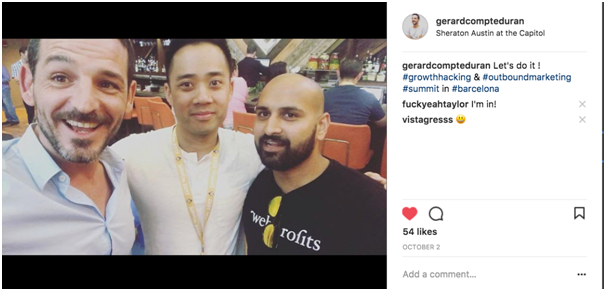 Also, meeting Brian Halligan was a great moment for the growth of FindThatlead!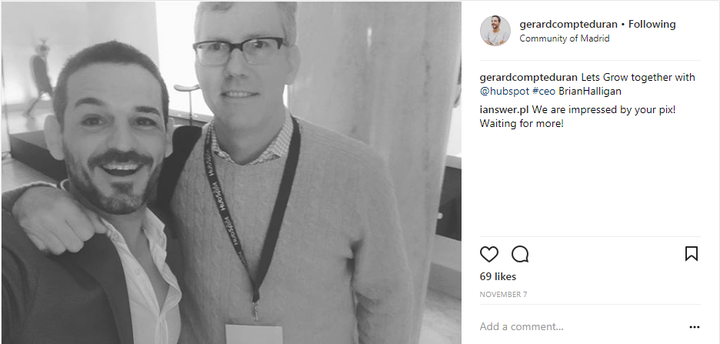 I have a few emails to send to people I want to connect with in future:
Tim Ferris, Marc Benioff, Stewart Butterfield, Mikkel Svane, Daniel Springer, Steve Lucas and few more successful entrepreneurs.
5. How did you get into helping growth marketers/entrepreneurs?
From the beginning, It was a dream to teach some of the techniques we used to develop. When you bootstrap, you run out of money...then imagination kicks in and magic happens!
You find the coolest ways to grow without money. It´s just amazing.
We have always used outbound marketing to grow and we became very good at it. Once we had a proven recipe of success, it was time to show the other similar businesses like us, how to do it.
I also got inspired by Josh Fetcher from the BAMF group. He is pure and full of amazing energy. He really inspired me to start a group about outbound marketing and growth hacking on Facebook.
Starting a group was like a little joke, but now it has become an important part of my days, where I am super happy to share all our tricks to keep growing to the next level.
The key to success for anyone is to share what they know with others to help them grow. Giving is the best part of generating!
6. What are one or two key habits that helped your success?
"Being first" is most important. We believe in starting first in the morning. We love to start early in the morning and this has been the key. Go to sleep early and wake up early! We do not like to stay late nights working and we implement very specific work hours (no extra hours)! But we like to stay empowered for work when you are inspired!
Second one- We wanted to contact everyone in the world which is not possible today. Then we changed the direction and we started to connect with influencers. This really made an amazing difference. Grow with them, be real and love what they do.
7. Can you dive into some of the fundamentals of building a company or some mistakes that entrepreneurs tend to make?
Money! we get so much lost in data. Paralysis by analysis is a common mistake that startups make.
You can easily track anything, any parameter in a startup and you end up with an amount of data which is impossible to implement, because you can not digest.
Do we need to analyse everything? The answer is no, don't do it please.
We focus on one yearly objective, break it down in 12 monthly goals and fight weekly growth. In our case it is LTV ( Lifetime Value ) , CH ( Customer Happiness ) & New MRR ( New Monthly Recurring Revenue ).
I remember Steve Jobs saying- Have the courage to follow your curiosity and intuition, they somehow already know what do you want to become.
I do follow my intuition and let the universe take me where I need to be. It feels happy and when you are happy…..you work much better.
8. What are some of the little-known marketing/sales/startup tools that you have been using?
I love to discover tools that help make my life simpler. They need to be super simple and usually monofunctional.
Boomerang: To remember whom I send emails
YAMM : Send emails in batches for Gmail
GIPHY for Gmail: The best one ever, I am very visual. I recommend to make emails funny every day and all the time
9. What habits or routines do you usually follow to make sure that you stay productive?
Listen to your body constantly and consistently
Be around people who are better than you
Sleep for more than 8 hours
We need a super positive energy so that we can make an impact on the world.
I follow a few podcasts and blogs from top influencers in the startup scene which keeps me updated about trends. Huffingtonpost is one of them.
10. How are some recent marketing changes causing you to adjust your strategies?
When we started FindThatLead over 3 years ago, we were very focused on acquisition. It was 90% of my time. It was a very tough job. I used to send emails and do a demo after, just to get one user. It was an amazing feeling every time someone joined.
Today we focus on implementing customers success strategy. Retention is one of the key elements. Thanks to some internal tools that we have made! We do special arrangements to keep our users happy.
It´s important to keep changing the strategies in a company as you go with it. But remember the key element- always give as much value as you can.
11. What is your vision for FindThatLead?
Our vision is different from everyone else. I want to change the world to be a better place by the power of emails.
We can all send one email a day to make people around happier.
When was the last time you send an email to someone to thank them about something ?
12. What would you advice to budding entrepreneurs in online business?
Ideas are good, but you need to work on a simple idea and 24/7 time to implement. Follow intuition all the time. Have an amazing team, who can measure success based on specific KPIs.
Pay yourself a good salary, pay your team better salary than yourself.
Love what you do, love your vision, love every moment.
Help others to do the same
Use Facebook to promote your product, but just by giving value
Send 1 email a day to someone special
Send 100-500 emails to promote your business
Don't pay for acquisition, No facebook or Google ads
Dream, Implement and have fun
Unlike any business, online business is one of the the cheapest. The opportunity is so good, that anyone can be millionaire in a matter of years. What makes all the difference is the commitment.
How much committed are you to your project ?
I want to change the world to be a better place with the power of emails. I am committed to it.