I'm a huge believer in changing your scenery as often as you can. It helps give you a new perspective on issues you're facing and forces you to see your world in a different way.
It might be as simple as getting up from the computer and going for a walk, and sometimes it's about completely changing your scenery.
What better way to change your scenery than by jumping on a plane to witness the amazing landscape of New Zealand. The great outdoors, the sky and massive mountains of Kiwi land can truly bolster your spirit.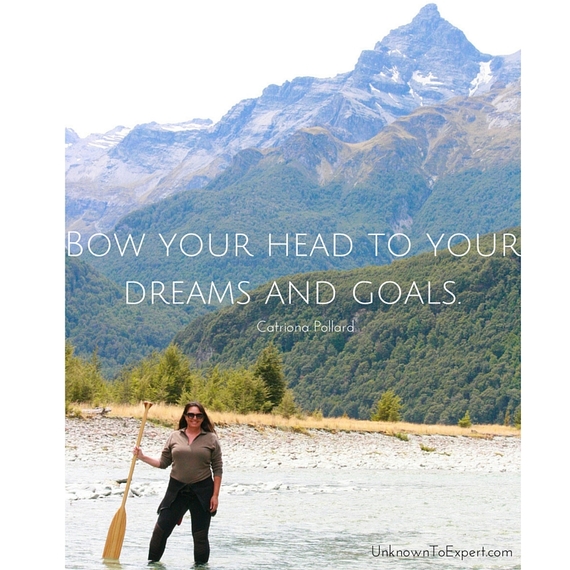 Here are a few things I learnt the last time I walked the mountains and rowed the rivers in New Zealand.
Rowing on the same side turns you in circles
We were rowing down the Dart River and kept hitting the bank, then would bounce off, do a 360 spin...hit the bank, bounce and spin. In frustration I yelled to the guide, "What are we doing wrong?" He yelled back, "You're both rowing on the same side." Pretty obvious, right? I was so frustrated I just didn't see it. I needed someone outside the situation to give me advice.
A brand new iceberg is blue...and delicious
The largest iceberg in three years broke off from the Tasman Glacier just hours before I arrived. My timing was beautiful. I had the opportunity to see the pure blue iceberg before the sun turned it white and I was able to eat some of the ice crystals from the small icebergs. Sometimes it all comes down to timing.
Not everything ends as it seems
Waterfalls are all about water falling into a lake or pool right? Not always. As I was hiking in the Aoraki Mount Cook National Park, I noticed the water falling from the towering mountains, over rocks, under branches and when it reached the bottom, it completely disappeared into the rocks. I was told it does eventually reach the lake, but just in underground streams. You know, we can still reach our destination but some of our path might be hidden from view.
To the Maori, the Aoraki is a sacred mountain. It is linked to creation and the nature of reality and meaningful life. For me, I believe we all should strive to live a meaningful life. If you bow your head, then let it be to a lofty mountain. Let it be also to your goals and dreams.
About the author
Catriona Pollard is the author of From Unknown To Expert, a step by step framework designed to help entrepreneurs develop effective PR and social media strategies to become recognised as influencers in their field. www.unknowntoexpert.com
Catriona is also the director of CP Communications, which merges traditional PR tactics with cutting-edge social media strategies that engage consumers as well as business. www.cpcommunications.com.au
Calling all HuffPost superfans!
Sign up for membership to become a founding member and help shape HuffPost's next chapter