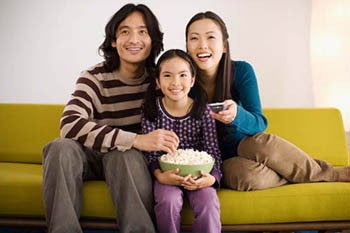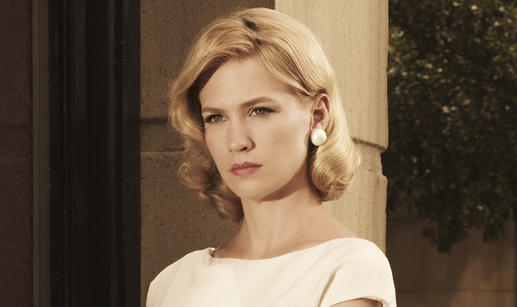 If you've seen the show Mad Men then you're already familiar with Betty Draper's off putting yet alluring character. In the majority of her scenes she's located in a plaid-coordinated suburban kitchen staring blankly at her children while discontentedly huffing a cigarette. As her children eat (or dare speak) she sips from her bottomless wine glass through perpetually lipsticked stained lips.
Only when one of her blue-eyed children draws Betty's attention with an innocent query, "When is Daddy coming home?" (FYI Daddy is never home because daddy is always up to no good with some other coiffed babe) will Betty wake up. Then she responds with one of her classic era-driven parenting standards such as "Go watch T.V.!" Or if there is daylight she might innovate: "Go outside and play!"
If you haven't seen Mad Men then just imagine an utterly spoiled, gorgeous, turned-out mother who has no idea what to do with her life, or how, in fact, her life became her life and who has become so very very angry about it all. As the mother of two, one of whom has brutal allergies, I can't help but think how lucky Betty is to have such hearty looking kids. I can only imagine how furious she would be with any such child-related inconvenience as life threatening food allergies: "He can't even eat the same peanut butter sandwich as Sally! Don. Please! Do something!"
And yet. Once in a while, I admit, I channel dear old "Betts" (as her condescending hubbie refers to her) from time to time. Why would I want to tap into such a displeasured maternal figure; a near mommy monster? My husband is nothing short of awesome, I love my work and my children. Haven't smoked in years (though Betty makes it look soooo good) and I drink in moderation.
Oh. But every once in a while my kids get a little too silly at the wrong time. Like Don, my hubbie works late "in the city" at his media company. And while I'm not bitterly pining away in suburbs, when I solo parent, I don't believe in negotiating with tired children. Madmen reminds me that there was a time, not long ago, when parents didn't explain, and reason and justify, they just told.
Of course, when my children act out, my directives are expressed with kindness. I can't muster Betty's tone or hostility. But even in the 2009 version of parenting, discipline doesn't work if it lacks confidence. For better or worse, confidence is not Betty Draper's problem. She may be quietly furious but she knows that she is a gorgeous monied honey; a paragon of Kennedy-era femininity.
So when it's bedtime and both kids are dancing about my east side rental like they are on speed (or in my son's case too much asthma medication) my inner-Betty silences that wimpy thought "Maybe they're really not sleepy?" and confidently issues, "Bedtime. Wash up. Now."
And in my gratitude that I don't have to endure her train wreck of a marriage or to wear Betty's high-collared dresses and stiff undergarments (rather the comfy ubiquitous Manhattan mommy uniform of jeans, boots, well-cut tee and lightweight cashmere cardigan) I feel the urge to raise up a chilled daiquiri in her honor and the slim hopes that, by next season's final episode, Betty will get a stab at on-camera mothering and be directed to snub out her cigarette, walk over to her children and hug them children tightly before the final credits. Doubt it though. So maybe I'll go and do that instead.
Popular in the Community