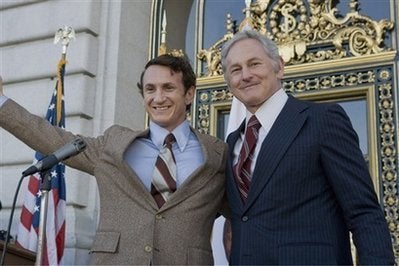 Gus Van Sant's marvelous Milk opened Wednesday on the 30th anniversary eve of Harvey's assassination. One of its messages from beyond: Prop 8 should have been beaten; we know how to beat the Right in California. Seeing it at an Academy preview last week, I flashed back thirty years to the lessons from the No on 6 campaign against the Briggs initiative that would have fired gay teachers. The ugly homophobic words of messianic homophobes Anita Bryant and John Briggs were the same we heard from the YES on 8 folks, only the Right has gotten more clever over its three decades in power: no single lightning-rod celebrity spokesperson, wrap bigotry in a yellow-happy-family logo; build a multi-racial religious coalition (see here).
But the themes were eerily similar: gays and lesbians threaten straight folks' children and their religion. And, yes, we've come a long way when we are fighting for the right to marry as opposed to defending the right of gay schoolteachers to work. But we could have beaten Prop 8 had we studied our own history. 1978 was a different era, a time of widespread social activism on the progressive side; organizing and coalition-building was the norm, and the latest human rights movement - the gay and lesbian movement -- learned how. Critical to Harvey Milk's election was promoting the Coors boycott in the gay community and thus building trust with labor. We came from a 25-point deficit to beat Briggs because we did exactly in 1978 what Barack Obama did this year to win the presidency: Build BOTH a professionally run, disciplined, topnotch top-down campaign AND an inclusive huge grassroots movement that engaged every single person possible in activist support.
This year, I worked in Obamaland for two months around the clock, but in 1978, I was immersed in the lesbian-feminist 'women's music' world and helped organize an amazing 10-city Holly Near/Meg Christian concert tour against Briggs that reached 50,000 people. The day after their concerts, Holly and Meg led training sessions to inspire and educate hundreds of women to become, yes, community organizers. There were a zillion other ways to plug into No on 6, and, as a result, the gay and lesbian community came together in a way that presaged fighting AIDS later. One historical note: at that time gay men and lesbians were living on separate planets, as you'll see in Milk where you meet exactly one lesbian. In truth, there was a huge and vibrant lesbian community in San Francisco, including myself, but we lived in the working-class Mission, out of MIlk's camera lens focused only on Harvey and the Castro. Together, gay men and women built a grassroots movement the likes of which had never been seen before in CA; thousands of people came "Out of the closet and into the streets", pouring into organizing meetings in bars and coffeehouses and feminist bookstores and newly emerging community centers and clinics that were our new home base. We started with our own community coalition.
But even that mass grassroots movement would not have defeated the right wing's vicious campaign without our professional political consultant, David Mixner, who got Ronald Reagan to do a 30-second radio ad that ran the last two weeks of the campaign. Mixner also had briefly run Tom Bradley's Mayoral campaign and worked with African American political leaders to deliver the Black vote in LA. Unfortunately, No on 8 did little coalition-building with the all-important black, Latino, and labor communities.
But most importantly, this year's No on 8 equivalent of that Reagan ad designed to reach the "moveable middle" should have been Barack Obama. Obama opposed Prop 8 immediately, but the campaign failed to use his endorsement until the last days of the campaign when it was too late. When Obama's CA campaign director asked me in early October why Barack's face wasn't plastered all over mailers and TV and radio - which might have made a big difference in Black and Brown communities that overwhelmingly voted for him -- I was told by a friend in No on 8's inner circle that Barack's position was "too confusing" (he says he opposes gay marriage). Confusing? Opposing Prop 8 was his ONLY endorsement in CA, despite pleas from other initiative campaigns. I've heard people blame the Obama campaign for sucking money and people out of the struggle against 8. And I've heard too much ugly anger at the Black community. But take responsibility, No on 8 leaders - you had Barack's endorsement and you didn't use it. That left it wide open for the YES folks to manipulate Obama's position into yet one more lie -- that he supported Prop 8. That was a possibly fatal error and we cannot blame the Morman Church or African-Americans for it. For my full analysis of No on 8, including Where To From Here, go to http://libertyhill.typepad.com
Torie Osborn is a longtime activist, Durfee Foundation Stanton Fellow, and senior advisor to Mayor Antonio Villaraigosa and the United Way of Greater Los Angeles.
Popular in the Community