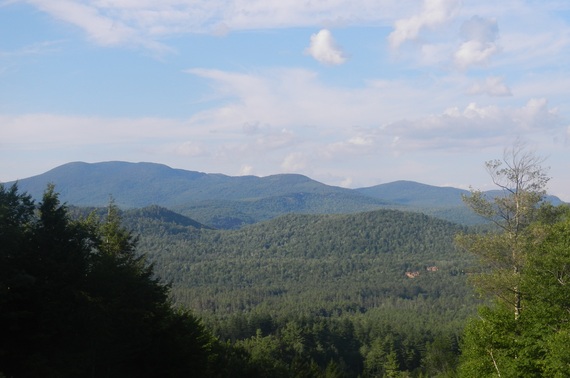 There is nothing like a New England summer! The smell of wet freshly-mowed grass. Delicious lobster rolls from casual shacks by the water's edge. Swimming in refreshing cold water in the ocean or pool. We headed to the Sunday River Resort in Maine, near the birthplace of outdoor enthusiast and entrepreneur L.L. Bean, or Leon Leonwood Bean. New Englanders often associate the area with excellent skiing. In the snowless landscape, we took up alternative fresh-air pursuits in the mountainous landscape.
Standup Paddleboarding with the L.L. Bean Outdoor Discovery School - You're never too old to learn something new. I don't believe I should stop challenging myself physically, just because I've become a parent and middle aged. As a role model to my kids, I want to show them curiosity never dies. Standup paddleboarding is a relatively new sport that originated in Hawaii and hasn't made its way to the rainy, windy climes of Scotland. My 10-year-old daughter and I signed up for lessons with the L.L. Bean Outdoor Discovery School based at the Sunday River Resort. Basically, we stood up on surfboards and used oars to power ourselves in the water. The sport requires balance, core strength and fearlessness, i.e. letting go of the fear of falling into the water. In fact, the first instruction from our teacher was to plunge into the water voluntarily so we wouldn't be afraid to fail and learn to get back up. A good lesson in life! For more information, go to L.L. Bean Outdoor Discovery School.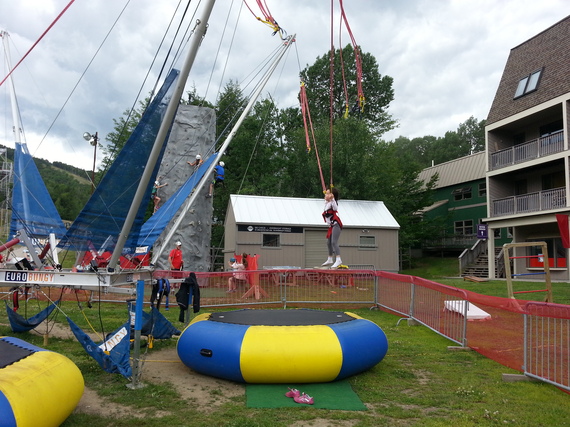 Adventure Pass - From Thursday to Sunday, Sunday River Resort sets up a huge assortment of activities for kids and adults alike. There were twin ziplines where two people could race against each other flying down at superfast rates. I had no qualms about beating my 10-year-old. She's old enough to learn that if she wants to win, she's got to work for it. We tried different techniques like pumping the harnesses as we rode or holding our arms out like airplanes. My five-year-old got unlimited bounces on a bungee trampoline and scrambled higher than me on the climbing wall, fair and square.
Picnic at the summit - We rode chairlifts up to the peak of the mountain where we picnicked at the summit with a packed lunch of delicious wraps, fruit and cookies from the Camp Restaurant at Sunday River Resort. Along the way to a quiet spot on the summit, the kids saw their first snake in the woods. Having spent part of my childhood in Georgia where snakes are abundant, I believe all kids should come across a snake in the wild and not just behind a pane of glass in the zoo. Later, we looked it up and found out there are no poisonous snakes in Maine to our relief.
Hotel pool with outdoor hot tub - Every evening, we went to the sizeable hotel pool. One of the stairs into the pool led from an indoor cavern-like area and my kids pretended they were emerging from a magical cove where they turn into mermaids, like in their favorite show H2O. The steaming outdoor hot tub was my starting point so I could work up my nerve to dip into the colder pool.
Naples, Maine - Less than an hour away is the Songo River Queen paddleboat steamer where you can cruise around the lake for an hour or two. Well-known summer camps as well as grand vacation homes dot the shores. Lake sports were available and we tried a water vehicle we had never seen before: an aquatrike. It basically looked like a giant version of a kids' tricycle with buoyant oversized wheels and we pedaled our way around. On the shore was Clumsy Moose Ice Cream parlor offering highly recommended flavors like Campfire S'mores. For more information, go to Songo River Queen.
We barely missed the annual Tough Mountain Challenge at the Sunday River Resort, which includes muddy obstacles of slimy slides, sloshing through waist-high water and balancing over logs. There's a Mini Mountain Challenge for kids to get in on the muddy action, which looked enticing for the kids. Maybe next year! For more information, go to Sunday River Resort or Tough Mountain Challenge.