If you thought 2012's "Magic Mike" was all hot strippers and six-packs, you'd be right.
But it turns out there was also some major beef going on between two of the actors in the movie -- Channing Tatum, who played Magic Mike, and Alex Pettyfer, who played Adam.
"It's true. Because Channing Tatum does not like me for many reasons, many being my own fault," said Pettyfer.
The 25-year-old actor went on to explain why, attributing the feud first to his own insecurities.
"I was scared to speak. I actually did my work and I sat in the corner and listened to music because I had been told anything I did was wrong by my reps," Pettyfer said on the podcast. "I was very insecure as a human being. That also gave me a bad rep because everyone was like, 'Alex doesn't speak because he thinks he's better than everyone else.' That's not true. I was just generally nervous and scared to be myself. I was in character."
According to a 2012 Us Weekly article about "Magic Mike," Pettyfer was actually known on set for his divalike behavior and "massive fights" with Channing Tatum -- not his lack of speaking.
Things got even worse between the two actors when Pettyfer, who was renting a place from one of Tatum's friends, moved out of the apartment and refused to pay. According to Pettyfer, he refused to pay because of both mold and recent death in his family.
"All of a sudden, I got a very negative email from Channing -- rightfully so -- saying, 'Don't f**k my friends. You owe money. Pay the f***king money. Don't be a clown,'" he said.
Pettyfer said he then ignored Tatum's advice to pay and shot off an angry email to the star.
"I got hounded through this time of grieving for money. By the end of it. I just said, 'F**k them, what is money when life is so much more? I'm not paying," said Pettyfer. "And I should have just paid. I think he [Tatum] was looking for an excuse to not like me."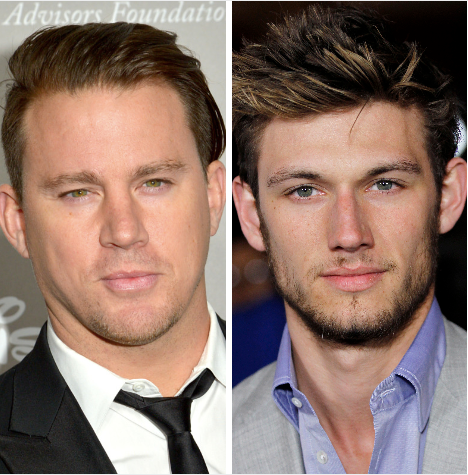 "What Channing says, goes. He's a movie star. I made the poor decisions," said Pettyfer, during a brief moment of self-reflection on the podcast. "Channing was actually an incredible influence on me because after this whole situation happened -- this was kind of the end of my immaturity and all my experiences put into one. It was an incredible experience making 'Magic Mike.' I wouldn't replace it for anything."
He also earned a d-bag rep for admitting to V Man Magazine, a fashion mag, that he got "Thank You" tattooed above his crotch, for reasons you can guess. That reputation came back to haunt Pettyfer when Perez Hilton said he got bumped from the role of Peeta in "Hunger Games" for his known difficulties on set.
Does this guy sound like someone you want to be around? Probably not.