Cue up your pottery wheels and Righteous Brothers albums, folks: A remake of "Ghost" could soon be making its way to the big screen, with Channing Tatum as its leading man.
Speaking to Vanity Fair for its February issue, Tatum revealed that his Free Association production company owns the rights to the 1990 romantic drama, which starred Demi Moore and Patrick Swayze.
The subject of "Ghost" fittingly came up when journalist Jessica Pressler opted to interview Tatum ― who will next be seen in "Magic Mike's Last Dance," due out Feb. 10 ― at a pottery studio in Brooklyn, New York.
"Now I know why they put this in 'Ghost.' This whole process is very, very sexual," Tatum explains in the interview, before adding: "Yeah, we have the rights to 'Ghost.'"
After noting that he'd be playing the Swayze role, the actor alludes to updating the original movie's script, which contained some problematic stereotypes.
"But we're going to do something different," he said. "I think it needs to change a little bit and have our…"
Pressler notes that Tatum shared no further specifics, having become preoccupied with the pottery wheel.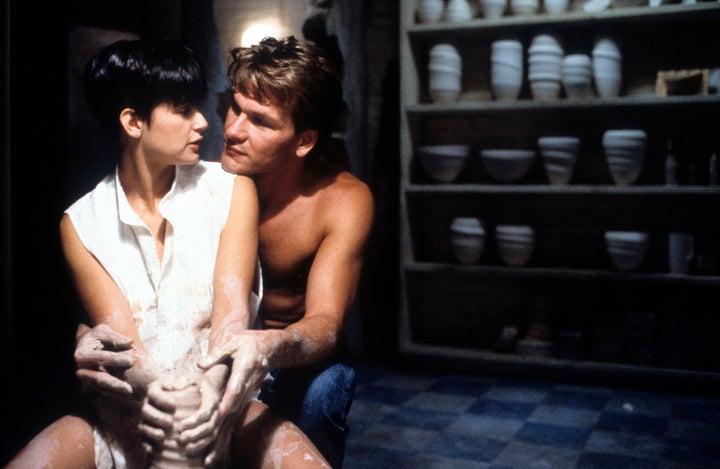 Swayze, who died in 2009, was hot off his "Dirty Dancing" success when he starred in the original "Ghost." Directed by Jerry Zucker, the movie follows Sam Wheat (Swayze) and Molly Jensen (Moore), a young couple starting their lives together in New York. Tragedy strikes as Wheat, an investment banker, is killed by a thief attempting to steal his wallet.
After realizing he's become a ghost, Sam discovers that the mugging was not random and that Molly could be in danger. So he enlists a medium, Oda Mae Brown (Whoopi Goldberg), to help him save his girlfriend's life.
By all accounts, "Ghost" was a smash, raking in a reported $505 million at the box office worldwide, while Goldberg received an Academy Award for her performance. The movie is best remembered for its iconic (and much-parodied) love scene, in which Sam embraces Molly from behind as she sensually shapes clay to the tune of "Unchained Melody."
Interestingly, "Ghost" is not the only remake of a Swayze property in development. Last year, it was confirmed that Jake Gyllenhaal had been cast in a reimagining of 1989's "Road House," in which Swayze played a bar bouncer with a mysterious past who helps save a small Missouri town from a corrupt businessman.
Meanwhile, Swayze's "Dirty Dancing" co-star Jennifer Grey has signed on to reprise her role as Frances "Baby" Houseman in a sequel to that 1987 classic.
Popular in the Community