Ladies and gentlemen, here's your first look at Tatum in "The Hateful Eight."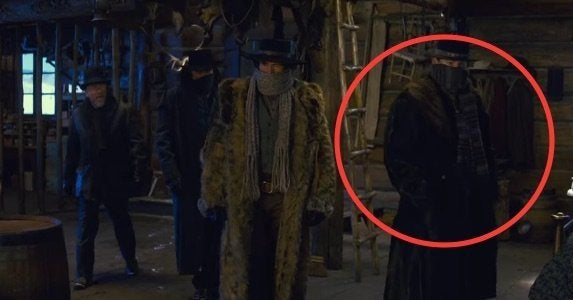 Tatum appears in a quick shot around the 1:30 mark. With the scarf in front of his face, you can't be 100 percent sure it's him, but we scanned one of those leaked copies of the script going around online. In those scripts, the character Tatum is playing -- according to IMDb -- is described as "dressed all in black" with a scarf in front of his face. He's also seen with three other men. Those characters are played by Demian Bichir, Michael Madsen and Tim Roth, who also appear to be in the scene. 
If this is, in fact, Tatum, it's not actually our first look at him. Business Insider points out that some Tweeters caught it early on, since the scene is also in the teaser trailer. It's better hidden there, though. Tatum is reportedly not one of the characters considered part of the "hateful eight." But, the text before the scene reads, "Eight Strangers," so one naturally assumes the characters in the scene are part of those eight strangers.
Is this actually Tatum? After the much publicized leaking, Tarantino reportedly changed parts of the script, so it's possible the scene featuring Tatum's character was also altered. We'll most likely have to wait for the movie's release to be completely positive. Though, if a new trailer comes out with that character doing some sort of sexy pop-and-lock routine, we're going to call this confirmed.
"The Hateful Eight" comes out Christmas Day.
PHOTO GALLERY
Quentin Tarantino Movies
Calling all HuffPost superfans!
Sign up for membership to become a founding member and help shape HuffPost's next chapter