If imitation is the sincerest form of flattery, what is spoof? My phone starting buzzing around 10:30 p.m., when I first learned that Jay Leno had featured a group my company represents at the beginning of his monologue. The group is the Grammy-winning all-male vocal ensemble Chanticleer (
), which had sung some holiday songs on the
Today
show last Friday. Jay brought attention to the group's famed male sopranos, inserting himself -- tails and all -- into the
Today
show clip. You can check that the Leno spoof here:
You can also visit the
Today
show's
to catch the group's performances there last week as well as previous appearances on the program.
Turns out that Chanticleer has been on the Today show at Christmastime for five years straight, which may be a record for a music group appearing on this popular program. Both Meredith Vieira and Kathie Lee told the guys behind the scenes and on-air that the holiday season doesn't start until the guys come on the show. This is the kind of stuff us publicists love to hear!

When I got the call about the Leno spoof, my first thought was "Uh oh." Having seen high-voiced males chuckled at on American Idol and elsewhere, I was concerned that Leno might have done something mean-spirited. But watching the clip it was clear that it was all done in good fun. Of course we've already sent a few pitch letters to the show asking if they'd like to have the guys come in to meet Jay when they are in Los Angeles to perform at Walt Disney Concert Hall on December 17 (click for tickets) No response yet.

Clearly there's a big buzz out there right now for a cappella vocal singing, and I'm hoping Chanticleer -- described by the New Yorker as "the world's reigning male chorus" -- will ride the wave and get some broad recognition for being the best at what they do. There's Glee, of course, as a megahit from Fox (I'm a huge fan of the show, and many Chanticleer singers started by singing in glee clubs), and NBC will soon have a chorus-themed program of their own on the air. But beyond the prime-time media exposure, choral singing across America also happens to be one of the great national pastimes, even if you don't see the story covered as often as you hear about baseball.
In fact, a recent study by Chorus America noted that 32.5 million adults are regularly singing in at least one of 270,000 choruses nationwide! And it turns out that choral singers just happen to make better citizens as well, almost three times more likely to be officers or committee members of local community organizations such as the PTA according to that same Chorus America study, which also notes that Choral singers donate two and a half times more money to philanthropic organizations than the general public.

Given the amount of activity of choral singing out there, Chanticleer's reputation as the "best of the best" among them is a truly stupendous accomplishment. And they are beloved! Indeed, Chanticleer's fans display the kind of fanatical devotion you associate with rock and rollers and Hollywood movie stars. Just try to get a ticket to hear Chanticleer sing at New York's Metropolitan Museum of Art, where they give multiple holiday concerts each season: you have to line up in July for the hopes of purchasing one.

But Chanticleer is not just about high singing and Christmas. The group has all voice types, including one of the deepest and awe-inspiring basses in Eric Alatorre, famous for his handlebar moustache and twenty years of service to the group. And their repertoire spans the ages, from Gregorian chant and Renaissance polyphony, to pop standards and spirituals. Hearing them live creates in me the same feeling of amazement that I experience when I'm in a plane and wonder how such a huge, heavy metal object can ever get off the ground (a reference, of course, to Chanticleer's near-miraculous achievement and not to their collective weight!). The Los Angeles Times once wrote about the group's "luxurious perfection," and that's a great way to put it. Everything about a Chanticleer show has been brilliantly and lovingly shaped -- from the sound they make to the choreography they execute as they move into different formations to sing their next song. Behind the seeming ease with which they do their thing it's obvious that they have worked and worked and worked again to get it just right. But it never feels staged; it's always fresh and full of sincere feeling.

I've worked with Chanticleer for eight seasons now and various individual members have come and gone over the years (one of them, Matt Alber, writes wicked-good songs and has a burgeoning career as a pop singer: http://ww.mattalber.com/; another, Philip Wilder, did me the honor and favor of coming to work with me at 21C Media). Off stage the Chanticleer guys continue to give off the same wholesome but slightly naughty vibe to me that that I sensed when I met them following a concert in 2002. They may sing like angels, but the members of Chanticleer also like to have fun and cause a bit of trouble. These are twelve guys from across America (lots, its seems, from the heartland) who, when they get together to sing, make a noise that makes you feel that something is somehow right about America after all.
Below: Chanticleer on the Today show, December 6, 2009; and Chanticleer when its members are not wearing their trademark tails!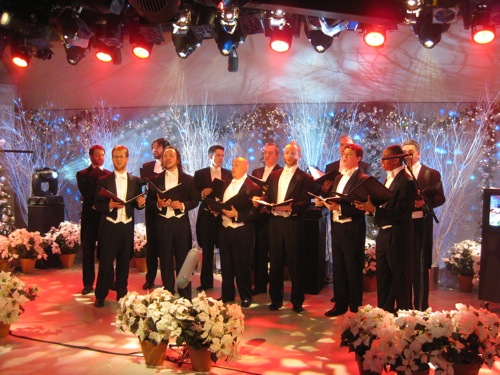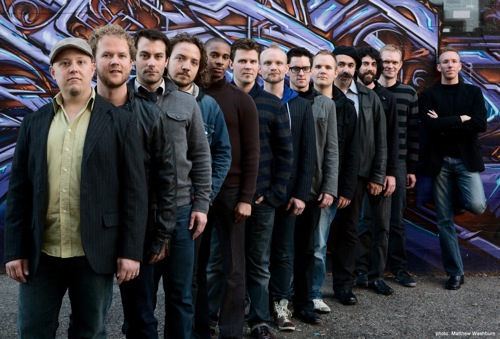 Related
Popular in the Community