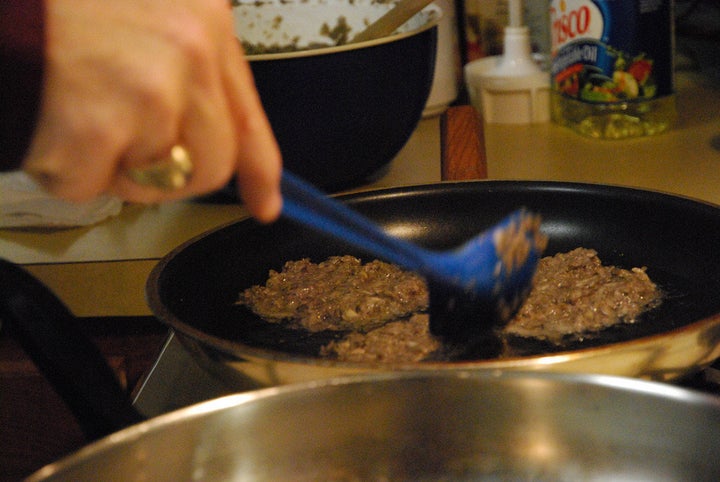 I just made my annual visit to Sarah's Tent. Oh, nobody actually calls it that but for the women who gather once a year to cook latkes in the kitchen of Malibu Jewish Center & Synagogue for the Hebrew school's Hanukkah party, we know what it's really about, why we are really there, why -- in my case -- I run the risk of my boss' displeasure just to stand in a small kitchen with 15 other women and a dozen or so potato latke fryers.
Just like what transpired in Sarah's Tent, our latke-making is a spiritual event. And to my way of thinking, the kitchen klatch in my Malibu synagogue is just as healing and knowledge-filled as what occurs in our children's religious school classroom. It's learning, but of a different kind -- one more of self-discovery and connection that ends in the magical safety of the womb of friendships.
Sarah's Tent is symbolic of home. It's where my women ancestors came with their troubles and questions and left with their sisters' support and answers. Sarah's life of 127 years was devoted to tzedakah, deeds of kindness and charity. The doors of her tent were always left wide open, a metaphor for her warmth and hospitality. And her kitchen's dough was blessed, meaning she was able to feed all the needy and always have enough for everyone.
And that's what occurs at the Moms latke-making party. All the moms bring in their family recipes and engage in a two-hour latke-cooking marathon while their children -- with mouths drooling -- wait impatiently in their classrooms. Perfect latkes, like perfect solutions, cannot be rushed, you know. We moms form a human latke-making chain with the end prize being delivery to the kids' rooms.
The latkes can be smelled from a half mile away and anyone who enters the cooking den exits smelling like the deep-fried pancakes. The tent's elders -- that would include me -- know to wear clothes that can be stripped off and tossed into the washing machine the minute we get home. We exchange knowing looks when a newbie comes to the tent wearing something that's dry cleanable only. She'll learn for next time, because after all, that's what happens in Sarah's Tent.
For me, this communal latke-making is a chance to catch up with the moms who I see infrequently and those I have yet to know well. There are no secrets in Sarah's Tent; it's as if the smell of latkes cooking is an elixir for the truth. We talk of families, teachers, husbands, our children's struggles as well as our own. Confidences are shared over a frying pan, although even the most personal stories will be interrupted with a "you better flip that one," which the story-teller does without missing a beat in the tale she's sharing.
I love the din of the women's voices, all talking at once while they mix batter, pat down excess oil, season with more salt or discuss with all the seriousness of the world whether to add another egg. It's music to my ears. Sometimes, I just like to listen to the noise of the kitchen and take stock of my blessings -- which include being a welcomed member of Sarah's Tent.
Occasionally Cantor Marcelo wanders in to serenade us, but we all know his true purpose: He wants a latke. He is shooed away by the women in the tent. Nicely, of course.
Less frequently, a husband will hover by the doorway, lured there by the siren of the wafting latke smell. If he's noticed at all, he'll be invited in to sample. Chances are, he'll eat quickly and run. Sarah's Tent is a place where the women gather to share, to learn, to simply put aside their worries and be comforted by the presence of sisters.
We are a gracious bunch, we who gather but once a year. We celebrate the accomplishments of each others' children without envy, we express our sorrow at the loss of a husband's job with offers of help, we admit to one another the weight of our burdens.
And in the same breath, we compliment each other's recipes. My latkes are always the most oniony; as the oldest, it feels right to me to represent tradition in this group. Jackie this year introduced us to latkes with cheese; I know from Facebook that she's a spiritual seeker whose journey has taken her many places. A young mom made sweet potato latkes quietly in the corner while her two little boys assisted. And perhaps as a sign of the times, someone made gluten-free latkes. I suspect her bubie in heaven grimaced at those, but isn't life, after all, about progressing? (And I couldn't tell the difference, although I may suggest that next year she add a little more salt.)
I like the company of my sisters, even the new ones I just met yesterday. I have always had a close circle of women friends that I cherish and now mourn the fact that we are scattered around the country with visits limited to special occasions and email. I entered Sarah's Tent yesterday with a strong need for connection and I found it over a frying pan. Thank you Jackie, Michelle, Lauren, Rebecca, Tova, Maya, Joy and all the rest. May you all have a warm and joyous Hanukkah. Remember: You may enter Sarah's Tent as a stranger, but you leave it as a friend. Albeit one who smells like latkes.
Popular in the Community