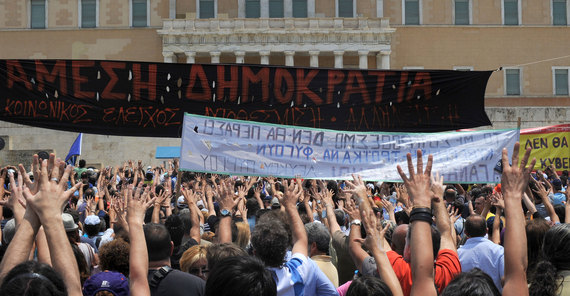 As Greece prepares to burn down its economy in the name of national integrity, the rest of Europe is watching cautiously. Will those crazy Greeks ditch the euro and revive the drachma? Will they leave the eurozone, inspiring others to follow suit? (Hint, hint, UK.) Most importantly, Europe is asking, "Should we cancel our trip to Santorini?"
Spain, for one, is waiting with open arms — particularly if you prefer to stay in homes, not hotels, when you travel. According to the non-profit tourism association Exceltur, the number of beds in Spain listed online by services such as Airbnb is actually greater than those offered by the country's hotels. From AFP:
Airbnb and other similar sites listed a total of 2.7 million beds in Spain at the end of 2014, compared to 2.4 million beds available at hotels and other traditional regulated lodgings, according to the study carried out by audit firm EY for the association.

Sites like Airbnb, which lets homeowners rent out their homes for a fee by marketing them online, list around 278,000 properties in Spain.

"This is a highly lucrative business which has experienced rampant growth," Exceltur, which groups Spain's major hotel chains, travel agents, tour operators and airlines, said in a statement.
Spain is the world's third most popular tourist destination (after France and the U.S.), welcoming 65 million foreign visitors in 2014. And though there's a bit of backlash in certain cities over the influx of drunken yahoo tourists (hint, hint, Brits), it seems more locals like making some Airbnb scratch. In Barcelona, for example, nearly two thirds of available rooms are posted online through home-sharing sites.
The real problem, says Exceltur, is one of job creation. According to the report, "online home rental services generated just 9.8 jobs per 100 tourist beds compared to 53.3 jobs per 100 tourist beds at a hotel." Exceltur also warned that the state could lose up to $883 million in tax revenue because many hosts don't declare the income.
Then again, being a consortium that represents "22 leading Spanish tourist groups," Exceltur may have a vested interest in slagging Airbnb and promoting traditional hotel interests.
No matter your opinion on Airbnb, it's undeniably a good time for Americans to visit Europe. The insanity in Greece will hurt the global economy, yes, including the dollar, but the euro will take the biggest hit. By year's end, for the first time since September 2003, we can expect the greenback to reach parity with the euro. If you've never traveled in Europe with a strong dollar, it's a glorious experience.