CHAPEL HILL, N.C. -- The police said it was all over a parking spot. The shooter's wife said it wasn't about religion. But many members of this college town's close-knit Muslim community believe the motive behind a horrific triple homicide here Tuesday was nothing less than hatred of Islam.
As authorities investigate the fatal shootings of Deah Barakat, his wife Yusor Mohammad Abu-Salha and her sister Razan Mohammad Abu-Salha, they will likely be forced to grapple with widespread suspicion of initial statements from law enforcement that blame the deaths on a dispute over a parking space.
A statement from Chapel Hill police issued Wednesday morning seemed to indicate that the killings, tragic as they were, stemmed from a mundane variety of hatred. The statement said, "Our preliminary investigation indicates that the crime was motivated by an ongoing neighbor dispute over parking."
Given Hicks' apparently intense dislike of religion, however, that claim fell on deaf ears.
Rather, many here believe that the parking spot was merely the trigger for a deeper hatred within Craig Stephen Hicks, the alleged shooter. A Facebook page that appears to belong to Hicks was littered with anti-religious statements.
"Not just Muslims. I have yet to meet a single person who says this was anything but a hate crime," said Omid Safi, director of Duke University's Islamic Studies Center. "There's just unanimous consensus."
That consensus also includes the two slain women's father, Dr. Mohammad Abu-Salha, who bluntly told the News & Observer, a local paper, that "this was a hate crime."
Abu-Salha said the victims had expressed fears about Hicks before they died, and even suspected that their neighbor was angry with them for their religious beliefs. But Chapel Hill police told HuffPost they had never received a call for assistance over the simmering dispute from the apartment complex where Hicks and the victims lived. Another complicating factor was the fact that authorities took less than 24 hours to reach their conclusion about the motive.
If Hicks had been inclined to be suspicious of religious people, he could hardly have missed the fact that his neighbors were Muslims. Barakat was proud of his Syrian heritage and an active member of Muslim student groups. His wife wore a hijab.
But Safi called the parking spot explanation "entirely unhelpful, because it basically was trying to put as much distance as possible" between the triple homicide and any possibility of a bias motive.
"I don't think anybody is inclined to believe that," said Youssef Masmoudi, who knew Barakat through attending basketball games and Muslim student activities with him. "No parking space is that valuable."
The funerals for the three students were planned for Thursday afternoon.
The killings have hit this college town hard. Many here pride themselves on being members of a liberal enclave in a conservative state that two years ago passed legislation seeking to ban Sharia law.
"I've never felt physically threatened," Masmoudi said. "Chapel Hill is a very welcoming, warm community."
But the larger metropolitan region in which Chapel Hill sits hasn't been entirely free of controversy over Islam. Just last month, nearby Duke University canceled a plan for the Muslim call to prayer to issue from a campus chapel tower after Fox News and evangelist Franklin Graham expressed outrage.
Despite the skepticism of the police's initial explanation, none of the speakers at a vigil here Wednesday night expressed a lack of confidence in the investigation. Safi said that behind the scenes, both local police and federal authorities have taken care to reach out to Muslim leaders.
Authorities have been careful to state that they have not ruled out hatred of Islam as a contributing factor. Several hours after the initial police dispatch, Chapel Hill Mayor Mark Kleinschmidt released a statement that offered a pointed acknowledgement of the deep concerns among Muslims, and an affirmation of their role in the community.
"We do not know whether anti-Muslim bias played a role in this crime, but I do recognize the fear that members of our community may feel," Kleinschmidt said. "Chapel Hill is a place for everyone, a place where Muslim lives matter."
Before You Go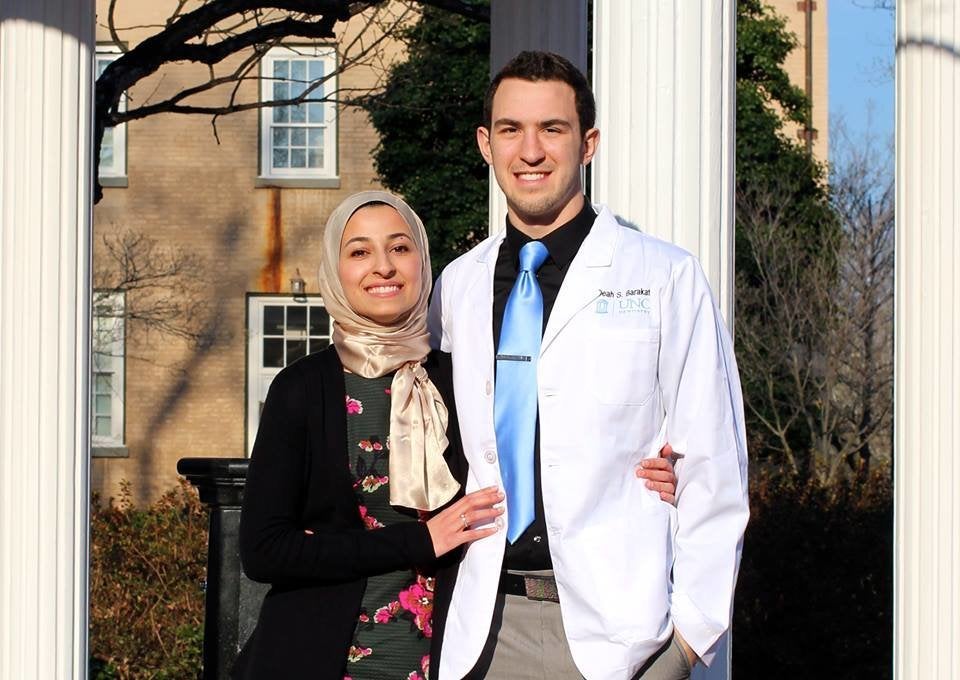 Chapel Hill Shooting
Popular in the Community