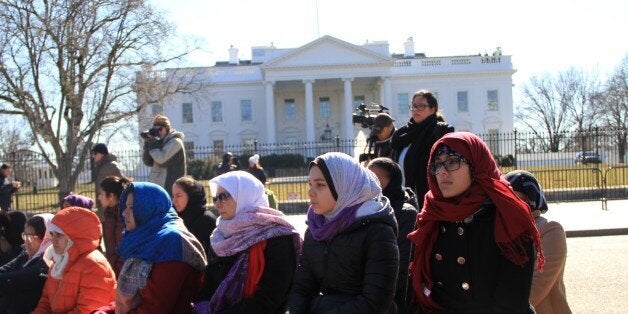 DURHAM, N.C. -- Abdullah Antepli couldn't stop looking at his phone on Friday. The Duke University imam was worriedly waiting for news from his wife. These are fearful times for Muslims in North Carolina, and she wears a hijab.
On Feb. 10 a man in Chapel Hill gunned down three of his Muslim neighbors, two of them women wearing the head-covering. Authorities initially pegged Craig Stephen Hicks' rampage to a dispute over a parking space, but many Muslims fear a darker motive: hate.
Legal experts said hate crimes charges are unlikely. But whether it comes from a prosecutor or not, many followers of Islam are searching for official recognition of the fear they feel.
"It's not about taking revenge on the killer," said Antepli. "It's pointing out a much larger, much more dangerous reality in our society, our social fabric. Our commitment and our ideals of plurality are at danger."
A grand jury on Monday indicted Hicks on three counts of first-degree murder. Although no hate crimes charges were laid against him, they eventually could be. Under North Carolina statute, hate crimes charges could not add to the potential death penalty he faces.
"Hate crime prosecutions are pretty rare, and the reason is you have to prove motive beyond a reasonable doubt," said Phyllis Gerstenfeld, a professor at California State University, Stanislaus. Based on what is publicly known about the case so far, she said, Durham County prosecutors will be reluctant to seek hate crimes charges.
Hicks' Facebook page was filled with anti-religious statements. But his ire appeared directed toward all religions, not just one. His obsession with parking spots in the apartment complex was well-known, with one neighbor stating that he showed "equal-opportunity anger."
None of this necessarily means Hicks wasn't motivated to kill by anti-religious hatred. Investigators seized a computer hard drive, cellphones and a camera from Hicks' apartment -- which means they may know more about what drove him. But all of it would serve to add reasonable doubt.
Nevertheless, the father of the two women killed in the shooting has called on the federal government to launch a hate crime probe. Given the difficulty of pursuing hate crimes charges, Gerstenfeld said, such a divide between victims' families and authorities is "a really common dynamic." In fact, she said, public pressure is often the only reason hate crime charges are brought.
Whatever prosecutors determine Hick's motive to be, many Muslims in North Carolina's Piedmont region are clearly fearful. The shock of the tragedy has been further magnified by what they see as a larger anti-Muslim climate.
"Being someone who wears the hijab myself, I would say I felt this even before this incident happened," said Shamira Lukomwa, the head of University of North Carolina's Muslim Students Association. "It's something that ebbs and flows how I feel safety-wise."
The hostility often rises and falls with current events: After U.S. special forces killed Osama bin Laden in a May 2011 raid, Antepli recalled, two men in a pickup truck yelled at his wife and forced her off the road.
Research Triangle Muslims got a taste of the national attitude of anti-Muslim fearmongering in January, when evangelist Franklin Graham led a national outcry against Duke's plan -- since aborted -- to allow the Muslim call to prayer to issue from the private university's chapel. The call to prayer controversy was given significant airtime on Fox News.
"This is all one big thing," said Antepli, adding that he's not blaming Graham for the shooting, but "expressing my regrets and disappointments that his role in the previous conversations and controversy about call to prayer just furthered and increased anti-Muslim and anti-Islam sentiments."
Antepli says the day after the shootings, he kept his children home from school because of rumors floating around that another anti-Muslim shooter was on the loose. Since then, he's had Duke parents beg him to convince their daughters to remove their hijab, because they feel their children aren't safe being visible as Muslims.
"We may never know exactly what motivated Hicks and in what proportion, but this crime has hit a chord that must be responded to," said Brian Levin, director of the Center for the Study of Hate and Extremism at California State University, San Bernardino. "Americans as a whole have to stand up and say what we're doing is wrong. We have a hate industry in the United States that targets Muslims."
The president on Wednesday took a step toward doing so -- perhaps ironically, in the midst of a summit on "countering violent extremism" criticized by some advocates for focusing primarily on Islamic extremism.
"(M)any Muslim Americans are worried and afraid," said Obama. "I want to be as clear as I can be: As Americans, all faiths and backgrounds, we stand with you in your grief and we offer our love and we offer our support."
Those statements may serve as a start for assuaging fear in the Muslim community. And the biographies of the victims themselves may go further in reversing negative stereotypes. Their lives were short but exemplary, filled with public service and simple acts of friendship.
The father of the girls, psychiatrist Mohammad Abu-Salha, pointed to those stories -- and in contrast, to a popular recent film -- in a funeral prayer on Thursday.
"This is Islam," he said. "It's not what you hear on the media. And it's not 'American Sniper.'"
Before You Go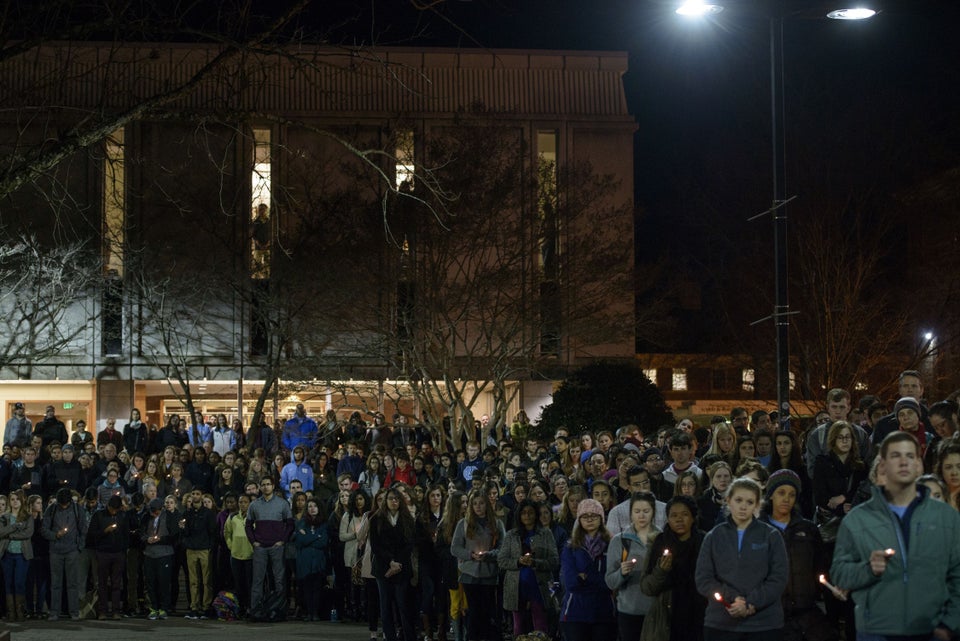 Chapel Hill Shooting Memorials
Popular in the Community