UPDATE: Aug. 30 ― The Chapel Hill Police Department placed officer Cole Daniels on administrative leave with pay on Aug. 27.
"The pervasiveness of the concerns raised by many regarding his display of a tattoo that is associated with the '3 Percenters' has caused the Department to question his ability to function effectively as a police officer within this community. Therefore, the Police Department initiated an administrative investigation in accordance with our Town's Personnel Ordinances and policies and procedures," town manager Roger Stancil said in a statement. 
The Chapel Hill Police Department will not discipline a police officer who stood guard near the "Silent Sam" Confederate statue at the University of North Carolina on Monday with a tattoo of the logo of the Three Percenters, a nativist anti-government militia, visible on his right forearm. Instead, the officer, Cole Daniels, has been instructed to keep his tattoo covered while at work.
"We understand the concerns regarding the negative interpretations of the tattoo and regret it was displayed. This will not occur again," Chapel Hill Police Chief Chris Blue said in a statement.
Durham-based social documentary photographer Daniel Hosterman had noticed Daniels' tattoo at a previous rally, but on Monday he was finally able to get a good picture. The Three Percenters, Hosterman noted when he posted the picture online, have provided security to openly racist groups who marched in Charlottesville, Virginia, last year and at several Patriot Prayer rallies in the Pacific Northwest.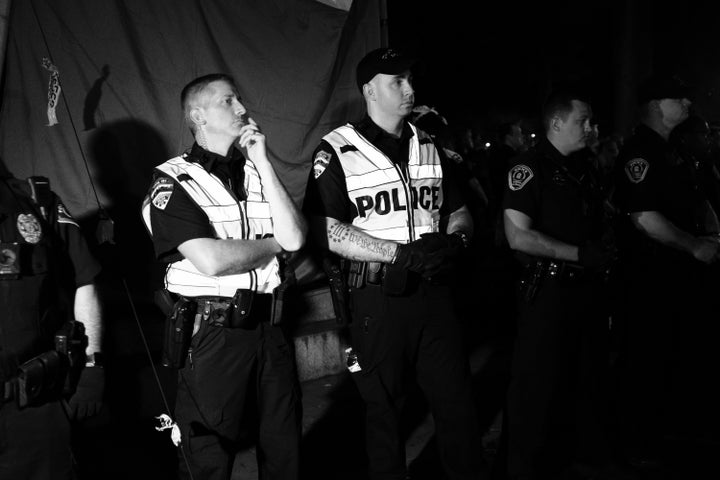 The image of a law enforcement official displaying a symbol associated with racially motivated violence while policing protesters as they toppled a symbol of white supremacy was jarring. According to the police chief, Daniels "expressed regret that his tattoo has been associated with groups that perpetuate hatred and violence." The police department did not respond when asked for clarification on how Daniels interprets his tattoo.
The Chapel Hill Police Department has been aware of Daniels' tattoo since at least the beginning of this year. In February, Blue left a voicemail for Megan Squire, a computer scientist who tracks far-right extremists, explaining that he had seen a slide from a presentation she gave at UNC that included a different photograph of Daniels and his tattoo.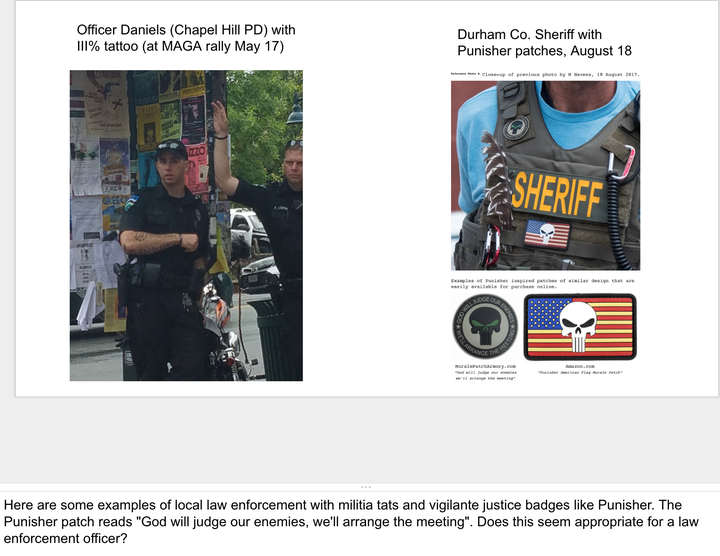 Squire, who was facing death threats because of a news article about her work, didn't call the police chief back, she wrote in an email. The Chapel Hill Police Department did not respond to a request for comment about why Blue reached out to Squire.
The Three Percenters, which was formed in 2008, derive their name from the disputed claim that just 3 percent of the colonists took up arms and fought against the British in the 18th century. "Today we recognize with this 3% in being that we will be the last defense to protect the citizens of the United States if there ever comes a day when our government takes up arms against the American people," the group states on its website.
Calling all HuffPost superfans!
Sign up for membership to become a founding member and help shape HuffPost's next chapter