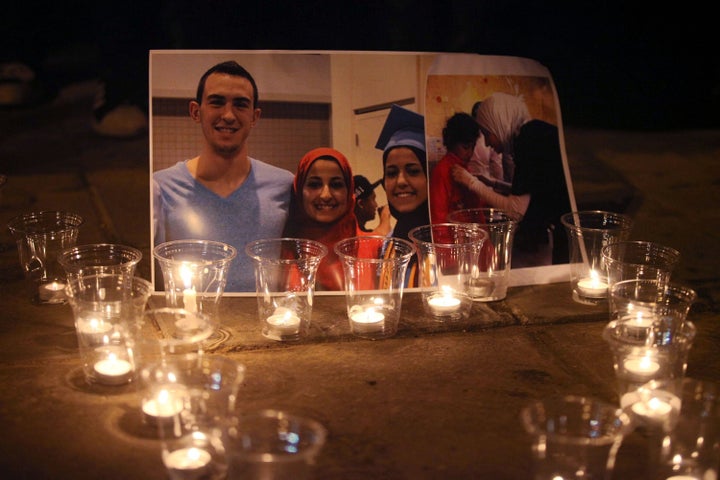 But the legacies of Deah Barakat, his wife, Yusor Mohammad Abu-Salha, and her sister, Razan Mohammad Abu-Salha, live on in the charity work that loved ones have done in their name.
Before the shootings, Hicks reportedly shared multiple posts that expressed disdain for religion on his Facebook page. 
The campaign is a collaboration between the Our Three Winners Foundation, which seeks to fund humanitarian projects that were important to Barakat and the Abu-Salha sisters, and #LoveArmy, a project launched by activist and CNN political commentator Van Jones. 
#LoveThyNeighbors launched on February 10, exactly two years after the Chapel Hill shootings. Participants were asked to "perform an act of kindness, service or solidarity for your neighbor or fellow community member" within the next week. Interfaith leaders held services last weekend in honor of the victims, according to a press release.
Ammal Elhaddad, a spokesperson for the Our Three Winners Foundation, told The Huffington Post that the campaign was inspired by the faith of three victims.
"Faith has always been at the center of a lot of the work around remembering Deah, Yusor, and Razan, because it was their faith that inspired them to be the humanitarians that they were. And loving thy neighbor transcends any one particular faith," Elhaddad said. "It's about looking at the similarities that everyone has."  
She said the campaign is meant to encourage people to know who their neighbors are, whether at work, at school, or in any public space.
"There are so many places where people can extend that kindness and awareness and do a little more than you normally would to understand folks that are maybe feeling vulnerable or scared in the current political climate," Elhaddad said. 
A few participants have started posting about their action projects on social media. 
"In a time of divisiveness and hateful rhetoric, our families ask that you join hands and come together to fight hate with love and fight darkness with light," Dr. Suzanne Barakat, Deah Barakat's sister, said in a press release.
The three victims of the Chapel Hill shootings have inspired many community service projects over the past two years. Volunteers have helped build two Habitat for Humanity homes and have delivered dental supplies to Syrian refugees.
On February 4 this year, a rental property that Deah Barakat owned was reopened as a community center. Named The Light House, the center is meant to serve as an incubator for local faith-based programs targeting for young people. 
"Since Day No. 1, we're trying to fight the hate and sadness with doing good and being positive," Namee Barakat, Deah's father, told Religion News Service. "That makes us feel better and it makes our wounds a little easier." 
Calling all HuffPost superfans!
Sign up for membership to become a founding member and help shape HuffPost's next chapter
BEFORE YOU GO
PHOTO GALLERY
Chapel Hill Shooting Memorials