CHAPEL HILL, N.C. -- Thousands of people gathered at the University of North Carolina at Chapel Hill on Wednesday to pay tribute to the three young Muslims who were killed by a neighbor a day earlier.
The gathering was held at a central meeting space on UNC's campus. In a show of solidarity, some of those who attended were students from nearby arch-rival Duke University. As scenes from the short lives of Deah Barakat, Yusor Abu-Salha and Razan Abu-Salha played in the background on a projector, a parade of speakers came to a podium to honor the victims.
"I know that I can't make sense of it. Many others can't make sense of it," said Barakat's brother, Farris. Speaking through his grief, he made a simple request, one that many of the other speakers echoed: "I plead that you live in their legacy," Farris said.
Friends and family members spoke of the three victims' commitment to public service and scholarship, as well as their general good nature. Other than the speakers, the vigil was nearly totally silent, interrupted by the occasional sound of police sirens in the distance. And though many were in tears, there was also some laughter, as mourners recalled fond memories of the three killed on Tuesday.
Dentistry students and others look on as a makeshift memorial is made at UNC.
As the ceremony ended, dental students from Barakat's program wearing white lab coats joined hands, lit candles and wept together in a small circle. Barakat was in his second year of dentistry school at UNC.
"We're all very close, very tight-knit," said dental student Michael Vick. The several dozen students in the program spent eight or more hours a day together. Vick said he'd known Barakat since high school and called him "one of the nicest, sincerest guys you've ever met."
Dozens of the vigil-goers wore hijabs, skullcaps or other traditional emblems of Muslim faith. But many hundreds of others seemed to come from a variety of backgrounds. Some were undergraduates, and it's likely that many attendees may never have crossed paths at all with the victims.
"It's powerful, and it needs to be the first step," said Omid Safi, the head of the Islamic Studies department at Duke, of the crowd. "We need a chance for people to know they're not alone."
UNC-Chapel Hill Chancellor Carol Folt speaks to mourners.
On Tuesday, Barakat, 23, was shot to death along with his wife, 21-year-old Yusor Abu-Salha, and her sister, 19-year-old Razan Abu-Salha, in their Chapel Hill home. A neighbor, Craig Stephen Hicks, 46, was charged in the shooting after surrendering to police.
"I'm still trying to get my head around it," Asid Khan, a friend of Barakat's, told The Huffington Post from his home in Scotland. Khan first met Barakat in 2012 during a "Muslims Without Borders" mission, on which the two worked to help Palestinian children in need of dental care.
"All the kids were extremely nervous and had never been to the dentist before," Khan said of their trip. "They would come in very tense and anxious, but once Deah started speaking to them, within five minutes the kids were smiling and laughing, ready for their treatments. He had such a gentle manner and soft way of speaking to the children. He was really able to put himself in their position."
Deah's parents, Namee and Layla Barakat, attend the UNC vigil.
Elsewhere around the country, hundreds of others gathered on Wednesday to pay homage to the victims. In Chicago, a group of about 100 endured frigid weather and gathered outside Loyola University Chicago's School of Law.
Yusef Al-Jarani, a University of Chicago student who had helped mobilize other Muslim-Americans for the vigil, said the Muslim community felt "sadness" but also "outrage" about the reports that characterized the shooter's motive as anger over a parking dispute.
"There's a general normalization of Islamophobia," Al-Jarani told HuffPost ahead of the Wednesday vigil. "We feel a mix of sadness and frustration."
Bayan Abad, who attends nursing school and works at the University of Illinois, said that as a woman of Muslim descent pursuing a career in medicine, she could relate to the victims. "It could have been me," she said. "I don't feel safe anywhere in America or in the Middle East. You're not safe anywhere you go; people are just so small-minded."
Mourners gather in Chicago.
Abad added that she was disappointed by news coverage of the shooting, which she felt "brushed off" the tragedy.
"It's sad to see how some peoples' lives are not treated as equal," she said. "Nobody's equal, unfortunately, whether it's somebody from Ferguson or somebody from Chicago, somebody from North Carolina, wherever you're from. You're just automatically judged by your skin color, by what you wear, how you talk or where you or your family comes from."
In Palo Alto, California, more than 100 Stanford University students and others from the community gathered on campus Wednesday night, clutching candles and photos of the victims.
The shooting hit especially close to home for Moustafa Moustafa, a Yale medical student on rotation in San Francisco and a friend of Barakat's eldest sister, Suzanne. Just a few weeks ago, he'd spoken on the phone with Yusor about fundraising for a mission to Syria.
"The fact that it happened in their own homes, the fact that they were all young students with such bright futures -- none of them had even said anything that could be misconstrued in any way as being hateful," Moustafa said. "They were the most incredibly loving people who just lived their lives to serve others."
Mourners hold candles on the Stanford University campus.
Muslim students at the Palo Alto vigil said they felt particularly shaken by the shooting.
"When I saw the pictures of them I thought, it could have been any one of us," said Tesay Yusef, a Stanford student and member of the school's Muslim Student Awareness Network. "I just saw myself a lot in them, being a Muslim going to college."
Zeshan Hussain, another Stanford student, echoed Yusef. "That could have been our story," he said.
The crowd grew in size as students biking by noticed the candlelit crowd and stopped to join their peers. The vigil's organizers choked back tears as they addressed the circle and read poems.
"In response, we can do one of two things," Hussain said to the crowd. "We can either perpetuate the hate, the evil and intolerance that has caused this crime ... or we can respond with love."
"We can respond with hope and understanding and tolerance and be an embodiment of these values," Hussain added. "We can reach out to those who we perceive to be different than us."
Kim Bellware contributed reporting from Chicago.
Before You Go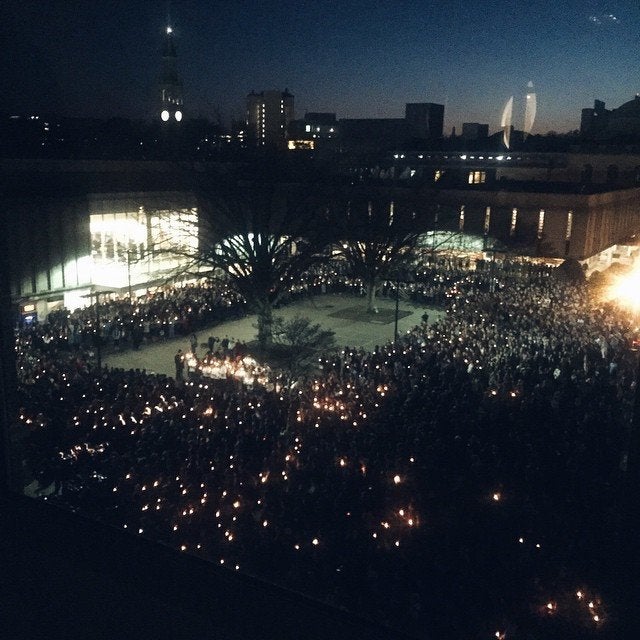 Chapel Hill Vigils
Popular in the Community