We're going to go out on a limb here and declare chapped lips as the most terrible part of winter. There are probably worse things, but in terms of pure discomfort (and its tendency to keep coming back), it ranks pretty high up there for us. Sure, you can slather on gobs of lip balm, but it never seems to remedy the problem for that long. "Dry weather and wind is a common cause," says Dr. Heather Woolery-Lloyd, dermatologist and founder of Specific Beauty. "Low humidity increases evaporation from the lips and causes dryness and cracking." We asked her, along with Dr. Elizabeth Tanzi, Co-director of the Washington Institute of Dermatologic Laser Surgery in Washington, D.C., to break down the five best ways to keep dry lips hydrated in the colder months. Then scroll through the gallery for six options to cure chapped lips for the long haul.
Do not lick your lips!: While we thought not drinking enough water was actually the reason for chapped lips, the true culprit is licking your lips. "Wind and cold temperatures cause chapped lips, and licking them makes it worse," says Dr. Tanzi. Though you're likely not even thinking about the action, "repeated lip licking removes the skin's natural lipids, which then causes the person to develop a cycle of licking lips to try to relieve the dryness," says Dr. Woolery-Lloyd. "In bad cases we call this a lip-licking dermatitis."
Slough off dry skin with a lip scrub: "Exfoliating dry lips is a good first step, but they must be moisturized immediately with a good lip balm in order to protect the new skin underneath," says Dr. Tanzi. Look for a gentle scrub that's not too abrasive. "As long as the beads are not sharp and it is done infrequently, lip scrubs are helpful," says Dr. Woolery-Lloyd. "Too much aggravation from the exfoliant can cause adverse effects, such as the risk of stripping the natural lipids from the skin."
Look for these long-lasting, hydrating ingredients: "Petrolatum is occlusive and traps in moisture," says Dr. Woolery-Lloyd. Similarly, dimethicone will seal in moisture. All-natural alternatives include beeswax and organic soybean oil.
Avoid these drying ingredients: Though many balms include sun protection, certain types can actually be drying. "Some people are allergic to sunscreens in lip balms," says Woolery-Lloyd. "The most common sunscreen allergies are to avobenzone and oxybenzone." Also, refrain from balms that contain fragrance, flavor or alcohol, warns Dr. Tanzi.
Sneak in hydration while you sleep: "Gently exfoliate with your toothbrush and apply a thick lip moisturizer," says Dr. Tanzi. "Then sleep with a humidifier in the bedroom." Occlusive moisturizers like Vaseline or Aquaphor are both good options, suggests Dr. Woolery-Lloyd.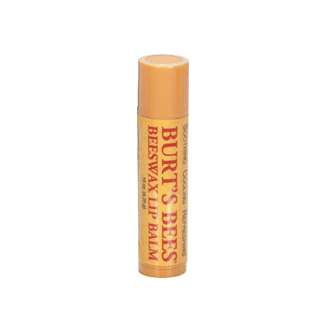 Want more HuffPost Style beauty content? Check us out on Twitter, Facebook, Tumblr, Pinterest and Instagram at @HuffPostBeauty. (For everything else check out our main HuffPost Style Twitter, Tumblr, Pinterest and Instagram @HuffPostStyle.)
Do you have a beauty story idea or tip? Email us at stylesubmissions@huffingtonpost.com. (PR pitches sent to this address will be ignored.)