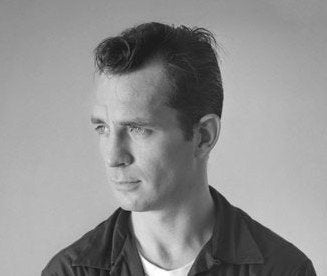 Jack Kerouac
Collected Poems
Edited by Marilene Phipps-Kettlewell
Library of America
Hardcover, $40.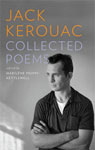 Before the 60s counterculture revolution there was the world of the Beats and even before the iconic literature of Howl or On The Road, there was Jack Kerouac's poems, arguably the cool poetic fire that sparked of The Beats. Which, for many reasons, literary and cosmic, and are more timely than ever. Perhaps that is why The Library of America has released Kerouac's verse, a companion volume to their 'Jack Kerouac: Road Novels 1957-1960.
The sleekly bound edition, with its sexy his portrait of the writer staring out like he was photographed last week for a Dolce & Gabana ad, in a beautifully crafted single volume includes Mexico City Blues, The Scripture of the Golden Eternity,  Book of Blues , Pomes All Sizes, Old Angel Midnight,  Desolation Pops,  Book of Haikus & his previously uncollected poems. The complete collection is, as we used to say, mind-blowing.
It is no surprise that his Kerouac's grows as an innovator, but there is even more reason to reassess Kerouac's literary importance through his poetry. As he traveled the Americas, Kerouac filled notebook, after notebook of his spontaneous, vivid, lyrical, dissonant, phantasmagorical verse. The language of Kerouac, spiritual father of the Beats, who called himself a jazz poet and like the different genres of jazz- he was a fusionist and kinetic practitioner. He mastered many forms and he sent them packing. The following instructions from Kerouac come in the early leafs of the his Book of Blues-
I have been empowered
/to lay my hand/On your shoulder/and remind you/
That you are utterly free,/
Free as empty space.
Revisiting his work now, after two generations of poets he influenced- from John Ashberry to Allen Ginsberg, et. Al. it is amazing how undated, unexpectedly fresh this work is. For one it is not only stream of consciousness, Kerouac uses so many poetical devises and introduces so many hybrids from poetry around the world, that his voice is indelible.
This edition's brilliant introduction, by editor Marilerie Phipps-Kettlewell, presents a prosaic biography mostly in Kerouac's own words "A trickster come out of a spiritual but savage inner wilderness." The artistic template he explored is briefed by colleagues, then and now. Ginsberg felt that he possessed an "unobstructed grasp of American idiom." Kerouac's poetry " cuts through generations to the continuously present." fellow poet Ann Waldman proclaims. Carmel Ciuraru assessment "Like punk, grunge and most other counter-cultural trends, the avant-garde Beat movement...dizzying, drunken, irreverent, tender scatological elegiac and often hilarious..."
Kettlewell's meticulously referenced end-pages, provides a useful bio-index. In between, on hundreds of pages, is as liberating 20th century manifesto of American poetics- prose narrative, sonnets, odes, psalms, blues and haiku- as there ever was- it was a religion, a philosophy and a literary drunken brawl. You can ingest the entire symphony or just siphon bits, it's a contact literary high.

Not surprising that one book within this volume is 'Pomes All Sizes" as the poet neo-neo structuralist Kerouac weighs in, often sardonically, with passing references to contemporaries like Ginsberg, Frank O'Hara, and William Burroughs, not forgetting that and skewering the giants ('Auden had no ass' is one unforgettable stanza).
But Kerouac claims his poetic lineage, in beatified lines to Emily Dickinson -
"No love life less
No grave nearer
Always
Than Ye Bard."

This volume is a reminder that Kerouac's among other things provided the allegorical record of the Beats. The poems are a biography of the poet's wildly artistic, conflicted, too short life. Finally Kerouac the realist is the indelible voice to of generations.
Connect our arse,
Some come on John, connect
Your arse to a Grave,
Pal, almost lover, and
I'll bring ye seet
Daydrids
In the morning
Of the 2 thieves & Me

& You.
If ever there was a time to hit the road again, with Jack, it's now..
Calling all HuffPost superfans!
Sign up for membership to become a founding member and help shape HuffPost's next chapter