Don't play with your food. That's what our parents used to say. Perhaps they'd be a little more obliging if they could see Act Out Mystery Theatre's Character Assassin, staged at the Reef Restaurant. Written and directed by Paul Vander Roest, it's not just a play (a good one), or a meal (a good one), it's interactive, it's both, a play and a meal, so you're encouraged to play while you eat. Some of us participate (face it, we're all red herrings, one way or another), we all sleuth, trying to figure out who killed famed mystery writer Dame Hagatha Christie Higgins Hark at a reading of her latest murder mystery.
As befits this over top story, it's hammy. The characters egg us on, from one murder, two murders, to a resolution that's revealed only after desert. Sweet. In between we feast on juicy performances (Sherry Denton-Noonan, Lorrie Freilich, Christopher Geer, Vander Roest, and Jillian Yim) that inspire, to various degrees, the dinner theatre equivalent of karaoke - some of us get to be suspects. Though clues abound, by the end we have no idea as to the identity of the culprit. We're laughing too much at the process to properly work the procedure. For our efforts we get a prize for deducting the killer, for giving the best audience performance, and submitting the most humorous line of reasoning.
From start to finish, it's great fun. The setting, with that staggeringly gorgeous autumn evening view that doubles back onto Long Beach. The story, which is just-right funny and suspenseful. The death of Dame Hagatha as well as of one of her fictional characters introduced an element of complexity into the story. By the end the line blurs between fictional characters and the woman who created them, as if it's all a dream. The script, with its seamless blend of pop cultural references and riffs on character names, to ensure no violation of copyright infringement. The performances (theirs, ours) that are played strictly for laughs. The fellow sleuths you meet at your table. And the meal, each course of which seems to appear before you as you assess the culpability of Batdude, the French woman, the lawyer, and various relatives.
The lasting impression is one of communion. It's like befriending strangers on a train. The journey is brief but it's intense. You may not remember the particulars of the journey (And who could? There were a slew of suspects we had to sleuth), but you will remember the highlights. The uncannily suave performance of an audience guy who played the dapper Hercules Poirot; the Dickensian English accent of an audience woman; the mushroom ravioli; the noise from the wedding in the adjacent room. Afterwards, you're invigorated and amused, sated, not so much by any crime-does-not-pay message but by the simple getting together to share a meal with some very funny, very shady characters.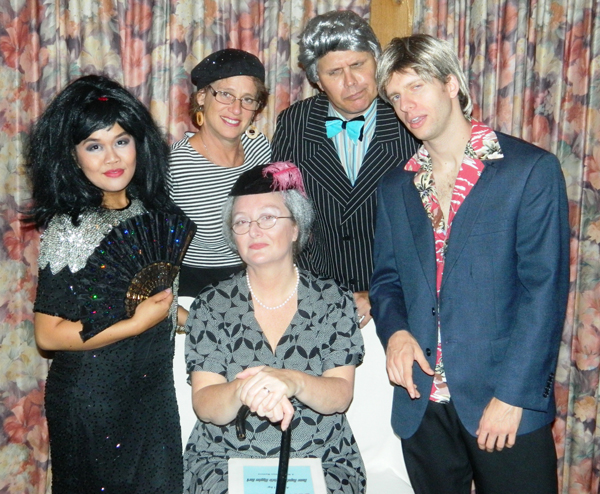 Performances are 7pm, Saturday. The production runs until November 9. Tickets (and dinner) are $54.95. The Reef Restaurant is located at 880 S Harbor Scenic Drive, Long Beach 90802. For more information call (562) 961-9862 or visit www.actoutmystery.com.
Calling all HuffPost superfans!
Sign up for membership to become a founding member and help shape HuffPost's next chapter