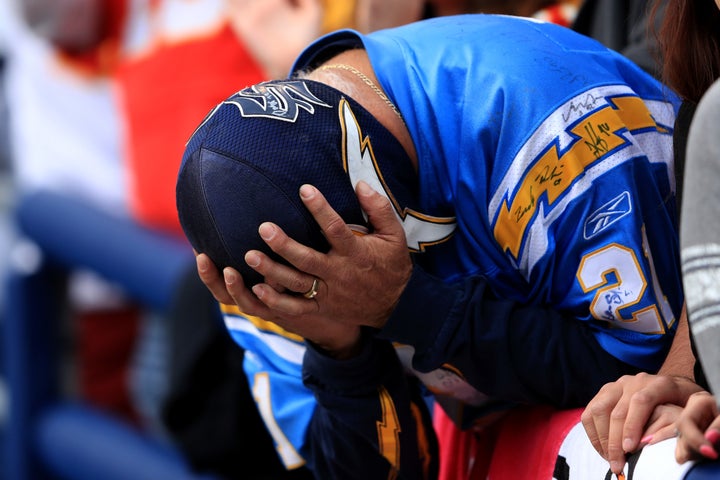 When it comes to their players, NFL teams abide by an oft-repeated motto: "Next man up."
It's a simple concept. In a league where injuries are the norm and the average career is right around three years, the only way to make it through a season is to plug in the next available guy whenever the man ahead of him inevitably goes down. It is callous and dehumanizing, but its unquestioned ubiquity is a reminder that all but a handful of NFL players exist as easily replaceable chattel.
If every utterance of "Next Man Up" is a reminder that NFL franchises don't really care about players on the field, the Chargers' move should be the latest signal to fans that they are subject to the same dynamic.
You are as easily replaceable as the backup right tackle. Your favorite team doesn't care about you, either.
On first glance, it doesn't make sense for the Chargers to move to Los Angeles. The city was perfectly fine without an NFL franchise for more than two decades, after the Raiders and Rams dipped out of town for Oakland and St. Louis, respectively, in 1994. Now it will have two.
The Rams returned, somewhat ceremoniously, to LA before the 2016 season, and were greeted as a bad team should be: with hordes of empty seats and minuscule local television ratings. The Chargers, who played one season in LA in 1960 but but otherwise don't have much connection to their new home, will likely find an even more acute lack of interest upon arrival.
Compare that to San Diego. This final fateful season not withstanding, the city loved the Chargers even though the team rarely loved it back. The Chargers made the playoffs just 17 times in their 56 seasons in San Diego. They played in one Super Bowl, which they lost (they were 1963 AFL Champions, at least). For most of their history, the Chargers were a bad team. Their fans stuck by them anyway, because they are fans: Their favorite team is a connection to share with the community around them, a family heirloom to pass down to their sons and daughters.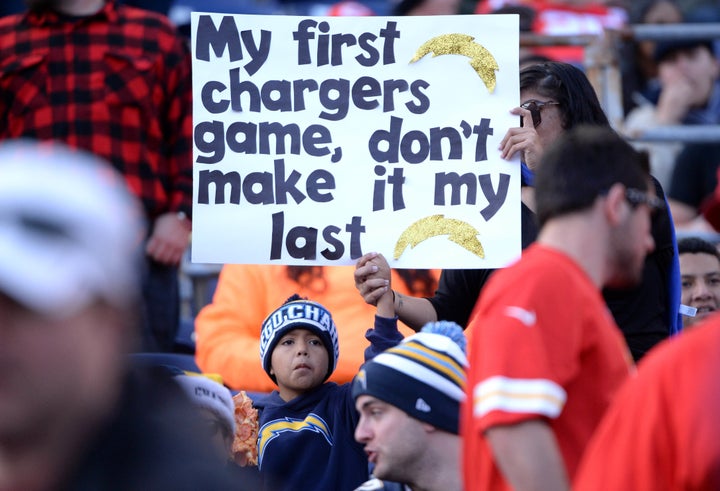 Because to owners, teams are first and foremost a financial asset. Their value is measured less by wins and losses and irreplaceable moments than by the bottom line and their place on an annual Forbes list.
There is no better way to increase the value of that asset than with a new stadium, and the luxury boxes and naming rights agreements and sweetheart financial deals that come with them. That's what Spanos wanted, and what San Diego repeatedly declined to give him.
There will be some, even in the Chargers fan base, who blame this move on San Diego taxpayers because they repeatedly rejected proposals to grant Spanos hundreds of millions (and even more than a billion) dollars in public money.
That anger will be misplaced.
If Spanos and the NFL wanted to keep the Chargers in San Diego, they could have. The Spanos family is reportedly worth more than $2 billion, banks that grant loans to extremely wealthy people exist, and the league has its own loan program that would have covered as much as $300 million in construction costs. The $650 million relocation fee Spanos will pay the league is more than enough to cover the supposed funding gap in Mayor Kevin Faulconer's last-minute effort to keep the team. It's even enough to build a new venue to replace the aging Qualcomm Stadium ― albeit one less lavish than many of the new, taxpayer-financed stadiums going up around the league.
But that was never going to happen, because paying for his own stadium in San Diego wouldn't have been as lucrative as paying the relocation fee and adding a Los Angeles-area zip code to the Chargers' letterhead.
The Rams are a perfect example. The move to Los Angeles will reportedly double the franchise's value, so it never mattered that St. Louis made a fine home, that the city tried to give the team's owner the stadium he claimed to want, or that it is still footing the bill for the now mostly empty venue the team left behind. And it never mattered that Angelenos might not care enough about the Rams to show up at the stadium or watch on TV, either.
The only thing that does matter is increasing the franchise's value for whenever it comes time to sell. And so now we have the Los Angeles Rams and Los Angeles Chargers.
These teams are not alone. The Raiders are trying as hard as they can to leave Oakland for Las Vegas, where Sheldon Adelson and Co. secured $750 million in public financing for a new stadium that will provide a big boost to a team owner with one of the lowest net worths in the NFL.
The Minnesota Vikings, Miami Dolphins and Buffalo Bills ― to name just a few ― have floated the idea of leaving their cities and fans in recent years. Even when they do stay, teams show little regard for the local people who fill their stadiums, vapid "Fan Appreciation Night" events aside. Consider the Cincinnati Bengals, who secured a stadium deal so lucrative for ownership and so bad for the city that Cincinnati had to sell off a public hospital to pay its debts.
And it's not just NFL owners. This dynamic repeatedly plays out in the MLB, NBA and NHL. Even Major League Soccer franchises have tried to get in on the act.
There are ways to fix this. We could blow up the ownership structure of sports teams, which allows this scam to persist, by permitting the sort of public ownership that has kept a team like the Packers in tiny Green Bay.
The fan-ownership model doesn't come without risks, but it has worked for decades in Green Bay and all across European soccer, and it at least allows us to love our teams without constant fear that they will threaten to move just 17 years after we open our pocketbooks ― and risk our schools, roads and everything else ― to keep them. Economists, fans and even Newt Gingrich ― hardly a raging socialist ― have supported the idea.
But the people who control professional sports will never allow it to happen (the Packers' ownership structure is no longer permissible under NFL rules). The system as designed has made them even wealthier than they already were, and gives them the leverage they need to ensure that their franchises are the constantly-appreciating assets they want them to be.
You, the fan, may laugh and cheer and cry with your team, and even wait through a century or more of deflating losses for the one moment of euphoria that even the most hapless franchise will inevitably provide. But to your team's owner, you are little more than an ATM that should hand over every available dollar inside.
And when you hit your limit, as San Diego finally did, they will cast aside all those years of devotion as easily as they cut the aging middle linebacker with a bum knee.
Next Fan Up, you might say.
Related
Popular in the Community