Over the weekend, the St. Louis Rams and San Diego Chargers each won what may prove to be their final home games in their current cities. Both teams are currently exploring moves to Los Angeles and it is looking increasingly likely that relocation is in the cards for at least one of them. 
On this week's episode of "The Second Half," Huffington Post sports reporter Travis Waldron and NFL veteran Donté Stallworth discuss the possibility of the Rams, Chargers or Oakland Raiders calling LA home as early as next season. 
The LA dealings are the latest example of the way NFL teams pit cities against each other in an effort to win new stadiums -- which are paid for with massive public subsidies. The league has used LA as a bargaining chip before, most recently when the Minnesota Vikings scored a new stadium from state and local taxpayers.
It appears the league actually may be serious about relocation this time, but the charade is still playing out. St. Louis has approved a deal to build a new stadium, but it wants the NFL to pay more than the league is willing to, causing Commissioner Roger Goodell to call the proposal was "fundamentally inconsistent with the NFL's program of stadium financing."
The future of the Rams, Chargers and Raiders remains unclear, but with owners set to discuss the relocation attempts at a special meeting in January, the picture could become clearer soon. Whatever happens, it seems NFL fans -- and taxpayers -- in at least one of cities are set to come out on the losing end yet again.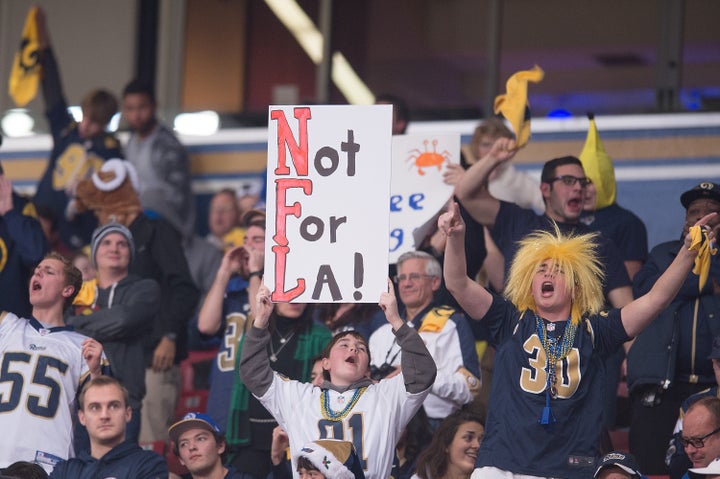 On this week's podcast, Travis and Donté also discuss a great slate of Christmas Day NBA games, and one Missouri politician's effort to block college athletes from protesting by threatening their scholarships.
This podcast was produced, edited and engineered by Peter James Callahan and Adriana Usero, with assistance from Christine Conetta.
PHOTO GALLERY
Monster Dunks From The 2015-2016 NBA Season
REAL LIFE. REAL NEWS. REAL VOICES.
Help us tell more of the stories that matter from voices that too often remain unheard.