For Los Angeles Chargers running back, Melvin Gordon, Christmas traditions are a bit different than other Americans' traditions. That's because as an NFL player, Gordon often finds himself far from his hometown of Kenosha, Wisconsin during the holiday season. Since becoming a member of the Chargers organization, though, Gordon has created a unique tradition aimed at giving back to children.
Last week, Gordon held a "Holiday Bike Build" in partnership with Rally Health for 150 children and teens from the Boys & Girls Club of Carson, California. During the event, Gordon spoke to the engaged audience of children about the importance of health and education in their lives before they competed in races, toured the Chargers' locker room and enjoyed a healthy meal. The biggest surprise for the Boys & Girls Club members, though, came when they learned they would build their own Diamondback bikes to take home.
"The bike giveaway is the best Christmas tradition I have, because I don't get to go home. I'm so far away from home. Doing things like this makes up for it. At least I know I'm giving back in some type of way. You try to find ways to do something special in this month," Gordon reflected.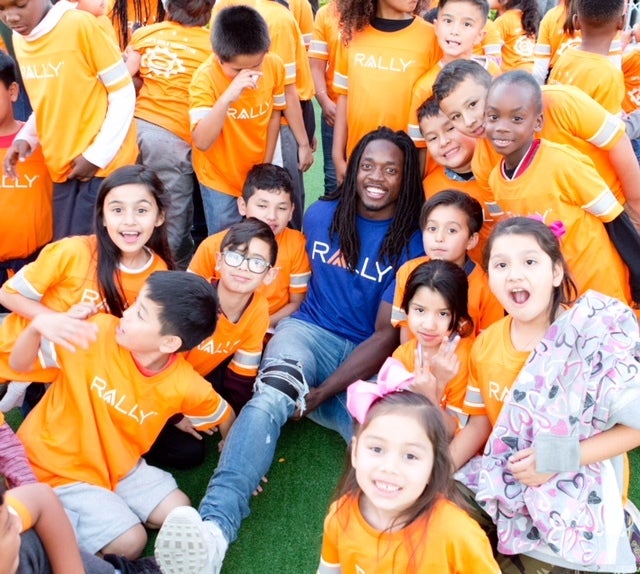 For Gordon, finding a way to share in holiday cheer is only one of the benefits of participating in the event. As a former Boys & Girls Club member, the NFL running back is grateful for the opportunity to provide other members with an opportunity he didn't experience in Wisconsin.
"As a kid, I wished to be in a position like I am now. I wanted to be part of something special. There weren't any NFL players who came to speak to me at my Boys & Girls Club, but we had great people around us. The administrators there did a good enough job motivating me; that's why I give back to the Boys & Girls Club. But, because nobody was there to speak to me, that's why I make it a premium to speak to Boys & Girls Club kids. You never know who you're speaking to and who might be in your position in the future," Gordon explained.
For Rally Health, the event with Gordon marked the eighth time the company has hosted a holiday bicycle giveaway for children and also an opportunity to highlight the importance of making health a priority.
"Our company's mission is to put health in the hands of the individual, and that means empowering them with tools to help them live a healthier life. And that's what we're doing, empowering these kids with the tools—in this case, with bikes and safety helmets—that let them go outside, get active, and live healthier lives. It's important to us to help kids start building the foundation for a lifetime of good health. We want this experience to be one they will never forget, something that leaves a lasting impression on them about the importance of making health a priority," Rally Health's senior vice president of marketing, Brenda Yang, said.
While he won't be home for the holidays, there might be some exciting celebrations ahead for Gordon this December. Heading into Sunday's game versus the Washington Redskins, the Chargers are approaching a playoff berth, with a 6-6 record. What are Gordon's expectations for the team?
"We are just trying to take it one game at a time. That's the best we can do. We can't look too far ahead, because if you do, you'll trip over what's in front of you. We know we have an opportunity to get into the playoffs, and that's all we can ask for right now, especially with the slow start we had," Gordon said.
Another team may give Gordon reason to celebrate this holiday season. On December 30, Gordon's college team, the Wisconsin Badgers, will face off against the Miami Hurricanes in the Orange Bowl. The match-up will likely fuel some fodder in the Chargers' locker room.
"Wisconsin is definitely going to win. Wisconsin all day. There are a couple of guys on the team, including my running backs coach, who went to Miami, so I need bragging rights. We haven't talked about bets yet, but we're going to figure some things out. I've got five guys I have to make some wagers with," Gordon joked.
While Gordon's predictions for the Chargers and Badgers aren't surprising, the top item on his Christmas wish list may seem a bit out of the ordinary for a Pro Bowl NFL player.
"I really want one of those white noise machines, so I can go to sleep! When I travel for away games, I have a hard time sleeping, so I go on YouTube and put on fan noise then put my phone next to me. If I get the white noise machine, I won't have to go on YouTube anymore and worry about tripping over my phone in the middle of the night. If I get it, I'll be happy," Gordon said.
While time will tell whether Gordon's teams get their wins or if Santa gives Gordon a white noise machine, one thing is certain: This December, Gordon and Rally Health made the holidays a bit more cheerful for 150 children in Los Angeles.
Related
Popular in the Community