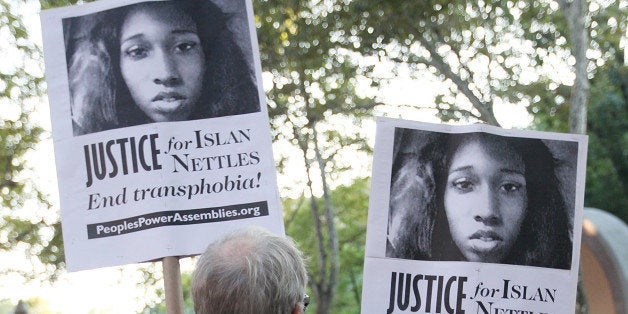 In the early hours of Aug. 17, Islan Nettles, a 21-year-old transgender woman, was beaten to death. She was attacked across the street from New York City's Police Service Area 6 precinct in Harlem, the life pummeled from her in a fit of violence.
In the days that followed, the police arrested a suspect, 20-year-old Paris Wilson.
According to reports, Wilson knocked Nettles to the ground and began beating her with his fists as she lay helpless on the ground. Witnesses alleged that Wilson's outburst began when he realized that Nettles was transgender, and that he continued hitting her as he hurled transphobic and homophobic slurs at her. The attack ultimately resulted in her death in the hospital days later.
Wilson was charged with misdemeanor assault. Many in the transgender community were outraged. How could such a violent act be considered a misdemeanor?
Yesterday, even the tiny bit of justice that would have come from a misdemeanor assault conviction was taken from us. Judge Steven Statsinger announced that the charges against Wilson would be dropped as the prosecution didn't have clear evidence that Wilson was the man who had committed the crime. Mind you, there were several witnesses at the scene, with multiple people identifying Wilson as the perpetrator. Still, this wasn't enough for Judge Statsinger and prosecutors.
After his arrest, Wilson's mother sought out another man who had allegedly committed the crime. This man offered a confession, though claiming that he could not remember much detail of the incident, as he was supposedly intoxicated at the time of the crime. This was enough to sway prosecutors away from pursuing charges against Wilson, even though police initially believed this man's confession to be false.
Too often, this is what happens when someone dies at the hands of anti-transgender violence. Victims are forgotten, perpetrators are let free, and the world moves on as though nothing happened.
Today is the 15th annual Transgender Day of Remembrance, a day when we can reflect and memorialize those who were so unjustly taken from the world for no reason other than being themselves. We look back on so many lives cut so short.
What happened to Islan Nettles is neither unique nor remarkable. What happened to her happens far more often to trans women of color than we will ever truly know. The official body count this year is 238, though that number is likely a gross underestimate.
There are days to fight on other important transgender-specific issues like housing discrimination, employment discrimination, harassment and media representation. This is not that day. This is the day that we need to look at the violence that so many of our trans sisters of color fall victim to and ask, "What can we do to stop this?"
I wish I had an answer to that. I wish there was something I could say or do to protect the lives of victims past, present and future, but I find myself lost and near speechless. No one should die because of who they are, ever.
Earlier this year, the American Bar Association voted to discourage use of "gay panic" and "trans panic" defense arguments. For those not familiar with it, "trans panic" is a legal defense tactic used to justify violent crime against trans people. The premise generally suggests that someone is so stunned to find out that someone is transgender that they panic and have no choice but to kill the trans individual. Generally, this type of defense is unsuccessful, but the fact that it is still used to justify violent acts is all we need to know when it comes to the question of whether or not trans people are seen as human beings by those who attack.
While the ABA's stance on "trans panic" defenses is encouraging, it doesn't mean much if police and prosecutors refuse to take firm action against those who commit these crimes. In the case of Islan Nettles, perhaps there remains a glimmer of hope. Assistant District Attorney Nicholas Viorst has indicated that his office is still "aggressively investigating" the crime and, should evidence present itself, will bring homicide charges against the perpetrator -- though, for now, those are just words.
Related
Popular in the Community