The FBI on Wednesday announced charges against a former Habersham County, Georgia, deputy related to a house raid in May 2014 that went disastrously wrong.
Nikki Autry, 29, allegedly provided false information in a search warrant affidavit, according to an FBI news release. Based on the false information, the FBI says, a judge issued a "no knock" warrant for the arrest of Wanis Thometheva.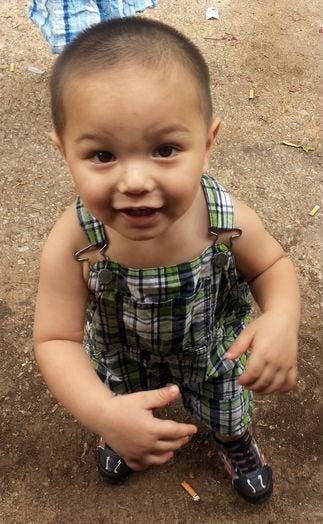 That warrant resulted in a May 28, 2014, raid on a home in Cornelia, Georgia, during which an officer accidentally threw a flash bang grenade into the crib of 19-month-old Bounkham "Bou Bou" Phonesavanh. The toddler's face and chest were badly injured and he suffered possible brain damage from the grenade, according to the Atlanta Journal Constitution.
The FBI says Autry wrote in her affidavit that an informant previously bought a small amount of methamphetamine from Thometheva at the house. In fact, the FBI alleges, Autry knew the informant didn't purchase any drugs from the house and instead had told her that his roommate had done so.
The FBI also says Autry knew her informant "had not proven himself to be reliable in the past." Nevertheless, the FBI says, she said in her affidavit that her source was "a true and reliable informant who has provided information in the past that has led to criminal charges on individuals selling narcotics in Habersham County."
Thometheva was not at the residence at the time of the raid. He was arrested at another location shortly afterwards.
"In this case, Autry is charged with making false statements to a judge in order to obtain search and arrest warrants,"Acting U.S. Attorney John Horn said in the release. "Without her false statements, there was no probable cause to search the premises for drugs or to make the arrest. And in this case, the consequences of the unlawful search were tragic."
Autry's attorney, Jeff Brickman, told The Huffington Post that Autry "did not intentionally misrepresent any fact to the magistrate in order to obtain a search warrant for the premises."
"She had nothing to do with the decision to use the flash bang on the night of the search warrant and she's devastated by the fact that she's been indicted," he said.
The federal grand jury that indicted Autry did not bring charges against any other officers involved in the raid.
Phonesavanh's mom, Alecia, spoke with HuffPost Live in June 2014 about her experience.
"This is happening every day to people [who are] being relentlessly and unnecessarily militarized by police who think just because they're supposed to be upholding the law, they are above the law themselves," she said.
Popular in the Community