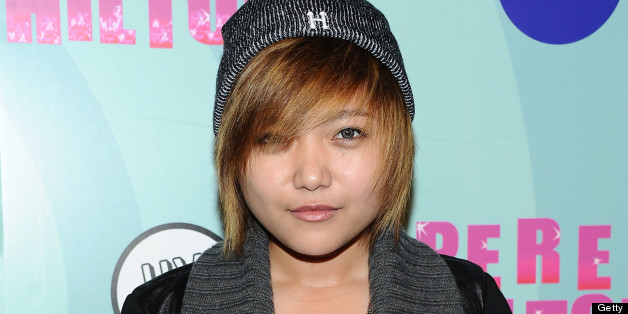 The mother of out Filipina singer Charice Pempengco revealed in an interview last week that she was once a lesbian but eventually "changed."
Raquel Pempengco disclosed the intimate details about her own sexuality during an interview with Bandila on June 7. The interview came on the heels of Charice's public announcement that she is gay.
Raquel told the news network she, too, was once a lesbian but chose family over her own sexual desires after meeting the young star's father.
"I'm the lesbian," she told Bandila, according to a Huffington Post translation. "I'm the lesbian -- until my mom sent me off to my husband and [Charice's] father. I told Charice this before, I told her that I experienced what it's like, too. But then I changed."
Raquel apparently decided to speak out because of the backlash she has faced since her daughter's coming out.
"I spoke out because I couldn't take the accusations that I couldn't accept my daughter," she said. "If there's one person who knows what it's like, it's me. But as you can see, I kept it hidden for so many years, because I didn't want to destroy her."
In her big interview with Boy Abunda on "The Buzz," Charice revealed her mother is having difficulty accepting her being gay. The singer is currently estranged from her mother and brother and living at a friend's house, according to The Philippine STAR, but hopes they will be able to let bygones be bygones one day.
In an attempt to seemingly mend fences, Raquel penned an open letter to her daughter. Although she initially gave the "Glee" actress permission to come out publicly, Raquel now wonders if the 21-year-old's success and wealth was worth her family's current state of collapse.
"I've been thinking that maybe it would have been better to go back to how things were, back when we were struggling, during the days when we would cry frequently and travel often together," she wrote in the letter, published by ABS-CBN News. "At least back then, it was very clear to me who truly loved us. At least then, the three of us were still together against the challenges of life."
"I pray that everyone involved in this situation will see the truth," Raquel added. "At the end of the day, after God, family is still the place we can run to. Friends will come and go, and they will pass -- but [my son] and I believe that family are the people you can run to because they were given to us even before we were born. They are the people who will be with us, take care of us, love us even if we can't offer anything in return."
Charice is currently dating Alyssa Quijano, a contestant on "X Factor" Philippines.
REAL LIFE. REAL NEWS. REAL VOICES.
Help us tell more of the stories that matter from voices that too often remain unheard.
BEFORE YOU GO
PHOTO GALLERY
Celebrity LGBT Families