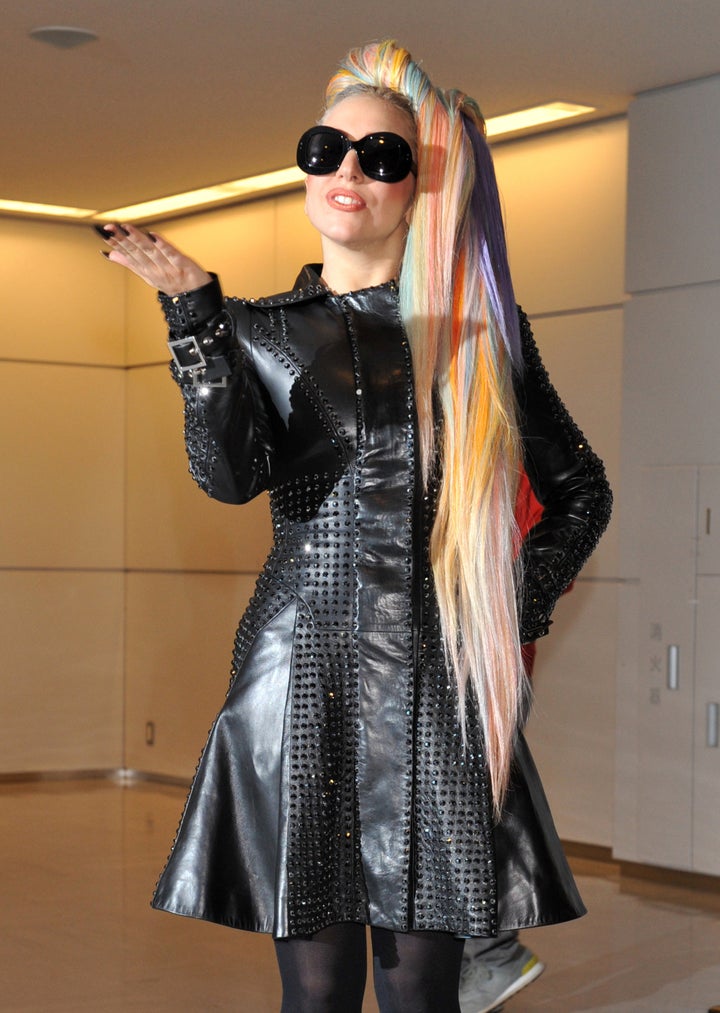 With awards season in full swing -- the Golden Globes and People's Choice Awards luminaries still glowing from their wins, and the Grammys and Oscars steadily approaching -- it's impossible not to fall prey to the endless fashion chatter about what everyone's been wearing on the red carpet. But what about the things entertainers are doing with their time and resources that are genuinely worth talking about?
Celebrities and charity often go hand in hand; a "do well and do good" philosophy is arguably an easy one to adopt. Particularly when at the top of one's game, it certainly doesn't hurt a star's public image when they're snapped doing something good in the world, and it's not difficult to pull off; after all, any celebrity can flash a smile on the red carpet at an awards show or charity gala without breaking a sweat. But while episodic fundraising and public service sound bytes are by no means harmful, a few celebrities are getting knee-deep in causes close to their hearts and doing far more than the occasional society page photo opp. In fact, several in particular are going above and beyond to make a difference in the world.
Here, we present ten celebrities epitomizing the beauty of humanitarianism in ways about which we're betting even the hosts of E!'s Fashion Police can't find anything to criticize.
International Ambassadors: George Clooney and Angelina Jolie
Our modern-day Danny Ocean has been anything but quiet about standing up for what he believes in, and this year, he even got his very own rap sheet for it. While participating in an anti-genocide protest outside the Sudanese embassy in Washington, D.C. earlier this year, the Cloon and his father, veteran journalist Nick Clooney, were arrested and booked for crossing a police line along with fellow protestors including several Congressmen, Martin Luther King III and NAACP president Ben Jealous. The event was held with regard to the escalating crisis at the Sudanese border.
Shortly before the arrest, the younger Clooney told the gathering press, "We are here really to ask two very simple questions. The first question is something immediate -- and immediately, we need humanitarian aid to be allowed into the Sudan before it becomes the worst humanitarian crisis in the world. The second thing is for the government in Khartoum to stop randomly killing its own innocent men, women and children. Stop raping them and stop starving them. That's all we ask." The week before the protest, he testified before Congress on the matter. The group he co-founded, Not On Our Watch, continues the fight against genocide in Darfur and beyond.
It's apparent that Angelina Jolie, the longtime love of Clooney's pal Brad Pitt, is equally passionate about international crises affecting impoverished populations. Aside from being a personal ambassador for adoptions around the world, Jolie works closely with the United Nations High Commissioner for Refugees, which provides assistance to 20 million refugees in well over 100 countries. Her highly publicized humanitarian missions shed light on issues around the globe, connecting those causes with audiences that might not have been made aware of them otherwise.
Per the UN: "As a UNHCR Goodwill Ambassador, Angelina uses her status as a superstar to generate media coverage about the plight of refugees and the conditions under which they live. She has traveled widely to remote refugee camps and receiving centers in countries including Tanzania, Namibia, Cambodia, Pakistan, Thailand and Ecuador. To further raise awareness, she has released her personal journals for select field visits that can be accessed at USA for UNHCR. For her efforts, Angelina has been honored with the Church World Service Immigration and Refugee Program Humanitarian Award."
High School Heroes: Sandra Bullock and Lady Gaga
Last week, the Golden Globes awarded Sandra Bullock its first-ever Favorite Humanitarian award for her work rebuilding the Warren Easton Charter High School in New Orleans after it sustained more than $4 million in damages from Hurricane Katrina. Speaking about the staff and volunteers who work at the school, which has a 100 percent graduation rate in a state that's tied with Florida for the fifth-lowest rate in the nation, Bullock said, "I'm not at all being modest when I say I don't do anything compared to what they do on a daily basis. I am simply blessed to be able to do what I do because of what you (the public) allow me to do, and that is write a check and be a really good cheerleader and that's it."
In conjunction with Bullock's award, Walgreens partnered with the Golden Globes to donate $100,000 to the school, on top of which Walgreens will also donate $1 for each person who likes the company's Facebook page throughout the remainder of this month.

Bullock isn't the only woman in entertainment helping youth deal with adversity. This week in Tacoma, WA, outspoken LGBT advocate and anti-bullying icon Lady Gaga unveiled her inventive new "BornBrave Bus," which will promote self-acceptance among her fans through free mental health counseling and group therapy sessions for several hours prior to each show on her "Born This Way Ball" concert tour.
"At the BornBrave Bus, you have access to professional private or group chats about mental health, bullying, school and friends," the diva tweeted recently. Fans can pre-register for the bus experience through the Born This Way Foundation's website; with a $1.2 million personal donation, Gaga started the foundation to combat bullying and promote acceptance of the LGBT community. Oh, and there's also the little matter of her pledge to the Red Cross in the wake of Hurricane Sandy: a cool $1 million.
If that's not reason enough to "just dance," nothing is.
Radical Renegades: J.K. Rowling amd Omar Todd
When it comes to going big or going home, here's something everyone at Hogwarts would be proud of. Although Harry Potter creator J.K. Rowling was named the first female billionaire author in 2011, the reason she didn't make the 2012 list of the world's wealthiest folks is the fact that she'd given so much of her earnings to charity.
According to Forbes, "New information about Rowlings' estimated $160 million in charitable giving combined with Britain's high tax rates bumped the Harry Potter scribe from our list this year." Among the author's favorite charities are her own non-profit, Lumos, which works with disadvantaged children in Eastern Europe, and the Scottish group One Parent Families, which provides empowerment and support to single-parent families in need of assistance. The renowned writer has also released three books for charity, generating an additional $30 million for various causes. Ultimately, while Rowling technically may have been kicked out of the high rollers' club, it's clearly an expulsion worth feeling good about.
Speaking of rabble-rousing, some might argue that focusing the public's attention on environmental issues can take a bit of shock value to pull off. Such is the case for Omar Todd, a film producer who's also the CIO of Sea Shepherd Conservation Society, featured in the award-winning Animal Planet show Whale Wars, in which seafaring conservation activists risk life and limb in the name of saving the whales.
Todd also served as a consulting producer on 2010's documentary Confessions of an Eco-Terrorist, which followed a fleet of sea vessels whose mission is to ram into the boats of illegal whalers, seal hunters and drift-netters in an effort to stop them from harming protected species. The star of the documentary, activist Peter Brown, established the marine conservation group The Blue Seals, for which Todd has served as director. Turns out, being behind the camera can wield a socially relevant power all its own.
Eco-Entrepreneurs: Jessica Alba and Adrian Grenier
There are, of course, those who prefer to take a more subtle approach to getting an environmental point across. That's a perfect description of Entourage star Adrian Grenier's branding strategy when it comes to SHFT, the website he co-founded with indie film producer Peter Glatzer. The lifestyle site caters to a style-conscious audience that cares about sustainability and is interested in seeing a shift, so to speak, in the way products are made and consumed.
In addition to editorial content, SHFT offers a marketplace featuring a curated collection of products spanning 17 different categories, from art and music to food and fashion. With mentors including HuffPost's own Arianna Huffington and Virgin Group's founder Richard Branson, this social enterprise has a power-packed backing that's sure to help it grow into a daily online destination for many.
Grenier isn't the only sex symbol who's turned out to be quite the environmental ambassador. Jessica Alba has joined the ranks of social entreprenurism as well with her brand, The Honest Company. After becoming a mother in 2008, Alba became frustrated at the lack of unquestionably safe, eco-friendly, beautiful products for her baby. Upon forming a partnership with Christopher Gavigan, the former CEO of non-profit organization Healthy Child Healthy World, The Honest Company was born.
"Our dream is to re-define the 'family brand' and create something... that's better for all families, everywhere," Alba and Gavigan explain through the brand's site, which sells plant-based diapers, pure bath supplies, gentle home cleaning products and more. A portion of proceeds from the company's eco-friendly offerings goes to a California charity supplying families in need with baby gear and children's clothing.

Charitable Couple: Beyonce and Jay-Z
Arguably the fiercest couple in the entertainment industry, music phenoms Beyonce and Jay-Z are hitting all the right notes when it comes to giving back. For her part, Blue Ivy's mom is helming a $5 million housing project in her hometown of Houston, which will result in 43 housing units for the underprivileged. Her Survivor Foundation, ostensibly named after the old Destiny's Child anthem, assists AIDS patients and victims of disasters as well as the homeless population. It's donated more than $2.5 million to Houston communities in need.
And as for Jay-Z, his Shawn Carter Scholarship Foundation focuses on affording second chances to kids whose circumstances leave them largely ignored by traditional scholarship programs, including previous incarcerations and early parenthood. Almost two-thirds of the foundation's scholarship applicants come from homes with annual household incomes of less than $40,000.
With an intense focus on giving underserved individuals a fresh shot at success, combine this power couple's efforts in charitable harmony and poof -- it's a perfect duet indeed.
Know of other celebs doing interesting and innovative things to make a mark somewhere other than Hollywood Boulevard? Tell us in the comments section.
About Milkshake: Milkshake is a website and weekly email featuring people, products, brands and organizations dedicated to doing good things in the world. Some Milkshake stories are sponsored by third parties; sponsorships are only considered when partners are relevant to the Milkshake mission of making a difference in the world through environmental and humanitarian causes.
About the Author: Amy Lynch is the editor of Milkshake and Milkshake Kids, sharing original weekly features on good finds that give back and make a difference in the world. Her work has been featured in media outlets including CNBC.com, AND Magazine, YourTango and The Huffington Post.
REAL LIFE. REAL NEWS. REAL VOICES.
Help us tell more of the stories that matter from voices that too often remain unheard.