CharityHelp International (CHI) is using the power of communication technologies and the Internet to assist individuals and organizations in the most challenging of developing nations.
"By combining several available technologies and services such as mobile data communications, mobile banking, and others with 'tele-mentoring,' CHI is creating a self-reinforcing process that can accelerate sustainable development," says Paul Stevers, CharityHelp International's founder and president.
The organization has been on the ground -- supporting children and economic development -- since 2004.
According to the Human Rights Watch, schools in Afghanistan have become a frontline in the military conflict between the Afghan government and the Taliban:
Girls not educated today are the missing teachers, administrators, and policy makers of tomorrow. After the Taliban, Afghanistan cannot afford to lose another generation. Such a tragedy would compound the misfortune the already beleaguered nation has faced.
CharityHelp cooperates with an orphanage outside Kabul. All the children there have survived poverty. Some have overcome forced child labor, homelessness, and prostitution. They come from backgrounds defined by decades of war and Taliban rule.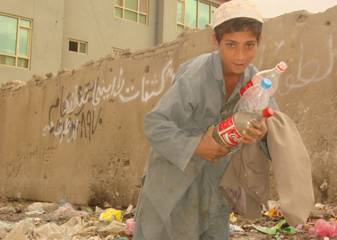 Afghani boy scavenges Coke bottles to support his family.
Run by Afghans for Child Education and Care Organization (AFCECO), these orphanages must teach the children the most rudimentary skills, such as how to use an indoor bathroom.
The program provides food, clothing, life skills, education, and most importantly a dream and hope for a new life in an environment of gender equality, peace, and safety.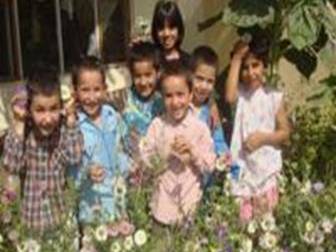 Children of Nahid Orphanage supported by CharityHelp.
The youth there are learning many skills including life skills, computer skills, and English. They are benefiting from the cross-cultural exchange with their sponsors.
The AFCECO orphanage supports more than 200 youth. The program is helping to raise the next generation of potential Afghan leaders in every sector of society. This is crucial to the future of Afghanistan.
"When you help a child, you help an entire family. That family, in turn, inspires a whole village. That village affects a whole society; and a changed society impacts the world," the orphanage director explained.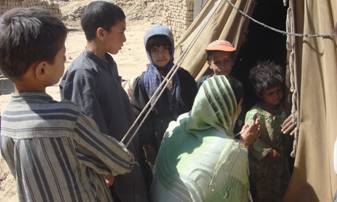 A family in an Afghani refugee camp.
"With the success of the CHI orphanage support program, we became convinced that by integrating our systems and programs with available mobile communications technologies, we could build cultural bridges, empower women, and facilitate a wide variety of non-profit and for-profit initiatives that build peace, understanding and free societies," Paul says.
One application of CHI's technologies link patients in Afghanistan to doctors in the U.S. CHI recently conducted a successful video conference using Skype between a doctor and patient in Kabul with Johns Hopkins International Medicine in Baltimore.
This experiment has paved the way for a future Afghans who do not have access to proper health care in their country.
In this test, a patient with Parkinson's disease consulted two physicians at Johns Hopkins for one hour. The patient described the consultation as very helpful. This patient says that he spends nearly $3,000 a year on travel and lodging to visit his doctor in Islamabad.
Lack of health care facilities has made life for most Afghans very challenging and troublesome in this war-ravaged country.
People are often advised by the local doctors to go abroad for medical treatment. Those who cannot afford the travel and lodging often feel helpless with this advice.
Another way CHI uses technology is to connect children in developing nations with sponsorship opportunities in developed nations. CHI's sponsorship engine facilitates the financial transactions to support child education and support in five countries.
I happen to know that this works because the organization I founded, Orphans International Worldwide [www.oiww.org], uses CHI's electronic bridge to connect our own child sponsors to our kids in Haiti , Sri Lanka , and Indonesia.
The donors and supporters for the Afghani orphanage are now sharing photos, videos, and life experiences.
One sponsor wrote CHI recently, "I am so proud that my sponsored child has gone to the fifth grade. She is looking so happy and grown up in her photo. I am so glad to know that my contribution has made a difference for life in Afghanistan."
As C.E.O. of a major child scholarship organization, Orphans International Worldwide, I am frequently asked, "Is my sponsorship real?" For us, it is. For CHI, it is.
Sadly, for many other organizations, it is an illusion. The funds are pooled and only about 70% of the funding actually reaches the children.
The children in CHI's Afghani program are greatly benefiting from the cross-cultural exchange with their sponsors.
A number of sponsors have visited the AFCECO facilities and have been impressed by the love, care, and compassion. Supervised groups of children have even visited supporters in Italy and the U.S.
CHI also works with Ripples International. The CHI-Ripples project supports community-based fostering for children made vulnerable by HIV/AIDS in Kenya.
CHI is well aware of the dangers inherent in enabling cross-cultural communication between adults and children. To address those issues, they have developed many safe guards to ensure the communication between donors and recipients are safe and appropriate.
All communications are monitored by the Project Coordinator in the region and by the Managing Director or Communications Coordinator of CHI.
The CHI e-mail messaging and forwarding system (EMFS) also monitors all e-mail, which is sent through their system for offensive content.
In recognition for his humanitarian work, thought leader and global citizen Paul Stevers has been presented with a humanitarian award by Prince Albert II of Monaco.
Paul's group is currently in competition for The Tech Awards Laureates with its $50,000 cash prize. The Tech Awards [www.techawards.org] honor innovators from around the world who are creatively applying technology to benefit humanity.
Founded in 2000, The Tech Awards have recognized over 200 innovators from over 70 countries in five universal categories: Environment, Economic Development, Education, Equality, and Health.
Supporters for CharityHelp International come from around the world including U.S., Canada , Europe and Australia. The organization's video which introduces the exciting potential of combining new technologies may be viewed here.
Calling all HuffPost superfans!
Sign up for membership to become a founding member and help shape HuffPost's next chapter