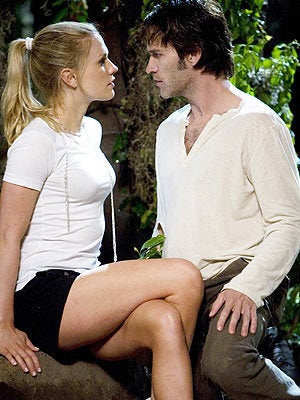 Before Charlaine Harris, author of the Sookie Stackhouse novels that True Blood is based on, began signing books, she answered some frequently asked questions for the 100 assembled fans at the Englert Theatre in Iowa City, Iowa on June 17th.
"Yes, I'm happy with Alan Ball's production of my novels," Harris said. "Also, if you ask me where I get my inspiration, I will spit on you," she joked.
Bringing Harris to Iowa was the brainchild of Rob Cline, director of the Metro Library Network's Out Loud! Author Series. "We should pick one of those vampire authors," he told the Out Loud! planning committee. Four hours and a few phone calls later, Harris had agreed to the appearance -- a co-headlining event with Jace Everett, singer of the True Blood theme song, "Bad Things."
It was her first visit to Iowa and the first time that she had seen Jace Everett perform live. The first time the two Southerners met was in Los Angeles. "We had a few laughs about all the pretty people in L.A.," Everett, a native Texan, told me after his 75-minute concert. We ain't that purdy 'round these parts, I said. He agreed, but added, "y'all are more my type of people." *
I sat down with Harris before the event to chat. Not on the agenda: asking her where she gets her inspiration.
Huffington Post: Has True Blood changed the fan base for your Southern Vampire Mysteries?
Charlaine Harris: All along I've had more guys reading this series than my previous books. But I've definitely had more guys at my signings since the HBO series debuted.
HP: Your kids are in college. What do they think of their mother writing sexually-charged books?
CH: The show has given them brownie points with their friends, but only one of my kids reads my work.
HP: I can only imagine if my mother wrote sex scenes like the ones on True Blood...
CH: We don't watch the show together, so that's not a problem!
HP: What's the one fashion item you can't live without?
CH: My jewelry! [shows off her rings and necklaces, all of which appears to be either silver or white gold]
HP: Is the silver to ward off vampires?
CH: Silver, gold -- I don't discriminate! I like sparkly things. I wouldn't want to ward vampires off -- I have them to thank for these. [shows me her rings again, although she's quick to point out that she's not raking in mad Twilight-type dollars]
HP: I was at the RT Booklovers' Convention in Columbus earlier this year, where you caused a bit of a ruckus when you hinted that your books probably wouldn't end with a "happily ever after" ending. Can you clarify what you meant by that? Will Sookie Stackhouse have a happy ending?
CH: I don't write absolutes. I don't write the kind of "happily ever after" that romance readers enjoy. I'm not saying that "happily ever afters" are a bad thing, and I'm not saying Sookie will never be happy ... but she's not going to settle down and start a family and have the white picket fence.
HP: OK, last question. I didn't want to ask this, but I put out a call for questions on Facebook and one of my friends desperately needs to know: why do vampires sparkle?
CH: [deadpans] They don't.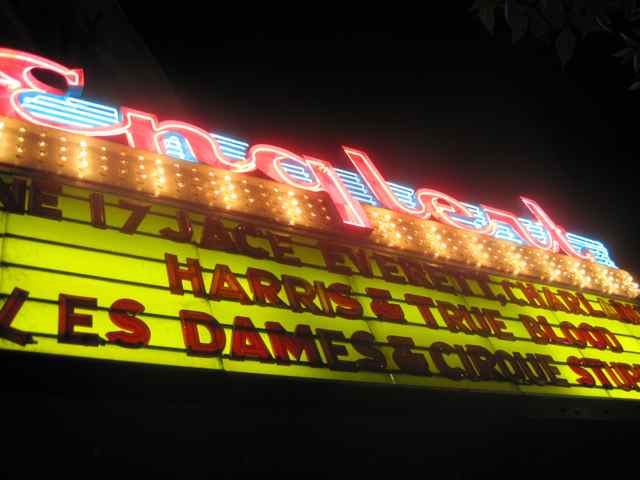 * Jace may not have actually said "y'all." I might have just made that up to make him sound more Southern; there was a lot of red wine and beer at the event, which was billed as a "reception" for Harris (she spoke for a few minutes and signed books for over an hour). "We expected more people to get drunk," one of the Englert staff confided in me, relieved that the crowd was fairly sedate. "I'll do my best to make up for them," I told her, tossing back another plastic cup of Francis Coppola Diamond Claret 2007, a bordeaux red blend from the state of California (home to the pretty people! See how I bring the footnote full-circle?).

Popular in the Community