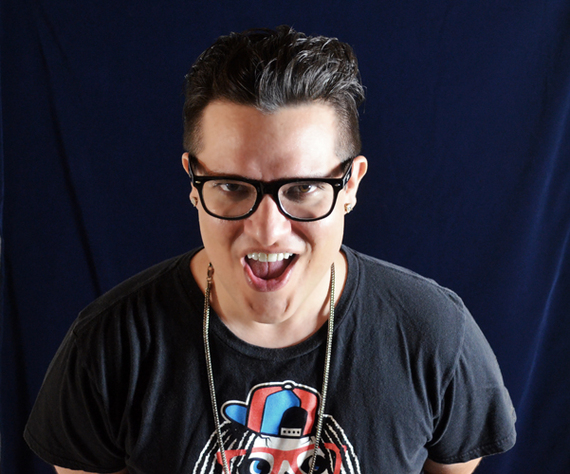 I could have sworn that just a few months ago I had written a piece on Madonna, ageism and sexism in the industry today. Well, here we go again. I just heard a YouTube airing of the Donkey of the Day segment of popular radio show The Breakfast Club. The donkey of the day award was given to none other than the top selling solo artist of all time, Madonna. If you're unfamiliar, Charlemagne Da God, born Lenard McKelvey, is a radio DJ, former felon, failed rapper and fired Wendy Williams co-host that was banished to the nether regions of reality shows on MTV2. Apparently, he also spells his name like that on purpose.
Charlemagne Da God recently went on a 6 minute tirade against Madonna throwing every name at her from the agiest and sexist playbook. You would think one would get educated about what they're talking about before they go on national radio to try and disparage someone - particularly the most famous woman in the world. He gave the ridiuclous award based on an in-character comment Madonna made on stage. Madonna hasn't stopped for a tour date in Australia in 23 years. She had just given a free show in the city for fans as a way to thank them for waiting over two decades to see her live. At her first proper Australian date, Madonna gave a lengthy, conversational speech to her Australian fans. She used an exaggerated American accent, stating that she was "having a Lenny Bruce moment" before saying "I haven't been to Australia in 23 years. F*ck me, right? F*ck me."
Jokingly she went on but turned the self criticism into a sexual joke, "Please somebody, f*ck me." Clearly, Madonna doesn't need to beg for sex. Charlamagnes disgusting words about her, go to show the continued misogyny and age discrimination that still occurs in entertainment today. It also shows his lack of education in comedy, as Lenny Bruce was an infamously famous comedian and satirist with a knack for self depreciation and vulgar language. The audio that was played on the radio, however, was edited together to take the context out and make two superset statements seem as if they were linked together. What horrible "reporting".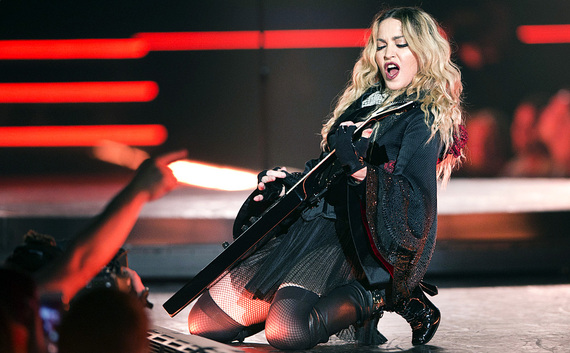 While he calls her the "legendary, superstar, pop icon Madonna" he then goes into a complete misogynistic, ageist tirade against her. I'd like to point out a few of the disgusting lines along with my comments.
"Madonna isn't in a criminal situation, ladies and gentlemen. Madonna is just...old".
I won't get into the constructs of at what age is old in this piece, but we all are aging every single day. That doesn't prevent us from continuing to live our life in the way that we choose. Also, being "old" says nothing about her and everything about you.
"It's sad when she's...still out there selling sex, but we don't want that from you anymore, Grandma".
Her sold out Rebel Heart Tour will be the highest grossing tour of the year, as every one of her tours always is. She holds the #1 & #2 spot for the top grossing solo tours in history (and two other spots in the Top 10). In fact, Madonna recently hit $1 billion (with a b) in ticket sale grosses from her tours. The very show she made these comments at, was a multiple date sell out show of 25,000+ fans per night. Her last album, Rebel Heart, despite it's months early leak, went on to be hugely successful and spawned three more #1's - giving her more #1's than anyone in Billboard chart history. So it seems, Lenard, that people do in fact want a sexy, grown independent woman to continue to speak her mind and choose what to do with her body.
It certainly wasn't the Australian press who thinks "we don't want that from you anymore" as they lavished her in praise. ABC Australia stated, "But as she proved during her Melbourne Rebel Heart's show: "You don't mess with the Queen." From the opening number, Iconic, Madonna commanded the stage. Even after all these years in the spotlight her sheer force and determination astounds." News Australia says "reviews for Madonna's Rebel Heart tour have been glowing, with fans agreeing it's been worth the 23-year wait to have the Queen of Pop back on our shores." The entire 82 show tour sold out immediately worldwide with multiple dates being added. So who is it exactly that you're speaking for Lenard?
Obviously you have an issue with performance art, of which Madonna was doing a character with a highly exaggerated American accent. Her comment, as part of her act was, "If I've learned one thing in my life it is just go with it. If you relax it doesn't hurt as much. Am I right ladies? F*ck me. Please someone, f*ck me. I'm just kidding. I don't have to ask for that". The crowd roared with laughter as Madonna laughed along with the ridiculousness of her joke in her "Lenny Bruce moment".
"Give her some penis so she can sit her ass down somewhere".
Oh I'm sorry Lenard, at what age are women supposed to sit their ass down somewhere? Are you jealous that a woman 20 years older then you continues to make more money today then you've ever dreamed of? Are you jealous that your album didn't chart while Madonna continues to release #1 albums around the globe nearly 35 years into her career?
"In Madonna's case, go away. Age gracefully. Pop up at an award show every now and then. And then grow so old that when you die people like 'Damn, I thought she been dead?'."
Again, could you point the world to this manual that you are using to determine when someone should "go away"? Clearly, her #1 chart hits, #1 albums and sold out stadium tours around the world aren't showing that she should go away. I would say that continuing to do what you love to do, looking good doing it and having a gigantic audience to eat it up while you do it, is the very definition of aging gracefully. Living life on your own terms, while ignoring haters (like yourself) and continuing to outsell and outdo artists half your age is the very best way to age gracefully.
Fortunately for you, a woman of 57 years old, doesn't have to be relegated to an old folks home to wither away, be forgotten about and die, as it seems you hope.
Madonna has been "over" in the press for 35 years, all while changing the face of music, fashion, touring, business and everything in-between multiple times over. Thousands of forgotten pop stars tried and failed to have a career like Madonna's. Tens of thousands of artists would die to have the career she has still going on today. In fact, Lady Gaga's last tour played nearly the same amount of dates and grossed about $50 million less then this Madonna tour. Beyonce's last solo tour failed to sell out at numerous venues on the tour. Neither of these is a problem Madonna has ever had.
The very fact that we're having this conversation proves that Madonna isn't 'over' until she decides to hang it up. Disagree with her choices in movie roles, dislike a new album or anything else you don't care for - but to think it is okay to think that someone running circles around - and outselling - 30 year olds should wither away and die is disgusting. Charlemagne Tha God - Lenard - you should do better.
Listen to Charlemagne Tha God's Sexist, Ageist Tirade on Madonna
And the infamous video of Madonna and her speech. The comments in question come in around 2:40 minutes in.
Calling all HuffPost superfans!
Sign up for membership to become a founding member and help shape HuffPost's next chapter