In the Jewish tradition, a Bar Mitzvah is a religious initiation ceremony for boys who, upon turning 13, become responsible for their actions in the eyes of their community. In avant-garde artist Charlemagne Palestine's world, a "Bear Mitzvah" operates somewhat similarly. But instead of a pubescent boy, a stuffed teddy bear is the young subject of the hour, donning a yarmulke and tallis for the big day. A minyan, or an assembly of Jews required for traditional public worship ― in this case, also stuffed bears ― hovers close by.
An unruly ragbag of stuffed creatures has gathered around the space to bear witness to this holy day. Among the crowd are some recognizable characters, like Simba and Dora. Most of the guests, however, seem to have traveled from distant times and spaces, as far as 19th-century Europe, to be in attendance. An elephant in a faded clown suit hangs alongside a creature that can only be described as blue, mangy and monster-esque. The space, a room in the Jewish Museum in New York City, contains hundreds of such furry friends, objects Palestine refers to as "divinities."
Palestine was born Chaim Moshe Palestine in Brooklyn, New York, in 1947. His parents were Jewish immigrants; his father was from Odessa, his mother Belarus. At 8 years old, Palestine joined the Stanley Sapir Jewish Choir, anticipating a lifetime of musical experimentation grounded in Jewish sacred sounds.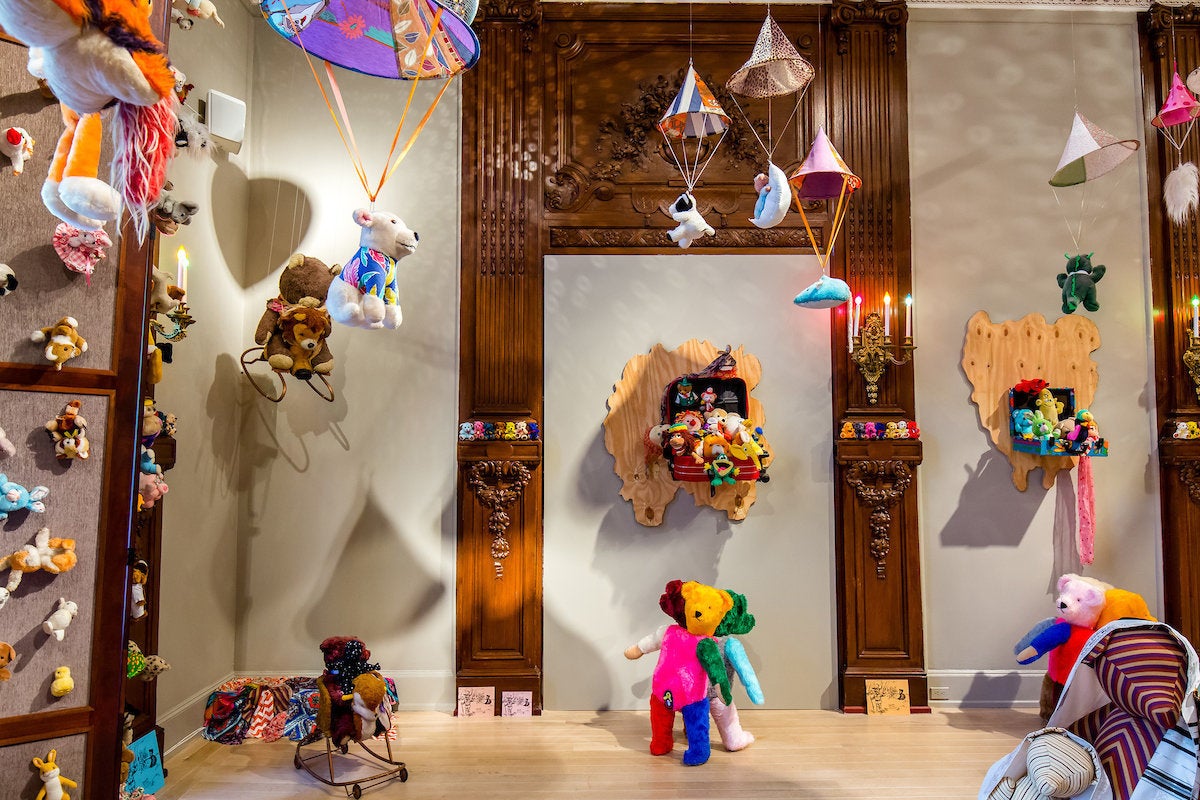 Today, Palestine is regarded as a pioneer in the avant-garde music scene, his self-described "maximalist" style a foil to the methods of contemporaries like Terry Riley and Philip Glass. He plays accordion, piano, carillon, as well as oscillators and synthesizers to scramble them up. His sound combines elements of klezmer and Russian folk music with haunting tone-clusters and disorienting repetition. Palestine is less universally acknowledged, however, for his visual art practice, which has, since the 1960s, involved stuffed animals — and lots of them.
Growing up, Palestine, like many kids, owned and loved his fair share of fuzzy toys. He had a ritual of building a tent next to his bed to watch television with his stuffed animals in close proximity. One day, however, when he was 10 years old, Palestine returned home from school to find his animals gone. His parents had discarded the toys, fearing their son was too old to be playing with them.
"What do Western people do with these animal toys?" Palestine asked in an interview with The Huffington Post. "They throw them out or give them away to the Salvation Army. In our society, we don't keep the spirits."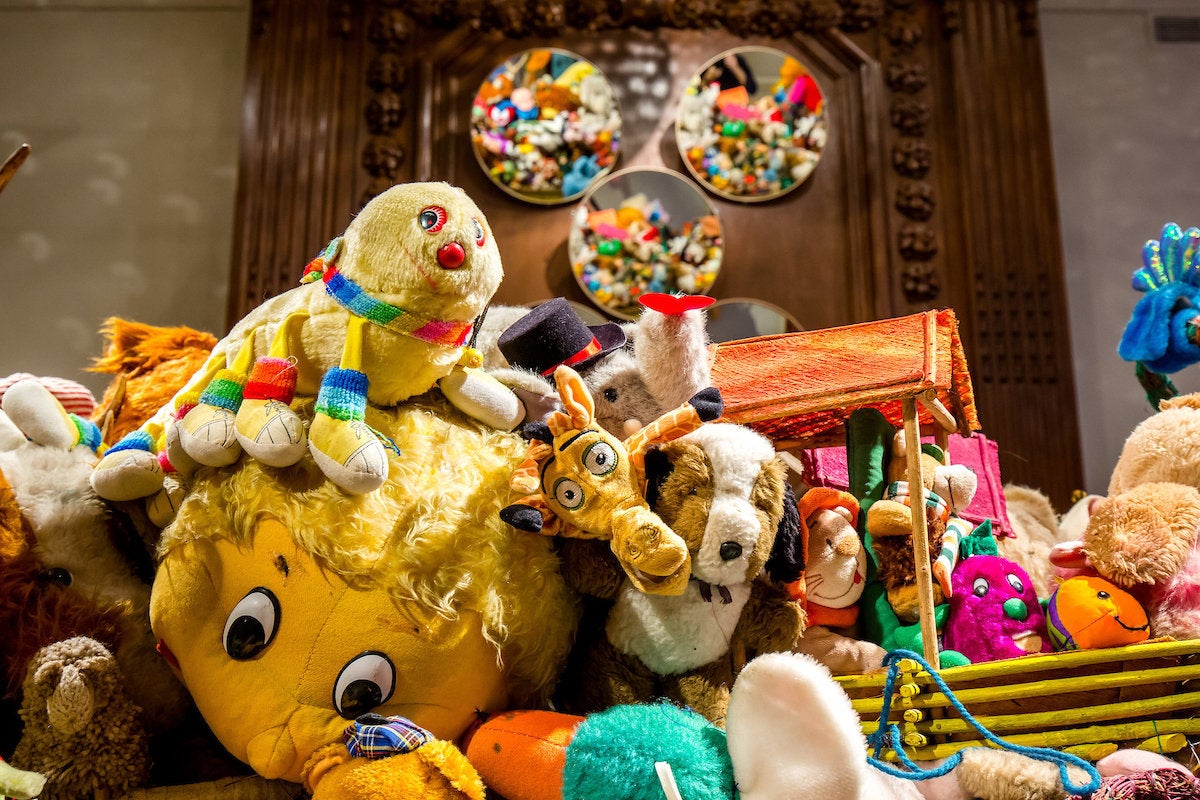 Years later, when he was 17, Palestine was gifted a teddy bear by his girlfriend, who thought the blue-eyed beast resembled its new parent. From this point onward, the artist was obsessed with collecting and caring for stuffed animals, honoring the spirits within them. "Even if some stuffed animals come from the consumerist world," he said in an interview with Marie Canet, published in 2017's Palestine, First Name Charlemagne, "once they become part of my world, they lose this dimension."
Instead, the toys become animal spirits, cuddly receptacles of love, companionship and magic. "It's not a religion, but an appreciation," Palestine clarified to HuffPost, "an appreciation that borders on spiritual."
Today Palestine and his wife are the parents of countless bears and elephants and bananas and baby monkeys. "We are like an enormous orphanage," he said. "They all come to life." Having built a reputation as an animal protector, Palestine, who now lives in Europe, is often sent stuffed animals by friends and strangers. Sometimes he's called upon when an animal's previous owner passes away, or simply wants the toy to "be part of a big family."
In part, Palestine attributes his love of stuffed animals to his being the child of immigrants. Growing up with immigrants as parents instilled within Palestine a sensitivity and kinship toward "all kinds of lost people," he told Canet. And, clearly, not just people.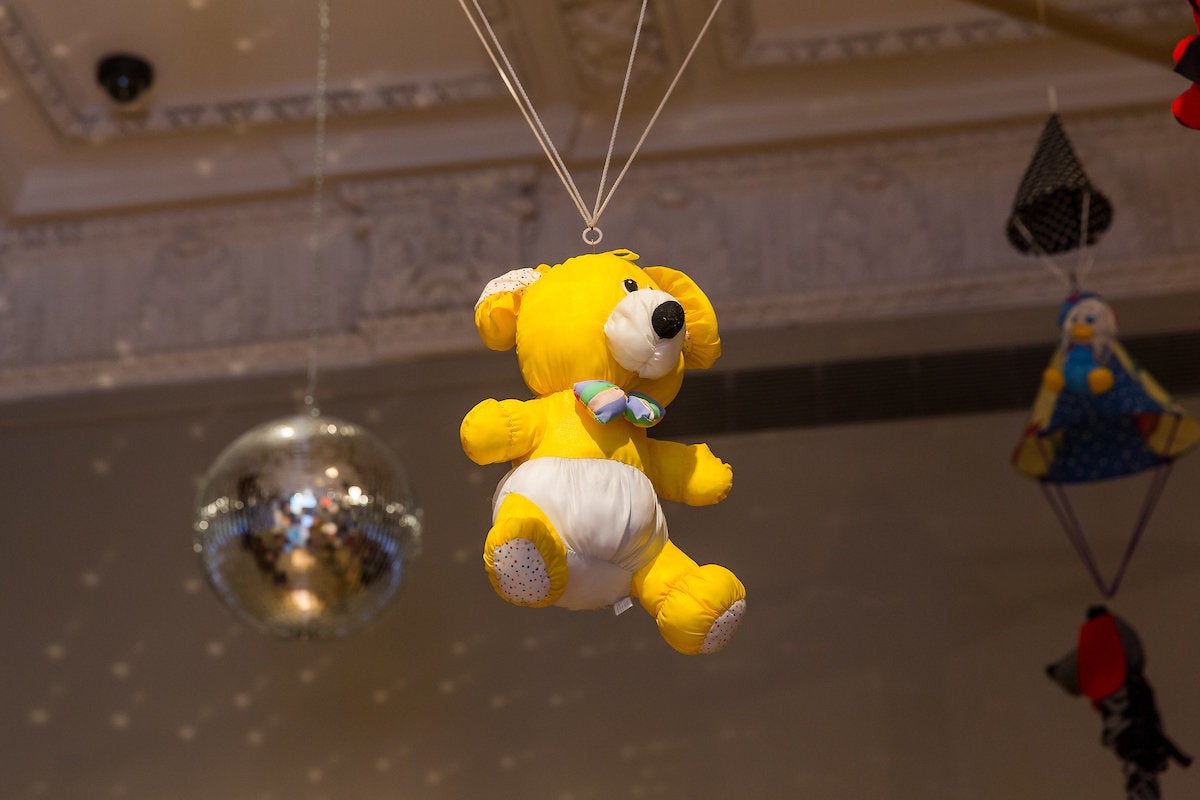 For years, Palestine's animals would accompany him on musical performances, perched atop his piano or hung above him like holy talismans. "For a long time I wondered, is this art or is it something else?" he recalled in our interview. "I call it a world. A Charle-world."
When Palestine started amassing stuffed animals in the 1960s, he was doing so before artists like Andy Warhol, Mike Kelley and Jeff Koons popularized the consumer good, or readymade, as an artistic material. In fact, Palestine went unrecognized when Kelley was praised in the '90s for his carnivalesque toy throngs, which evoked childhood innocence and the taste of something darker. Only recently has Palestine been acknowledged for his creative prescience, long muffled by the artist's aversion to intellectualizing.
Palestine's ongoing "Bear Mitzvah" embodies what the artist refers to as a Gesamtkunstwerk ― or total artwork. Along with the sculptural works, a sound piece plays in the background of the Jewish Museum, featuring 50 years of Palestine's music. Mirrors and reflective disco balls adorn the space, reflecting the hundreds of googly-eyed occupants back and forth and back again. The space is sacred, intensely so. Yet instead of directing all energy and attention at a single focus point, the holiness is everywhere, in every tattered puppy and raggedy duck.
"It's a temple of rags," Palestine said.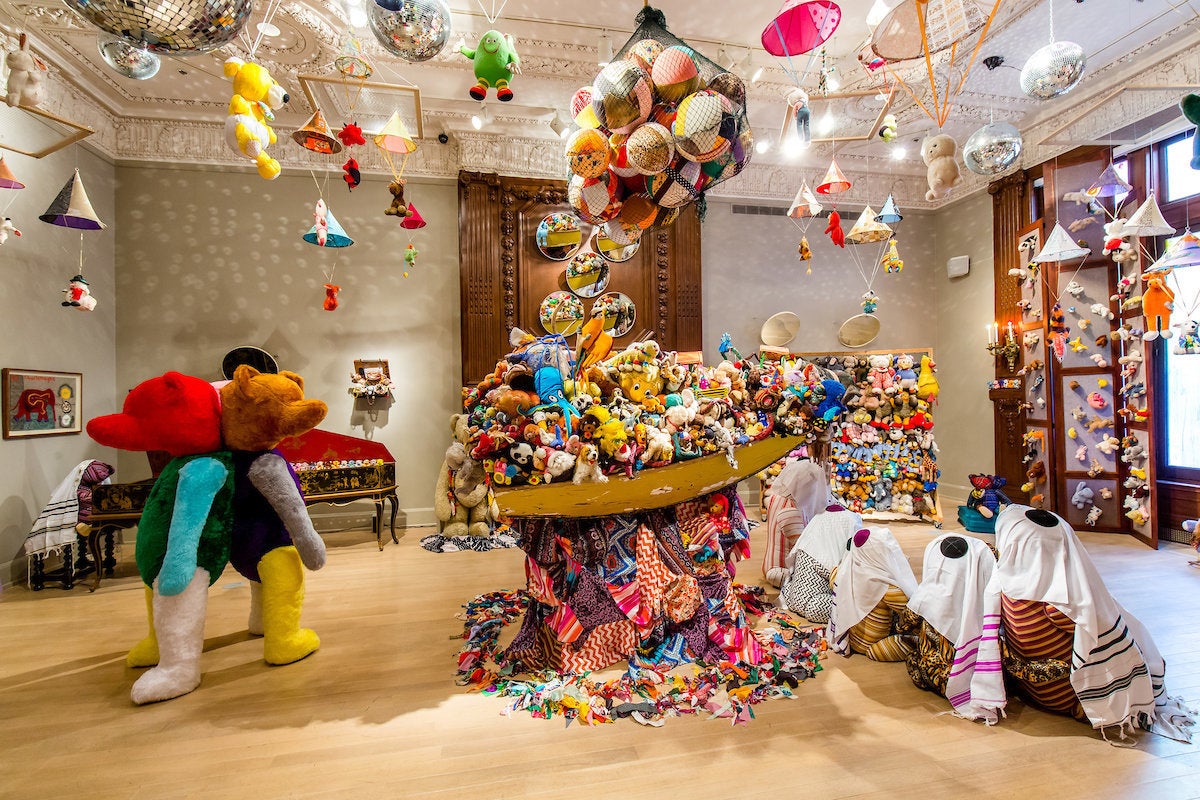 Although Palestine was raised Jewish, he currently identifies as a polytheist. "All gods are permitted if we are good to them and they are good to us," he specified. It is this model of polytheism that Palestine hopes viewers take with them from the "Bear Mitzvah" experience ― what he calls a "polygod environment" ― a space where every discarded animal has the potential for to be divine.
The exhibition too, is an ode to immigrants of sorts, stemming from the little-known fact that the Bear Mitzvah Boy is a child of immigrants himself. The teddy bear was invented, Palestine tells us, by Morris and Rose Michtom, Russian Jewish immigrants based in Brooklyn in the early 20th century. The toy, named after former President Theodore Roosevelt, soon became an iconic toy, a ubiquitous symbol for American innocence. The fact that this classic American icon was, in fact, invented by immigrants is a telling allegory for the invaluable role immigrants play in our nation's identity.
Palestine became intrigued by the teddy bear's unlikely history mostly because, as a fellow Brooklynite born to immigrant Jews, he felt a kinship with it. In its curly furs, pert ears and button eyes, he saw a creature at once beloved and discarded, patriotic and alien, comforting and divine. By holding a "Bear Mitzvah" in the teddy's honor, Palestine offers a model for cherishing what is often ignored or pushed away. Combining the knowledge of ancient religions with the optimism of a child, Palestine constructs a fantastical world where rags are gods, where toys are relics, and where every object, animal and human, is deserving of love.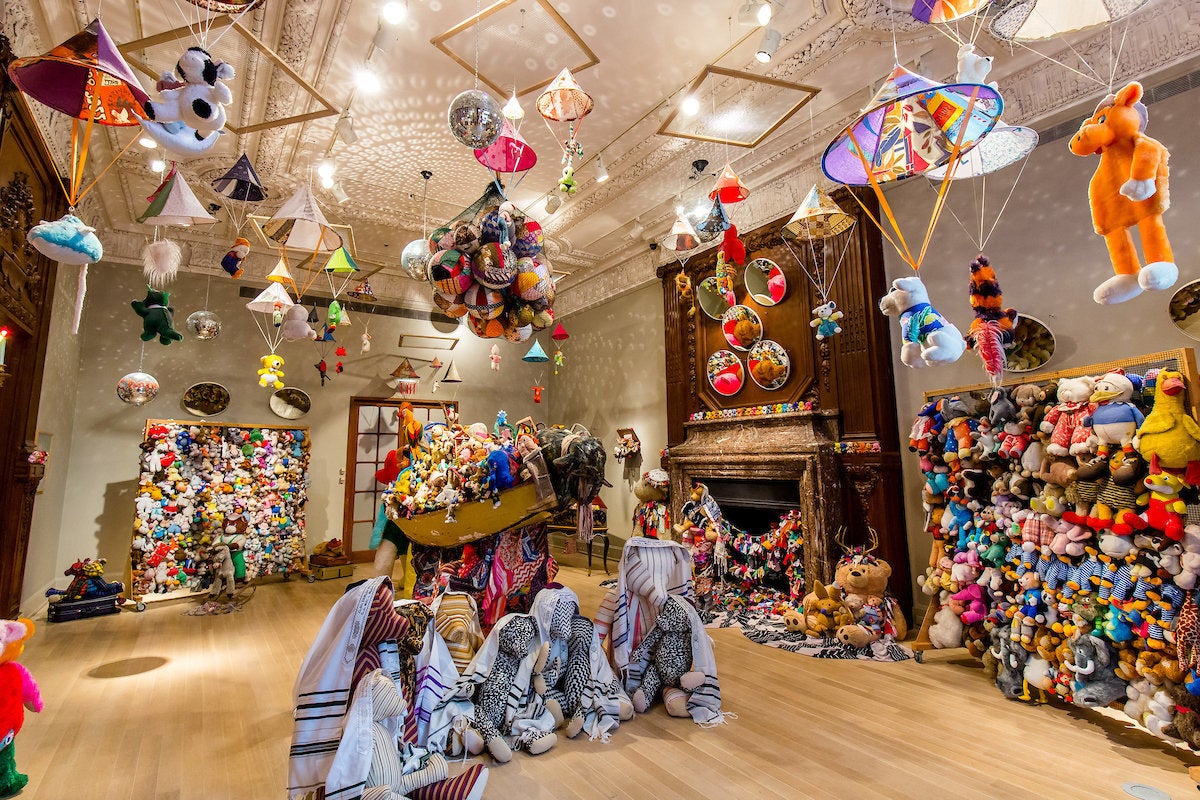 Related
Before You Go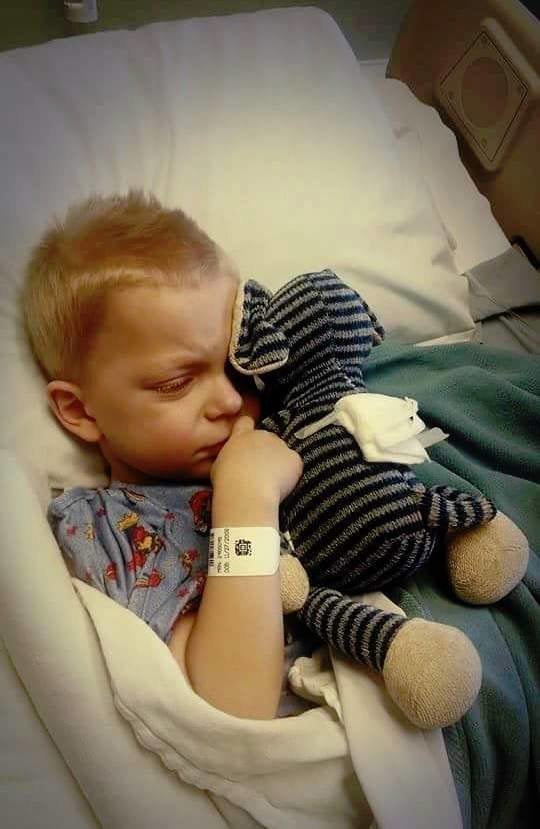 Doctor Performs Surgery On Kids' Toys
Popular in the Community