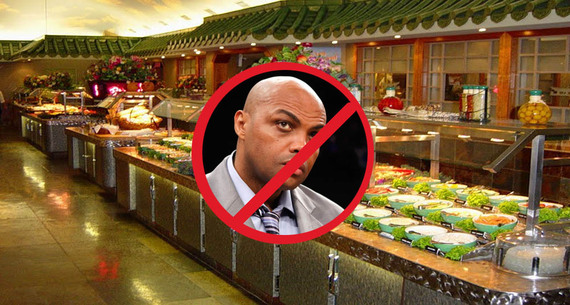 Charles Barkley Banned From Vegas "All You Can Eat" Buffets
Hall of Fame basketball great and hoops commentator Charles Barkley found trouble again in Las Vegas. This time it wasn't Barkley's well-known gambling habits that put the all-timer in a bind, it was his equally well-known midsection -- the one that earned him the nickname "The Round Mound of Rebound" during his storied career.
A group of Vegas casinos announced a ban on Barkley from their "All You Can Eat" Buffets. A representative of the Wynn Casino's said, "I don't care how much he loses, it doesn't make up for the shrimp and lobster the man eats." The MGM Grand issued a statement: "David Copperfield isn't this good at making stuff disappear." New York, New York Casino/Resort added in a press release: "Our hotel can't handle the plumbing."
When reached for comment Barkley said: "Sorry about the plumbing, but I thought what happens in Vegas stays in Vegas." Adding: "And, I didn't mean to bite that nice lady from Omaha's hand. But, everyone knows to be careful when reaching for shrimp."
Calling all HuffPost superfans!
Sign up for membership to become a founding member and help shape HuffPost's next chapter