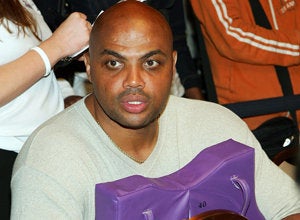 "I watch CNN, they're not fucked up like Fox," Barkley told B&C. "They are a mouthpiece for the Republican Party. I watch [Fox] a couple times when there is someone I want to see on there. But they're corrupt."

When asked whether he is just shilling for his parent company (TNT and CNN are corporate cousins), Barkley denies that he has to stick up for his team.

"Hell no, I don't," he says. "I like Wolf Blitzer and Anderson Cooper and John King. They at least try to give both sides."

But Fox News Channel doesn't see it that way, as a network spokesperson fired back immediately.

"It's hardly a surprise that Charles is a shill for a Turner owned network.... He obviously needs the steady paycheck to pay off his consistent gambling debts," the spokesperson told B&C.
In 2006, Barkley told TravelGolf, "I was a Republican until they lost their minds." He is a supporter of Barack Obama (as he explains in the video below):
Watch Barkley discuss racism in the 2008 election and his 2014 bid for Alabama governor with CNN's Campbell Brown below (video from Monday night on CNN):
Related
Popular in the Community