DENVER -- Retired NBA superstar and TNT color commentator Charles Barkley has arrived at the 2008 Democratic National Convention to support his friend Barack Obama. You can't miss him.
Barkley -- sometimes called The Round Mound of Rebound -- is known for leaning Republican. But times have changed. Barkley doesn't like what Republicans have done to the United States. "We're a country of haves and have-nots. America needs a new leader. Someone who can give poor people a chance," said the author of I May Be Wrong But I Doubt It.
Barkley is enthusiastically weaving through the convention floor, although he's not a delegate. "I just wanted to be here," he tells CNN's Suzanne Malveaux, the petite White House correspondent who had to scramble up on a step to conduct her interview with the 6' 6" basketball great. "I never thought in my lifetime we'd have a black man with a legitimate shot at becoming president. I want to make it clear that if I didn't think he could do the job, I wouldn't vote for him. I think Obama would make a fantastic president."
On whether or not Obama has enough foreign policy experience, Sir Charles had this to say: First of all, a president has tons of advisers. It ain't like a president gets to make every decision on his own. You have great advisers around you.
On whether or not Obama made a mistake not picking Hillary Clinton as his running mate, he said: I think there's a personality conflict between them, that's all.
The outspoken athlete with the notoriously bad golf swing says the big question is whether or not white voters will trust a black man. "Once you're inside that little voting booth, try and see Obama as a man, not a black man."
----
For more Huffington Post coverage from the Democratic National Convention, visit our Politics @ the DNC page, our Democratic Convention Big News Page, and our HuffPost bloggers' Twitter feed, live from Denver.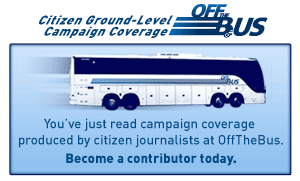 Calling all HuffPost superfans!
Sign up for membership to become a founding member and help shape HuffPost's next chapter