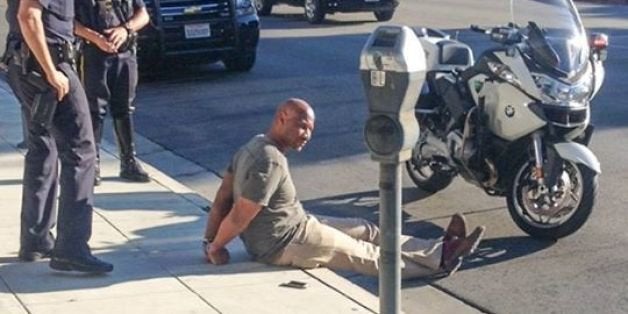 As the nation continues to grapple with police discrimination in America, a number of incidents are now surfacing more than ever thanks to the power of social media.
One recent encounter took place in Beverly Hills Friday, Aug. 22, during Emmy Award weekend between local authorities and television producer Charles Belk who said police arrested him as he was walking from a restaurant where they reportedly accused him of "armed bank robbery and accessory to robbery of a Citibank."
Belk penned a post on Facebook describing the "life altering experience," saying his only crime was fitting the description of a "tall, bald head, black male."
WHEN YOU "FIT THE DESCRIPTION"!

It's one of those things that you hear about, but never think it would happen to you.

On Friday afternoon, August 22nd around 5:20pm, while innocently walking by myself from a restaurant on Wilshire Blvd, to my car up LaCienega Blvd my freedom was taken from me by the Beverly Hills Police Department.

Within seconds, I was detained and told to sit on the curb of the very busy street, during rush hour traffic.

Within minutes, I was surrounded by 6 police cars, handcuffed very tightly, fully searched for weapons, and placed back on the curb.

Within an hour, I was transported to the Beverly Hills Police Headquarters, photographed, finger printed and put under a $100,000 bail and accused of armed bank robbery and accessory to robbery of a Citibank.

Within an evening, I was wrongly arrested, locked up, denied a phone call, denied explanation of charges against me, denied ever being read my rights, denied being able to speak to my lawyer for a lengthy time, and denied being told that my car had been impounded…..All because I was mis-indentified as the wrong "tall, bald head, black male," ... "fitting the description."

I get that the Beverly Hills Police Department didn't know at the time that I was a law abiding citizen of the community and that in my 51 years of existence, had never been handcuffed or arrested for any reason. All they saw, was someone fitting the description. Doesn't matter if he's a "Taye Diggs BLACK", a "LL Cool J BLACK", or "a Drake BLACK"
Beverly Hills Police Department sent The Huffington Post a statement regarding Belk's arrest:

Beverly Hills Police on Friday arrested 47-year-old Brianna Clemons Kloutse of Los Angeles immediately following an armed robbery at a bank in the 8400 block of Wilshire Boulevard. Police believe that Kloutse is the "Purse Packing Bandit," responsible for nine recent bank robberies and two attempted bank robberies in Los Angeles, West Hollywood and Beverly Hills. She will be arraigned today at the criminal court building in downtown Los Angeles.

Witnesses to the robbery said the female robber was most likely working with a man who was distracting the other bank employees while the robbery was carried out. Within minutes of the robbery call being broadcast, police detained a subject less than a block away from the robbery who closely matched the clothing and physical characteristics of the male suspect. After an eye witness positively identified the subject in a field show-up, police arrested Charles Belk for suspicion of robbery. A follow-up investigation by detectives ultimately determined that Mr. Belk was not involved in the robbery and he was released from custody without charges.

The Beverly Hills Police Department deeply regrets the inconvenience to Mr. Belk and has reached out to him to express those regrets and further explain the circumstances. However, based on witness accounts, and his location close to the bank, officers properly detained and arrested him based on the totality of the circumstances known at the time of the field investigation.

The Police Department protocol requires that they go through the process of thoroughly verifying that Mr. Belk was not the suspect before releasing him. That process included taking witness statements, coordination with the FBI and Los Angeles Police detectives who were investigating the earlier bank robberies, and examination of the surveillance video from the bank. Police are still searching for the second suspect.

Read more of Charles Belk's Facebook post on his arrest here.

Support HuffPost
Every Voice Matters
Popular in the Community