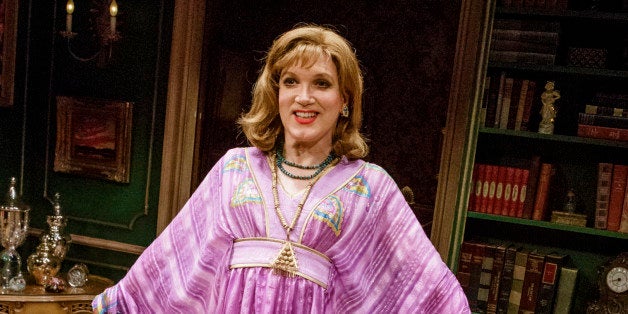 The complex and oft-disheartening world of New York real estate gets a fabulously comedic makeover courtesy of actor, playwright and legendary drag icon Charles Busch.
"The Tribute Artist," which began previews Jan. 21, stars Busch as Jimmy, an out-of-work female impersonator who heads to New York for an extended vacation after his Las Vegas act goes belly-up. After his elderly landlady Adriana dies in her sleep, Jimmy and his lesbian real estate agent pal (played by Busch's longtime collaborator and friend Julie Halston) hatch a multifarious scheme in an effort to hang onto the coveted Manhattan townhouse. Since Adriana also happened to be a fashion designer, Jimmy hopes that by donning some of her very own creations, he'll fool the deceased owner's friends and family into believing he actually is her, and collect the funds after the apartment sells.
For Busch, "The Tribute Artist" breaks fresh ground in several ways. Not only was he commissioned by Primary Stages directly to pen the work, it's also a rare opportunity for audiences to see him play a male character in an Off-Broadway production (albeit one who dresses in drag for a large portion of the show) as opposed to a woman.
While he described the show as being a comedy in the classic vein of "Some Like it Hot," "Tootsie" and "Victor/Victoria," Busch nonetheless feels "The Tribute Artist" is "a lot more naturalistic" than much of his previous stage work.
Check out photos of "The Tribute Artist," then scroll down to keep reading:
PHOTO GALLERY
'The Tribute Artist'
"It's set in a contemporary world and it's not a parody of a genre, so that's a bit of a challenge for us -- being real," Busch said of the show, which also stars Mary Bacon, Cynthia Harris, Keira Kelley and Jonathan Walker.
The decision to set the comedy in the fast-paced, dog-eat-dog world of Manhattan real estate appealed to both Halston and director Carl Andress.
"People have written plays about New York real estate before, but none of them have Charles's unique eye," Halston, a Drama Desk nominee also seen alongside Busch in 1985's "Vampire Lesbians of Sodom" and 2010's "The Divine Sister," among other productions. "With a Charles Busch piece, you know there's going to be a certain amount of mystery, gender-bending, glamour and a mix of the sublime and the profane. It's all here."
Having previously worked with Busch in "Die, Mommie, Die!" and "The Divine Sister," Andress said the message of "The Tribute Artist" was, ironically, "to be yourself. The more honest you are, the more people believe you ... it takes our protagonist well into the second act to understand that."
The Primary Stages' off-Broadway production of "The Tribute Artist" is currently in previews at 59E59 Theaters in New York, with an official opening night of Feb. 9. Check here for more information on the show.
CLARIFICATION: This post has been updated with additional information regarding Busch's debut as a male character. He previously played a male role 1982's "Before Our Mother's Eyes."
Calling all HuffPost superfans!
Sign up for membership to become a founding member and help shape HuffPost's next chapter