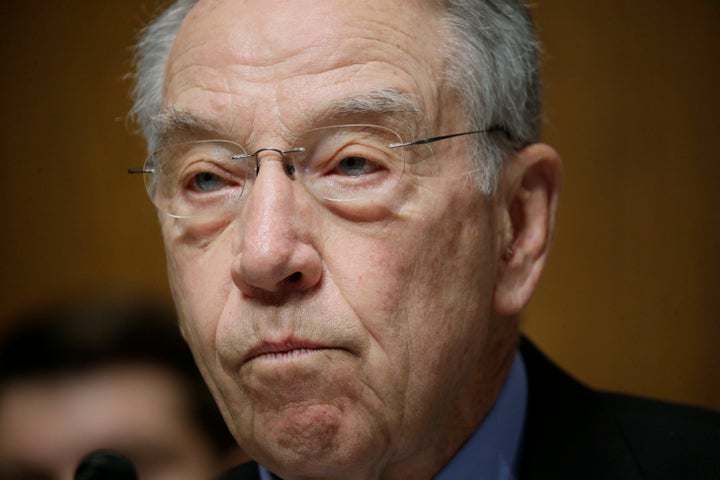 "You are being ill-served and ill-advised," the Senate Judiciary Committee chairman wrote, adding that the Department of Justice office had "utterly failed to live up to its own standards."
Grassley's letter was prompted by a May 1 memo from the OLC to other federal agencies, instructing them to effectively ignore any requests from Congress that do not come from chairs of committees or subcommittees. Requests from other individual members of Congress "do not trigger any obligation to accommodate congressional needs and are not legally enforceable," the memo stated. (Since both houses of Congress are currently controlled by the GOP, that means don't answer any questions from Democrats as well as most Republicans.)
The memo, signed by acting Assistant Attorney General Curtis Gannon, claimed that it was a "longstanding policy" for government agencies to accommodate "congressional requests for information only when those requests come from a committee, subcommittee, or chairman authorized to conduct oversight."
"This is nonsense," Grassley wrote. "For OLC to so fundamentally misunderstand and misstate such a simple fact exposes its shocking lack of professionalism and objectivity," he told the president.
Grassley urged the White House to "rescind this OLC opinion and any policy of ignoring oversight request from non-Chairmen."
The June 7 letter is among the latest examples of a growing sense of frustration among top Republicans in Congress with how the Trump White House operates and how little regard the administration appears to have for certain democratic processes.
This frustration was on display in another forum Wednesday after four top administration officials refused to answer a series of questions during a Senate Intelligence Committee hearing. Director of National Intelligence Dan Coats, National Security Agency Director Mike Rogers, Deputy Attorney General Rod Rosenstein and acting FBI Director Andrew McCabe all repeatedly said they did not feel comfortable answering senators' direct queries about interactions they had with Trump, even though they were under oath and the president had not invoked executive privilege to prevent them from talking.
Before he adjourned the hearing, Intelligence Committee Chairman Richard Burr (R-N.C.) chastised the officials and the Trump White House.
"I would ask each of you to take a message back to the administration," he said. "You're in positions whereby you're required to keep this committee fully and currently informed of intelligence activities. At no time should you be in a position where you come to Congress without an answer."
Sometimes referred to as the president's law firm, the OLC dispenses legal advice to the White House and executive branch agencies. It can take on a quasi-judicial role in settling legal questions that arise within an administration.
For example, the OLC is the office that signed off on President Barack Obama's use of drones against U.S. citizens and approved "enhanced interrogation techniques" under President George W. Bush. (The Trump administration has nominated Steven G. Bradbury, who helped write those "torture memos," to a spot in the Transportation Department.) Other OLC reports are much less attention-grabbing, with titles like "Authority to Permit Part-Time Employees to Work Regularly Scheduled Workweeks of 33 to 39 Hours."
Trump recently nominated Stephen Engel, who previously served as deputy assistant attorney general in the OLC during the Bush administration, to head the office on a permanent basis.
Popular in the Community