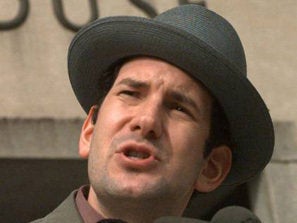 The Drudge Report is heading into the presidential election season with something it didn't have four years ago -- two veteran political journalists on staff.
Last year, Matt Drudge brought on Joe Curl, a former White House correspondent for the Washington Times. Now, Charles Hurt –- a Washington Times columnist and former D.C. bureau chief for the New York Post -– has also joined the website's small staff, according to a person familiar with the move.
The right-leaning, news aggregation juggernaut continues to influence the political media world -- especially in conservative circles. With two journalists aboard that have rolodexes filled with Republican political contacts, the site may have an even bigger impact on the party's wide-open primary than it did during the last cycle.
"Every Republican primary voter has The Drudge Report bookmarked on their internet browser," said Ron Bonjean, a Republican political consultant.
Bonjean, when informed that Hurt had joined the staff, said that having "two great reporters with solid reputations, who understand what appeals to that type of demographic, will really help The Drudge Report." The reporters, he said, "know exactly what readers will think and what they're looking for."
Hurt, however, isn't discussing the gig. He didn't respond to a couple of emails sent earlier this week to his personal and Drudge Report accounts. Reached by phone Thursday morning, Hurt wouldn't comment on whether he's working for Drudge. A few hours later, word of the move leaked out to FishbowlDC. (Drudge did not respond to requests for comment this week about hiring Hurt.)
Regular Drudge readers should already be familiar with Hurt's work. He has standing link on the site, as do dozens of notable columnists, commentators and news outlets. The Drudge Report's Twitter feed has also recently highlighted Hurt's work, such as a Washington Times column about how "reporters continue to be snookered by Obama."
There's no masthead for The Drudge Report, so it's not always clear who else is working with its eponymous founder. Conservative publisher Andrew Breitbart has long declined to discuss details of working for Drudge back in the day, but did tell the AP last year that he "owe[s] him everything." Curl, a current staffer, wouldn't comment to The Huffington Post.
Drudge keeps a very low-profile these days, which wasn't always the case. He achieved fame in 1998 by reporting that Newsweek killed a story about President Clinton having a sexual relationship with a White House intern –- a "world exclusive" that sparked the Monica Lewinsky scandal. Drudge sat down for interviews early on, but now rarely makes public appearances. The New Republic tried pinning down Drudge's location in 2009, noting that he had a home in Florida but regularly traveled to Tel Aviv, Geneva and Las Vegas.
But regardless of where Drudge is located, the site keeps going 24/7. And it's not surprising, given the dramatic changes in the news cycle since the 90's, that Drudge would want a few more hands on deck to keep up with news outlets constantly publishing new material.
On Monday, Pew's Project for Excellence in Journalism cited The Drudge Report's "small operation" and "large influence." PEJ found that The Drudge Report drives 19% of traffic to the New York Post's site, as well as significant amounts to the websites of The Washington Post (15%), Boston Globe (11%) and Fox News (11%).

Popular in the Community