OWINGS MILLS, Md. -- By his standard, the socks are tame.
Black with a purple stripe at the top, "Ravens" written down the calf and the team's logo at the top of the foot, the socks Charles James II wears today are not nearly as garish as those that made him a cult hero during the latest season of "Hard Knocks," the HBO docuseries that followed the Houston Texans through five weeks of NFL training camp.
Pink, green, striped, checked -- the diminutive defensive back's socks of all colors turned the heads of HBO producers, who made him a central figure in the show this summer. Viewers were drawn to James instantly, and other players noticed, too. On his first day at the Baltimore Ravens practice facility, his new teammates welcomed him by yelling, "Hey, that's sock guy!"
James flashes a bright, gap-toothed smile while talking about the legions of fans the show brought him. (One of them is Erin Andrews, the Fox Sports sideline reporter.) He laughs about his growing number of Twitter followers -- more than 22,000 now.
The number that matters most for James is 53, the size of an active NFL roster. In Houston, he was 54.
He thought he'd done what they wanted. His natural position is defensive back, and at times he shined, even though at 5 foot 9 inches and 185 pounds he usually conceded several inches and a couple dozen pounds to the wide receivers he shadowed. When running back Arian Foster tore his groin during camp, the Texans put James in the backfield to see if he might be a capable backup option there. He begged his way onto the field during a preseason game and took his first carry 73 yards for a touchdown. A holding call nullified the score. James kept the ball anyway.
But he was too short, too small, too limited. The Texans wanted to keep him, and general manager Rick Smith and head coach Bill O'Brien tried to engineer a last-minute trade that would have opened a roster slot. Instead, they cut him in favor of a taller, more physical defensive back.
So James packed his socks and headed north to Baltimore in search of a fresh start and a new team to impress. Now, at the Ravens practice facility in suburban Baltimore, a dozen miles from M&T Bank Stadium and who knows how far from the NFL career he craves, Charles James II is a member of the Ravens' practice squad, still clinging to the only dream he's ever had.
During a typical Ravens practice, James rotates between defensive back, running back, special teams and anywhere else he's needed. He subs in for starters when they need a breather and stays on the field to take extra special teams reps once practice ends.
Three days before Baltimore's Week 3 matchup with Cincinnati, practice ends early. James lingers in conversation with a teammate. He's the last player off the field, 30 yards behind star quarterback Joe Flacco. Helmet in his right hand, his arms wave and he points as they discuss an inaudible subject -- maybe the play they got wrong, or the one they got right.
He stops for an interview as head coach John Harbaugh walks by, and James nods at the man who, for now at least, controls the direction of his career. James has only a few minutes before he has to run to a mandatory special teams meeting. It will cover strategies and schemes he will watch from the sidelines on Sunday.
The Ravens allow practice players to join them on the sidelines for home games. Unlike many other teams, the Ravens also take them on the road.
Playing on the practice squad is a "crazy, tough, weird" experience, James admits. "I don't consider myself a practice squad player," he says. "I take my reps like I was a starter."
In today's meeting, he will take rigorous notes. He will replay each snap from practice in his mind. He will act and prepare like he'll be the one making the big play Sunday afternoon. And then, he won't take the field.
"It's tough, man. I'd be lying if I said that at times I don't get down, don't get disappointed, because I do," James says. "But you gotta keep going. The book I'm gonna write, one day, it's gonna be a best seller."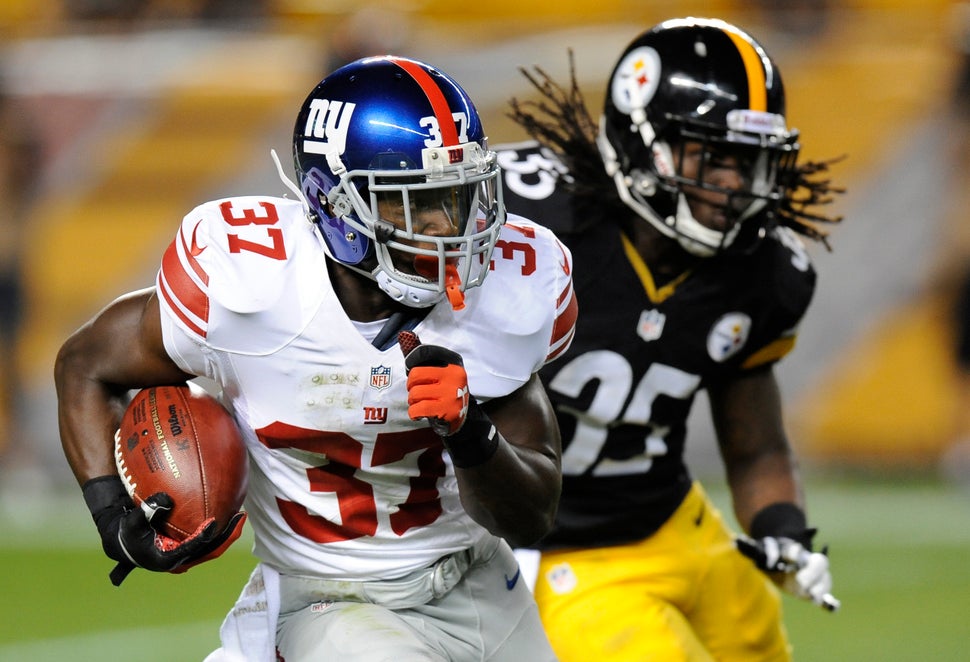 An NFL practice squad is a sort of purgatory. Practice squad players toil and wait, their gazes fixed on a future that is close enough to see but far enough to doubt.
It takes an odd cocktail of ambition and hope -- and perhaps a dash of delusion -- to live this life. The 320 practice squad players across the league -- a maximum of 10 per team -- have made it closer to the action than the vast majority of aspiring NFL players. But success stories of ex-scout teamers like Tony Romo, Arian Foster and James Harrison notwithstanding, the odds of a practice squad player ascending to a lengthy, secure NFL career are steep.
Practice squad players are almost NFLers, guys who go through the motions of life in pro football, live and work next to people who play pro football, and play an invaluable role in the NFL engine. They mimic upcoming opponents or fill in for players who are nursing injuries, and they help prepare teammates for what they'll see each Sunday. But they don't play. They don't even dress.
James knows that he belongs in the NFL, and he knows the limits he must overcome to show that. He knows, as he says, that he "can't get any taller," that his height is the primary reason he's not back in Houston, that he'll have to figure out a way to prove his stature isn't career-stalling.
James was a walk-on when he arrived at Charleston Southern University in 2009. He eventually earned a scholarship, became an All-American, and set the school's all-time interceptions record. That wasn't enough to earn a selection in the 2013 NFL Draft, but he parlayed an invitation to the New York Giants' training camp into a spot on their practice squad.
That October, he made the Giants' roster.
He played in the Giants' final 12 games that year, mostly on special teams. The last time he walked out of the tunnel on a Sunday, it was a cold, windy day in New Jersey. Washington was in town, and the sky dumped a nasty mix of rain and snow on the field.
"It makes you go harder," he says of that brief taste in the NFL, "because you know what's it like to be there."
Through the first three weeks of preseason camp, it looked like James might get back to the NFL with Houston, where he'd spent the last half of the season on the practice squad a year ago. He'd played well on defense and special teams, shown his versatility by plugging in at running back and earned the plaudits of the Texans' coach.
He was making the best of his opportunities on the field -- sometimes even before games began.
In one of his most endearing scenes in "Hard Knocks," James approached Denver quarterback and future Hall of Famer Peyton Manning before the Texans and Broncos kicked off an August preseason game.
"I just want to come over and shake your hand," James said as he moved toward Manning. "You're a fucking legend, man."
James had seen Manning up close before when the Giants and Broncos met during his rookie season. He was too shy then to express his admiration.
The interaction illustrated a young man, still enamored with the game of football and the chance to play alongside his childhood heroes. It also underscored the harsh reality of life in the NFL.
There are a handful of superstars like Manning, and another tier of players below him who don't have to worry about their spot on the roster or the paycheck that comes with it. But the rest of the NFL -- perhaps a near majority of the league's 1,700 players -- is made up of the guys who need to practice and play to collect game checks. They make good money, but their livelihood depends on staying healthy and performing each week.
The Broncos will pay Manning $15 million this season. The minimum salary for practice squad players such as James is $6,600 per week. If he stays on the practice roster all season, he will make at least $112,000, about half of what Manning earns in the first quarter of each game.
Had James made the active roster, his salary would have jumped fourfold. The NFL's rookie minimum is $435,000, a figure that ticks up with each year of experience. A player like James, who would be in his second active season, could make a little more than half a million bucks if he spent all 17 weeks on the 53-man roster. It's enough to make plenty of everyday workers jealous.
But in a league with $11 billion in revenues and a few $20 million men, it is a comparative pittance. That number is often reduced, too, because non-guaranteed salaries are prorated for each week a player actually spends on an active roster. Plenty don't make it through all 17.
Many football players are standing just opposite James in the almost role: They are NFL players, but only barely, and by Monday they might not be anymore.
They are replaceable, and their situation can change even if they do everything they're asked. When, say, a key defensive player gets hurt, a team might cut a wide receiver to make space for his replacement. James might one day be the person who supplants one of those players. If he does, he could find himself on the other side of the dynamic just as quickly. At this level of the league, there's no time for comfort.
"They don't know, this shit's tough," James says of the average NFL fan's perception of a player's life. "Even if you're on an active roster, for a guy like me, you're at the bottom of the totem pole. You can be switched out any day."
People don't understand. It's hard to get in this league, but it's even harder to stay in this league.
In James' last "Hard Knocks" episode, the cameras pan to him as he sits in the locker room in Houston. Final cuts are coming. Each player is glued to his phone, waiting for a call he doesn't want to get. James is in agony. He sinks into his locker when one newly unemployed player walks by. He wraps his face in a T-shirt to hide his despair. He turns to Corey Moore, an undrafted defensive back the Texans signed out of the University of Georgia. For five weeks, they competed for the same spot. Now, James has hard-earned wisdom to share.
"I had to let him know, this shit is for real," he says now. "If you want this to be your job, you're gonna have to act like you want it to be your job. People don't understand. It's hard to get in this league, but it's even harder to stay in this league."
The Texans cut them both.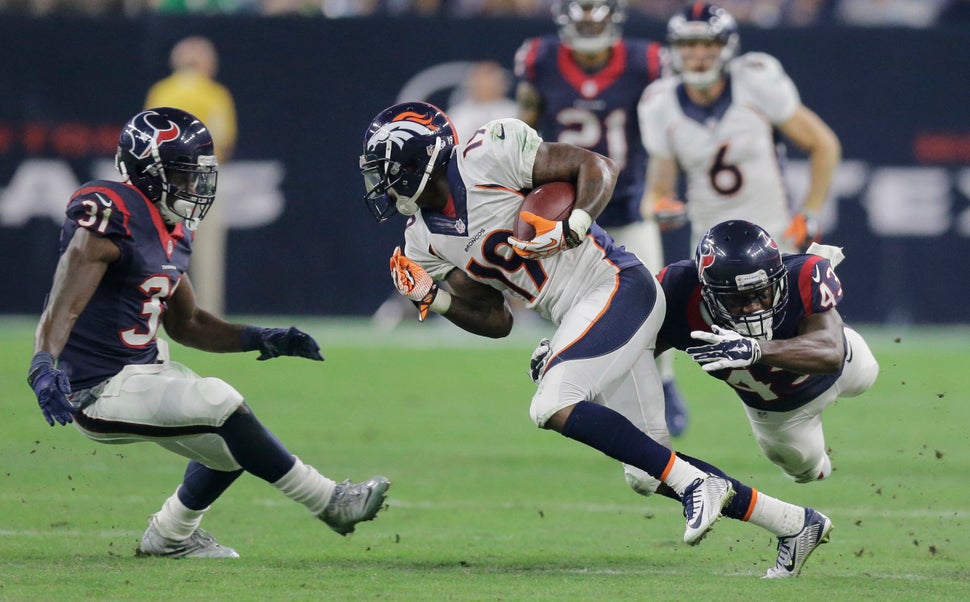 James knows what he wants to do when his football career ends. He has an interest in broadcasting, and could put his love for the game and his endless supply of personality to work talking about football.
But ask him what he'd do if he weren't playing football right now, and he'll say that all of this -- the dull bruises and aches that come with the daily hits, the risk of injury in a sport that's proving increasingly dangerous to its players' long-term health, the heartache that sticks after a coach and general manager tell you that if you were just 2 inches taller, you'd have a place on this team -- is worth it. He's never stopped to consider that it might not be.
"It hasn't even crossed my mind," he says, and he erupts in laughter at that realization. "The plan is to play in the NFL. The backup plan is cool. But if you don't focus on the main goal, you're never gonna get there."
The practice squad is a temporary place, an option available primarily to young players in their first few seasons. James is 25 now, in the midst of his third year in pro football. He is undeterred. His dreams are measured in weeks, not years.
"If I wasn't playing football, I'd be playing football," he laughs.
A few moments later, James stops talking and turns to leave, toward the door to that special teams meeting, the one where he will help strategize for an opponent he won't play a single down against. At least not this week.
UPDATE: Oct. 14 -- On Tuesday, the Baltimore Ravens promoted James from the practice squad -- where he'd spent the first five weeks of the season -- to the active roster. The promotion was part of a broader defensive shake-up after the Ravens allowed 457 passing yards by the Cleveland Browns in Week 5. Asa Jackson, another member of the team's practice squad, also earned a call-up to the roster after two other players were cut. The Ravens travel to San Francisco on Sunday, when James could play in his first regular season NFL game since 2013.
Calling all HuffPost superfans!
Sign up for membership to become a founding member and help shape HuffPost's next chapter