For a moment on Monday afternoon, Charles Kinsey said the gunshot wound to his leg felt like mosquito bites. Then he realized he'd been shot by a North Miami police officer, as he lay unarmed with his back to the ground and his hands in the air. Kinsey didn't know why the officer shot him, and when he asked police, it appeared that the officer who pulled the trigger didn't know either.
"He said, 'I don't know,' and that's it," Kinsey's attorney, Hilton Napoleon, said Thursday in an interview with The Huffington Post. Napoleon said this statement was also "overheard by other officers at the time."
The incident is the latest in a string of controversial police shootings that have once again put law enforcement's use of lethal force, particularly against black men, in the national spotlight. Many of these cases have been immediately accompanied by an official narrative that attempts to provide a reasonable explanation for a shooting. For example, suspects were supposedly armed, reaching for their waistband (or wallet), or lunging at police, leading officers to fear for their lives.
While the public may not accept these justifications as valid or even true, they often foreshadow the officer's defense. In Kinsey's case, however, the alleged initial response of the officer who opened fire ― as well as the vague statements given by authorities ― have only made the incident more concerning.
Minutes before the shooting, Kinsey, a 47-year-old behavioral therapist who is black, had rushed out of an assisted living facility in pursuit of an upset resident who has autism. Someone reportedly called the police about a man in the street with a gun threatening suicide. Officers responded and trained their weapons on the duo. In a video obtained by WSVN, Kinsey can be heard telling police that the only object in either of their hands is a toy truck the patient is clutching.
"My client was scared out of his mind, almost to the point of tears," said Napoleon.
North Miami police chief Gary Eugene offered few details about the shooting at a press conference Thursday.
"Our officers responded to the scene with that threat in mind," he said. "At some point during the on-scene negotiation, one of the responding officers discharged his weapon, striking [Kinsey]."
The officer hasn't been identified, but the "I don't know" explanation got a massive revision on Thursday, three days after the shooting.
"Fearing for Mr. Kinsey's life, the officer discharged his firearm trying to save Mr. Kinsey's life," said Miami Dade Police Benevolent Union president John Rivera. "He missed and accidentally struck Mr. Kinsey. He thought the white male and his actions were such that he felt Mr. Kinsey's life was in danger."
If this is the case, it's unclear why officers felt they needed to handcuff Kinsey as he lay wounded in the street.
Rivera read a statement from the officer.
"I took this job to save lives and help people," he said. "I did what I had to do in a split second to accomplish that and hate to hear others paint me as something I am not."
This may be true, but it's still unlikely to allay concerns from those who see the shooting as the latest example of careless and overzealous policing. And the fact that it's coming from a police union official only further demonstrates how the system is structured to insulate officers from any legal repercussions for misconduct, whether deliberate or not.
Unions typically ensure that officers have plenty of time to prepare for investigations into their actions. As recently as 2014, interrogations of North Miami police were required to be held at "a reasonable hour, preferably while the accused is on duty," according to the city's collective bargaining agreement. Officers are entitled to have legal representation present, and under the 2014 contract, were allowed to delay an interrogation for days if preferred counsel was not available.
In other cities, unions have made it so that cops involved in shootings can always take several days to get their story straight before giving official statements. Critics say officers can use this crucial time to turn an "I don't know" into a carefully crafted explanation for why they were acting lawfully when they used lethal force.
Napoleon wouldn't speculate about how this dynamic might affect his case, but said he was encouraged by news that the Florida Department of Law Enforcement was taking over the investigation. Still, he thinks the immediate response of the officer could be telling.
"He didn't know that this would turn into international news," said Napoleon. "That's just however he felt at that particular point in time."
Correction: An earlier version of this story incorrectly stated that Kinsey had suffered three gunshot wounds. While the officer fired three shots, only one struck Kinsey.
Before You Go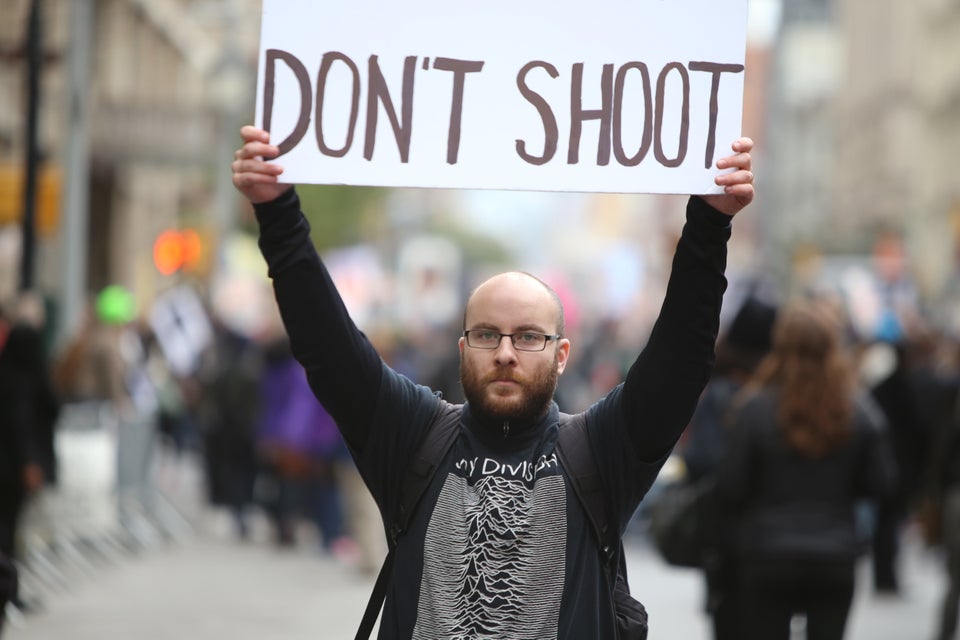 Police Brutality
Popular in the Community