WASHINGTON -- Documents uncovered by Republic Report link billionaire Charles Koch to the formation of a nonprofit that would later become the Institute for Energy Research, an active player in Washington policy debates.
IER, also a nonprofit, describes its mission as providing "intensive research and analysis about American energy." It's known for advocating against tax subsidies for renewable energy and the Environmental Protection Agency's new rules on greenhouse gas emissions from power plants. It's highly critical of policies that would be bad for oil, gas and coal interests -- which, of course, are the source of much of Koch's immense wealth. And its political arm, the American Energy Alliance, has run ads attacking President Barack Obama and other politicians for their energy policies.
But the documents, which reporter Lee Fang first discussed Friday morning on Republic Report, show that Charles Koch was also directly involved in the group at its formation: He served on the board of directors for IER's predecessor, the Institute for Humane Studies of Texas, according to its articles of incorporation filed in Texas in 1984. That document lists him as C.G. Koch, with an address in Menlo Park, California.
IER's website states that it was "founded in 1989 from a predecessor organization," though it does not name that entity. Documents filed with the Office of the Secretary of State in Texas show that the Institute for Humane Studies of Texas forfeited its charter in January 1989, when it failed to pay the state franchise tax, and then filed for reinstatement in April 1989. Paperwork that IER filed in 1993 uses the same state charter number as the Institute for Humane Studies of Texas did. The private business data aggregator Wysk also links the two nonprofits.
An IER filing from April 2007 lists Charles Koch, at a Wichita, Kansas, address, as a member of the board of directors of the group, though that list has been manually crossed out and replaced with a new set of directors in an addendum to the filing. Koch is not on the new list of board members.
While Republic Report describes Koch as having "personally founded" IER, it's only clear from the filings that he was a member of the board of directors for the predecessor group at the time of its incorporation in Texas. IER's founder and CEO, according to IER, is Robert L. Bradley Jr. He is listed as such on the group's website.
Bradley and his father, Robert L. Bradley Sr., were also named as two of the three original incorporators on the Institute for Humane Studies of Texas' 1984 articles of incorporation. The third person listed was Walter E. Grinder.
IER spokesman Chris Warren dismissed the Republic Report story in a statement to The Huffington Post. "Mr. Fang is grasping at straws with this piece. It's a complete dud. The fact is IER has been an independent organization since its founding in 1989, despite whatever conspiracy Mr. Fang has contrived in his own mind," said Warren.
Warren did not deny Charles Koch's role in the formation of the group, but he did downplay its significance.
"IER is funded by a wide array of individuals, foundations, and corporations who share our belief that freely functioning markets provide the best solutions to our energy challenges," he said. "I would imagine if Mr. Fang did some more investigating that he would find only six degrees separate IER and Kevin Bacon too."
The Institute for Humane Studies, of which the Texas group appears to have been an offshoot, was founded in Menlo Park, California, in 1961 and moved to George Mason University in Virginia in 1985. It describes its mission as to "support the achievement of a freer society." IER's staff page for Bradley Jr. states that he is a member of the institute's academic review committee. Charles Koch has served as chairman of the Institute for Humane Studies, according to his online bio.
Before You Go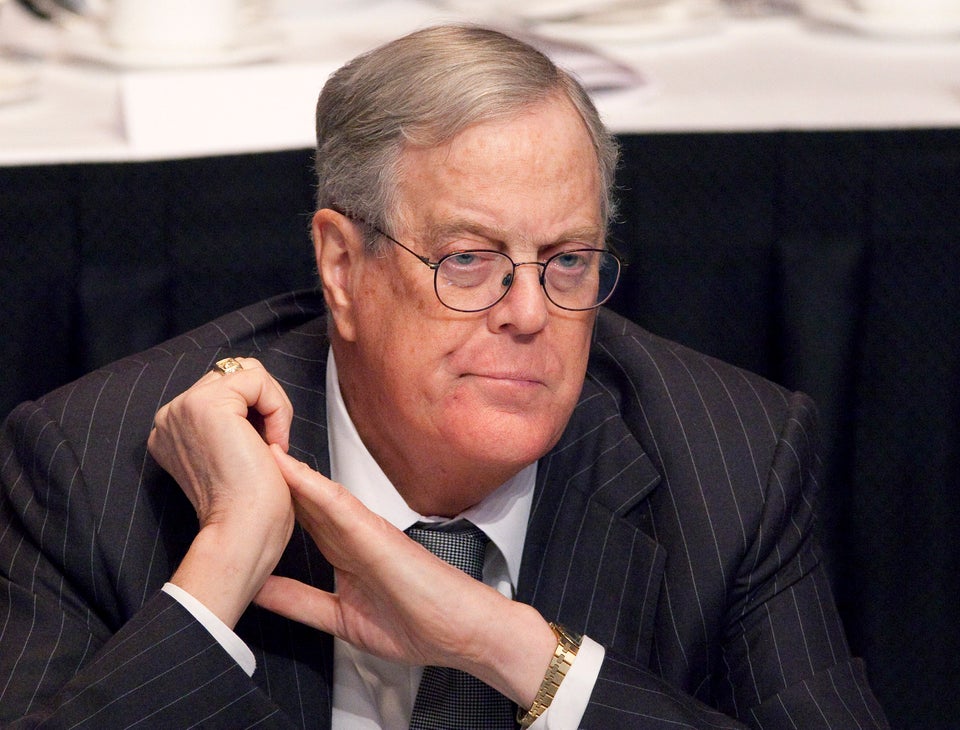 David Koch
Popular in the Community